A group of young wearing Han costume gets under the spotlight of pedestrians on Shanghai streets.
The young are the contestants of a competition of knowledge of excellent Chinese traditional culture, one part of the Shanghai Citizens Art Festival.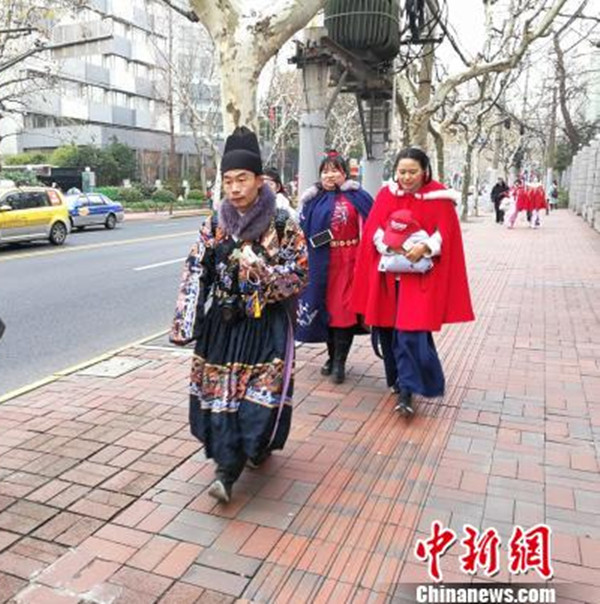 Contestants wearing Han constume pass the streets. [Photo/ chinanews.com]
Apart from finishing online questions, participants also have an offline experience. Starting from Shanghai Library, they pass several cultural landmarks including Tou-Se-We Museum, Xu Guangqi Memorial Hall, Former Residence of Zhang Leping, and in Shanghai Mass Art Center, the last destination, on a fair for folk customs, competitors listen to poems and write calligraphy works, experience paper-cutting. Moreover, programs of 24 solar terms song, Han Dance, Kunqu Opera, Yue Opera bring a cultural feast to audiences.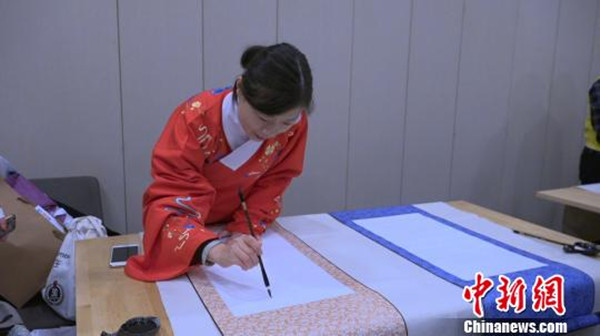 Participants write calligraphy works. [Photo/ chinanews.com]

"I feel it interesting to take part in the competition in Han Costume. Some traditions which have almost lost could return." said Wu Yannan, a contestant.
Some audiences praise the activity for its ceremonial meaning to life."Without folk customs, we could not sense the atmosphere of the spring festival."
In the past one year, as Shanghai launches Shanghai Citizens Art Festival, traditional cultural activities are in full swing in the city, with poems appreciation entering communities, operas introduced to campuses and the number of institutions which are devoted to carrying forward traditional culture increasing.