An exhibition of dozens of black Zisha (purple clay) productions is launched in Shanghai Museum of Arts and Crafts on January 9, making the technique which has lost for hundreds of years back to the world.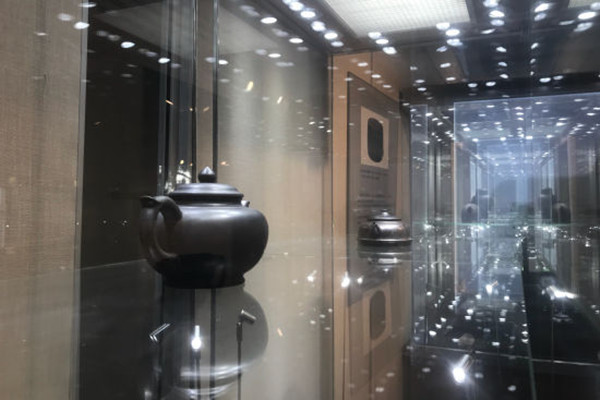 Born in the Ming Dynasty, black Zisha is the best variety of Zisha, but lost after Qianlong era. Since the materials are quite rare and burning process is complicated, black Zisha products are usually contributed to the royal court and are rarely seen among the people.
The exhibit works are from famous contemporary painter and ceramic artist Yuan Ye who has successfully recreated the lost technique in 2015 after years of concentrated research. In 2017, the craft is listed into the intangible cultural heritagesof Minhang District, Shanghai. Yue Ye has become the only inheritor of the craft.
According to respected art critic Xu Encun, an aesthetic conception of Song Dynasty is embodied in Yuan Ye's Zisha works."Different from other artists who create Zisha works, Yuan Ye not only draws on the Zisha teapot or design it. He has infused traditional Chinese aesthetic spirit and color elements into Zisha teapot."
According to Yuan, the clay formula and firing process have won three national patents for scientific and technological inventions. The recreation of Zisha craft also has a realistic meaning."Nowadays, drinking tea is common, research and pursuit of teapots is expected to reach a new level. Black Zisha teapot could advocate a healthy lifestyle."