Treasures from the Acropolis Museum in Greece have come to Shanghai. People can take a close-up look at them at the Shanghai Museum.
As symbols of the ancient Greek culture, two treasures from the Acropolis Museum were brought to Shanghai. From January 11 to April 8, they are displayed at the hall of the Shanghai Museum for public appreciation. According to the Shanghai Museum, this exhibition is an outcome of an MOU (Memorandum of Understanding) signed with the Acropolis Museum on December 18, 2015.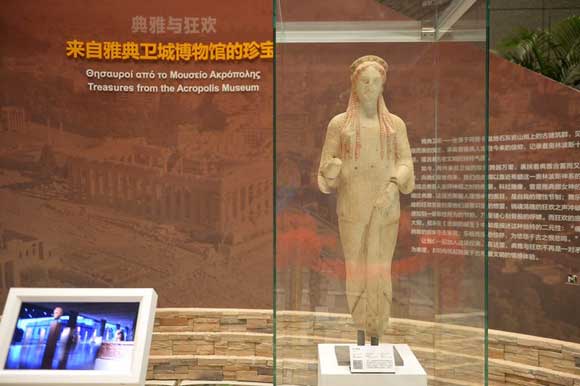 Statue of a Kore on display at Shanghai Museum [Photo/Eastday.com]
Entering the Shanghai Museum, people are greeted by a sculpture of a young Greek woman, which dates back to 520 B.C.-510 B.C. The 1.15-meter-tall marble sculpture is a type of statue known as a Kore ("maiden"). Details of the sculpture, such as the measured "smile" and the deliberate asymmetry, represent the graceful beauty of Greek females.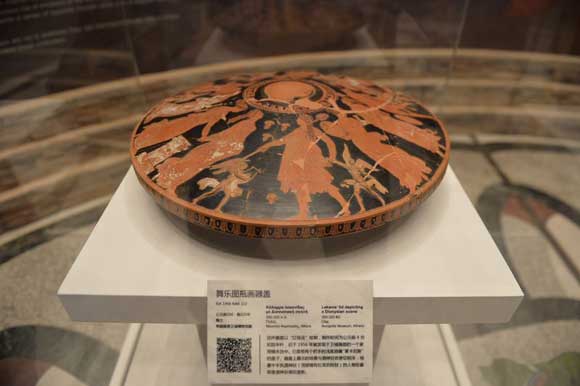 A Lekanis' lid on display at Shanghai Museum [Photo/Eastday.com]
The other exhibit is a beautifully decorated Lekanis' lid depicting a Dionysian scene. Dating back to 350 B.C.-325 B.C., it was made of pottery clay with a unique red-figure technique. Lekanis was a kind of low bowl with two handles, which were used by females to store jewelry and cosmetics.