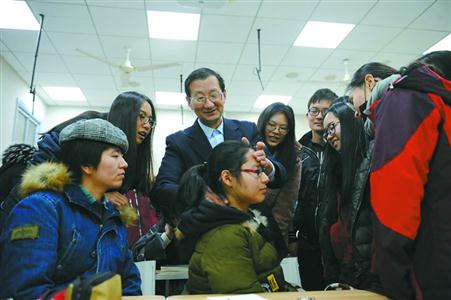 Li Zhengyu and his students in a TCM class [Photo/Jiefang Daily]
In his fifties, Li Zhengyu is a professor at Shanghai University of Traditional Chinese Medicine (SHUTCM). He is a campus celebrity in the university, not only because of his academic achievements, but also thanks to his contribution to spreading Traditional Chinese Medicine (TCM) to the world.
For almost 30 years, he has been teaching TCM in English. His thumb pushing manipulation, a kind of Tui Na therapy, has also won him many international fans.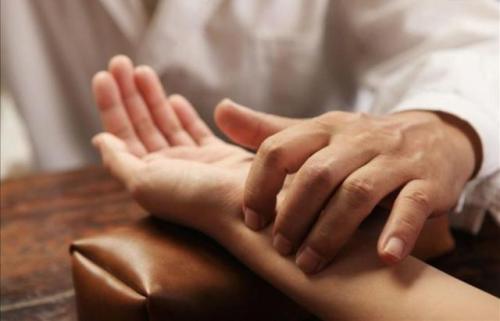 Professor Li is a pioneer in teaching TCM to foreigners. He is China's third Doctor of Medicine in Tui Na (a form of massage akin to acupressure). At the beginning of his career, he treated foreign patients and provided translation assistance at Shanghai's Yueyang Hospital. About a decade ago, he began to teach medical English for TCM majors at SHUTCM. Since then, Li has set up TCM classes for international students and opened a summer vocational training program for foreigners.
Once in his class, Professor Li noticed a German girl walk into the classroom with a pale face. After studying the look of the girl, listening to her voice and breathing, and asking how she felt, he projected that there was too much cold in her body. While other students were astonished at Li's diagnosis, Li conducted thumb pushing manipulation on some acupuncture points on the girl's body. After a while, the girl's complexion turned better.
Whenever the students feel ill, they turn to Professor Li for help. Many international students even take the initiative to visit his patients with him so as to learn more from their teacher.
Li's Tui Na treatment is his forte in the international communication of TCM culture. During a meeting with a private doctor of U.S. president Donald Trump, Li told the American doctor that acupuncture and Tui Na can replace opioids to a large extent. To prove his words, he performed thumb pushing manipulation on the doctor's right hand and the effect was immediate and obvious. The doctor felt much relieved from his mouse elbow pain.
Li is very serious when it comes to the spread of TCM culture. Since 2016, he has been devoted to the revision of the standard operating procedure of Tui Na and the standards of TCM terms initiated by the World Health Organization (WHO), responsible for the Tui Na part. At an ISO (International Organization for Standardization) meeting, Li argued with a South Korean expert about the English translation for TCM doctors. While firmly standing for the use of "Chinese medicine" in the translation, he refused to use Chinese pinyin "Han" to refer to the term."Because it matters to the destiny and future of the subject," the professor said seriously.
Apart from that, Tui Na is another term that concerns Li Zhengyu. There have been different translations for Tui Na, and he has always been opposed to the use of "massage" as Tui Na is a kind of "traditional Chinese medical treatment."
To spread TCM to the whole world, one person is not enough. At the invitation of one of his foreign students, Li gives TCM lectures in Belgrade each summer, helping to expand the influence of TCM in Europe.