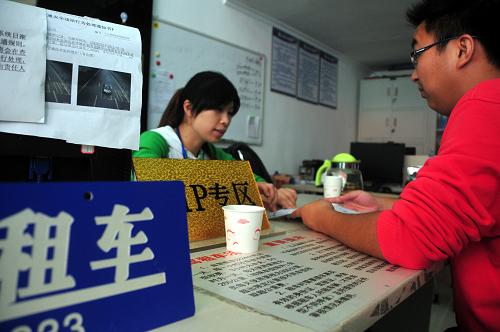 A client signs up for car rental. [Photo/Xinhua]
Car rental service providers in Shanghai have seen a surge in business recently with lots of people reserving cars for the upcoming Spring Festival holiday, which will run from Feb. 15 to 21 this year.
As expressways become toll-free during the holiday, more people choose to take a road trip or travel by car. Many car rental companies report a reservation rate of over 70%. In the meantime, the market has witnessed some changes.
First of all, car renting has gone online. People can rent a car just at the click of a mouse. Or they can make a reservation on a mobile app. According to a manager of China Auto Rental (Shanghai), since late 2017, the car rental company has seen reservations on its app exceeding the total number of reservations made online and over phone calls. What's more, by the end of 2018, clients will have been able to rent a car via WeChat, according to Dazhong Leasing Car, another car rental service provider in China.
Secondly, mini-vans and mid and high end cars become popular choices as the minimum time of car rental is shortened. According to Dazhong Leasing Car, clients' favorites are seven-seat vans like Buick or Odyssey with a seating capacity for an extended family or two nuclear families. Anyone with a C-class driving license can ride them. They are good options for self-driving tours.
Lastly, to the delight of many clients, rental and return processes can be handled at different offices. For instance, clients of Dazhong Leasing Car can return their cars to the company's branch offices in a total of 20 cities across the country.