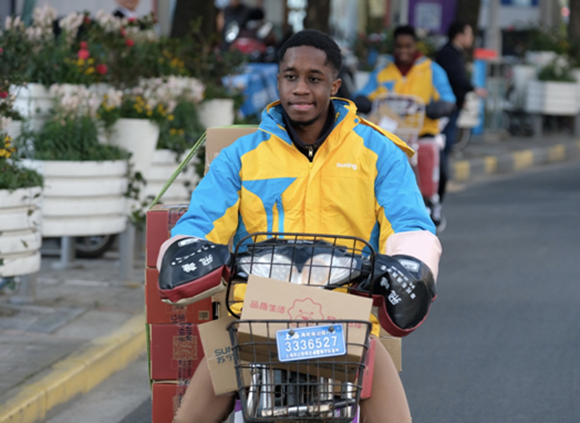 An international student works as a delivery man. [Photo/Eastday.com]
This year, do not be too surprised if you receive your package from a young foreigner during the Spring Festival. A group of international students have joined the rank of delivery men in Shanghai.
Bai Tong and Wei Mo are twin brothers from Zambia, Africa. Wei Mo studies international trade at Donghua University while his elder brother Bai Tong is a medical student in Beijing. Having been in China for over two years, they can speak some basic Mandarin.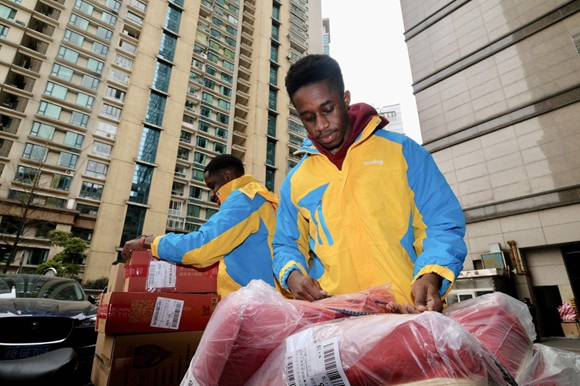 Bai Tong and Wei Mo at work [Photo/Eastday.com]
At around 8:00 a.m., the brothers arrived at an electronics retail store and received a pre-employment training from a delivery man. They also had to learn how to extend Chinese New Year's greetings to customers, such as "Xin Nian Kuai Le (Happy Chinese New Year)" and "Gong Xi Fa Cai (Wish you a wealthy new year)."
For Wei Mo, the social practice is very meaningful. He regards it as a special way to celebrate the Chinese New Year."I'm very happy about this job. Since I've never spent the Spring Festival in China before, it allows me to go around the city and get to know authentic Chinese greetings, which is a precious experience for me," said the young man. Though the packages are heavy and that he has to ride an electric bike in such cold weather, he says he has experienced a different life.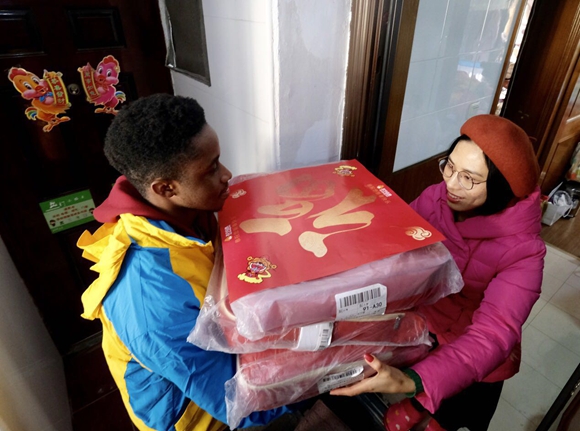 Wei Mo delivers parcels to a customer. [Photo/Eastday.com]
Besides Bai Tong and Wei Mo, a total of 80 international students have taken part in the social practice program. During the holiday season, they will be working as a delivery man, responsible for sending parcels to the doorstep of their customers.