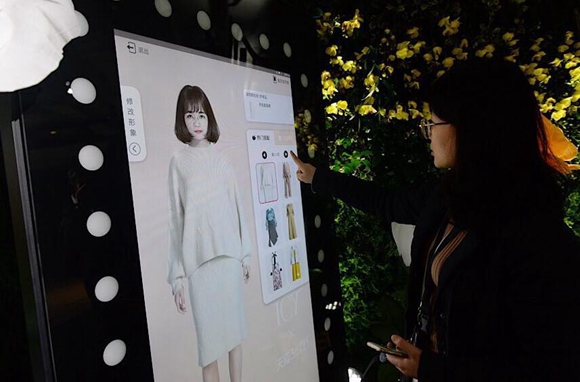 A lady chooses clothing in front of a 3D fitting mirror. [Photo/Eastday.com]
With the approaching of International Women's Day, a big data report on Chinese females' consumption trends has been released, reflecting that modern females have become more free, relaxed and independent as they care more about their self-improvement and development.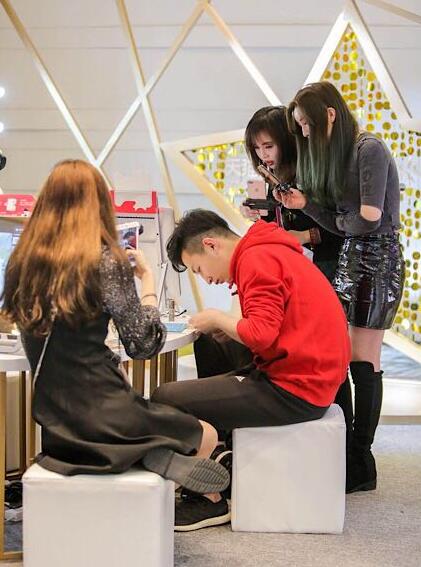 Female consumers experience new retail shopping. [Photo/Eastday.com]
Shanghai women lead consumer trends
According to statistics released by online shopping site Tmall, Chinese women's consumption increased significantly in sportswear. In the recent year, the number of females who purchased running outfit surged by 1389% and that of portable fitness equipment reached 5.8 million. In the same period, the number of women who purchased boxing gloves increased by 75% and over 3.55 million hardware toolkits were purchased by women.
Geographically, women in Shanghai, the city of new retail shopping, are at the forefront of the country in self-awakening. From electric ovens to egg beaters, from mouse and keyboard to treadmill, from cosmetics to roller skating equipment, the average monthly spending of Shanghai women is always leading the country, making them a new consumer trend-setter.
The rising consumption power of middle-class females
With the rise of women's consumption power, their demand for beauty products has increased significantly. Young middle-class females have become the backbone of consumption, with 14% of middle-class households spending 14% more on FMCG than average households. 50% of the beauty product revenue has been contributed by women aged 15-20.