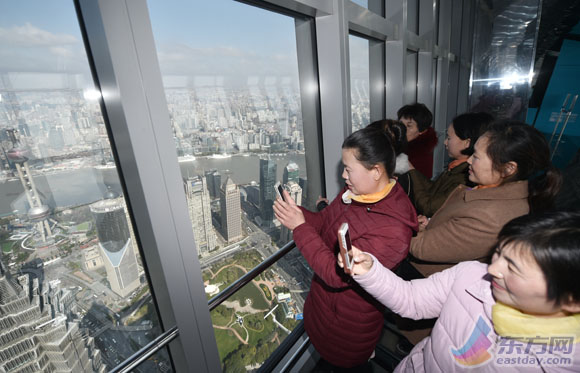 Female construction workers enjoy a bird's-eye view of Shanghai at the city's second tallest building. [Photo/Eastday.com]
On the occasion of the International Women's Day, several female construction workers in Shanghai had a special celebration. They were invited to have a tour of the city's landmarks which they helped to build.
At the Shanghai World Financial Center (SWFC) and the Oriental Pearl Radio & TV Tower, female workers from the First Construction Co., Ltd of China Construction First Group enjoyed a bird's view of the city, which is both familiar and strange to them—familiar because they have helped to erect many of the high-rises and buildings, strange because the city is developing too fast and always taking on a new look.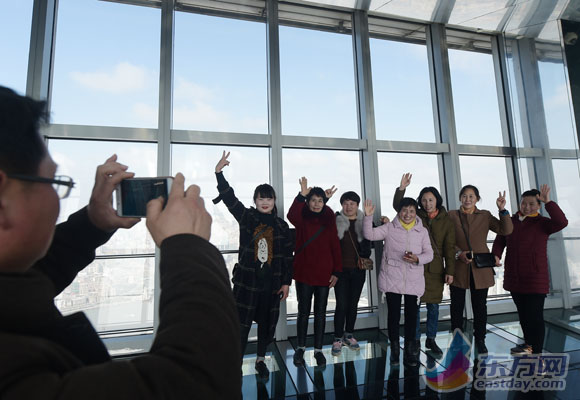 Female construction workers take a group photo at the Shanghai World Financial Center. [Photo/Eastday.com]
One of the workers is 50-year-old Li Qin. 11 years ago, she took part in the construction of the Shanghai World Financial Center. She and her colleagues fought for more than 1,000 days before the main structure was finally completed ahead of schedule. Standing at 472 meters above sea level again, Li said, "I built the building. I'm full of pride and happiness! Since the project was done, I've never been to the Shanghai World Financial Center. I've hoped to visit the place, but the ticket is too expensive for me." Now, standing on the 100th floor of the building, her wish has come true.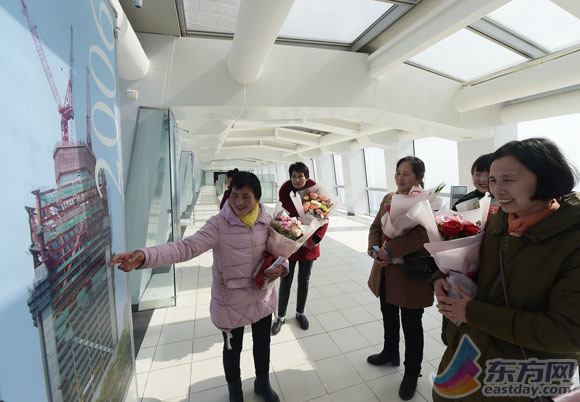 Li Qin recalls her work in building the Shanghai World Financial Center. [Photo/Eastday.com]