The Simon Ma 2018"Silk Cavallo" exhibition world tour kicked off on the afternoon of April 14 in Shanghai at MIFA (Shipyard) 1862, an art center converted from a 155-year-old ship-manufacturing building, which is now part of the Lujiazui Harbor City located on Binjiang Avenue.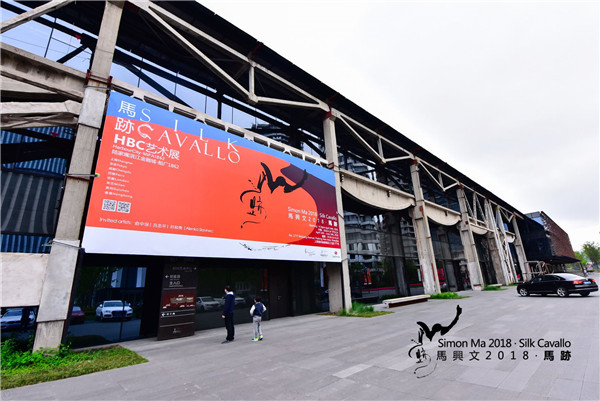 As a world-renowned contemporary artist and one of China's most commercially successful artists, Simon Ma has prepared for two years for Shanghai's premiere exhibition. His love and zest for horses runs deep in his heart and has inspired him to create a variety of equine artworks over the years including ink painting, freehand brushwork, lacquer paintings, 3-D art video, and glass sculptures, utilising varying media.
Tribute to Xu Beihong
What draws the eyes first in this exhibition might be those large paint-splattered equine sculptures - Ma's representative works made in earlier years named Wind horse, Earth horse, Water horse, Flying horse and Benevolent horse. Among them, Benevolent horse or Ren(仁)Ma, a work inspired by Master Xu Beihong's artistic notion, was the main masterpiece of his 2014 world tour exhibition under the theme "Heart, Water, Ink".
Debut of the Peace Horse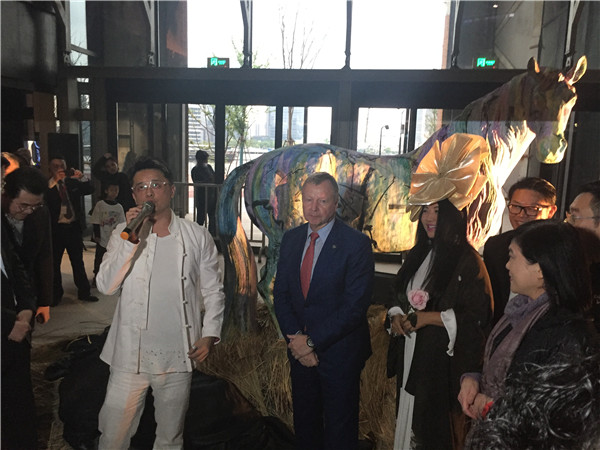 The opening ceremony was attended by such senior officials as Winfried Engelbrecht-Bresges, the CEO of the Hong Kong Jockey Club, Adam Li, chairman of the Hong Kong Chamber of Commerce in China, Jacky Chung, General Secretary of Hong Kong Chamber of Commerce (Shanghai) and celebrities like writer and singer Yang Erche Namu and singer-songwriter Li Quan.
At the opening ceremony of this exhibition, a new masterpiece of Simon Ma, the large scale sculpture Peace Horse (和平融马)was unveiled to the public. Characters of different languages have been written in calligraphy onto this stunning horse sculpture, which, according to Simon Ma, denotes peace, justice, inclusiveness and harmony and serves to reduce anxiety or other negative emotions in our modern days.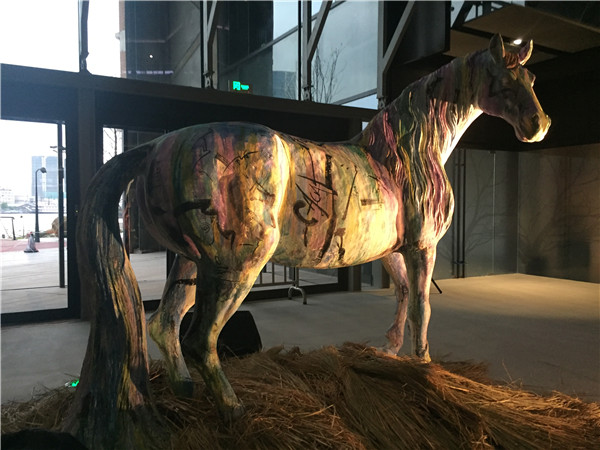 (The Peace Horse)

Pony Princess, a smaller sculpture, was also shown along with the Peace Horse and "signed" by the invited guests in ink and paint of various colors.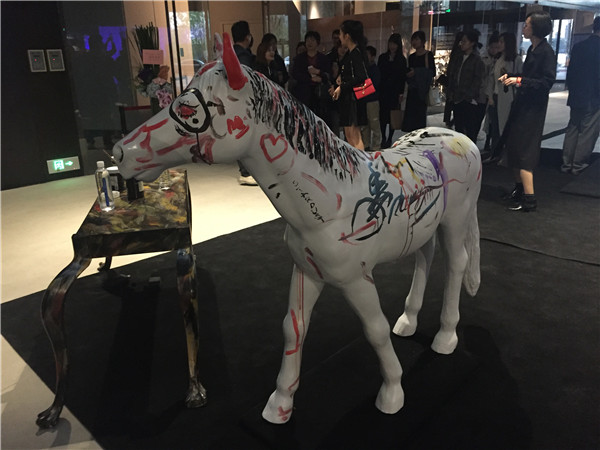 (Pony Princess)
As part of the opening ceremony show, Simon Ma demonstrated his freehand brushwork on a large fabric before all the audience. He led a white horse to tread on the large-sized white fabric with its hooves brushed with black ink, before completing a calligraphy work (Chinese characters "马迹")with an over-sized Chinese brush.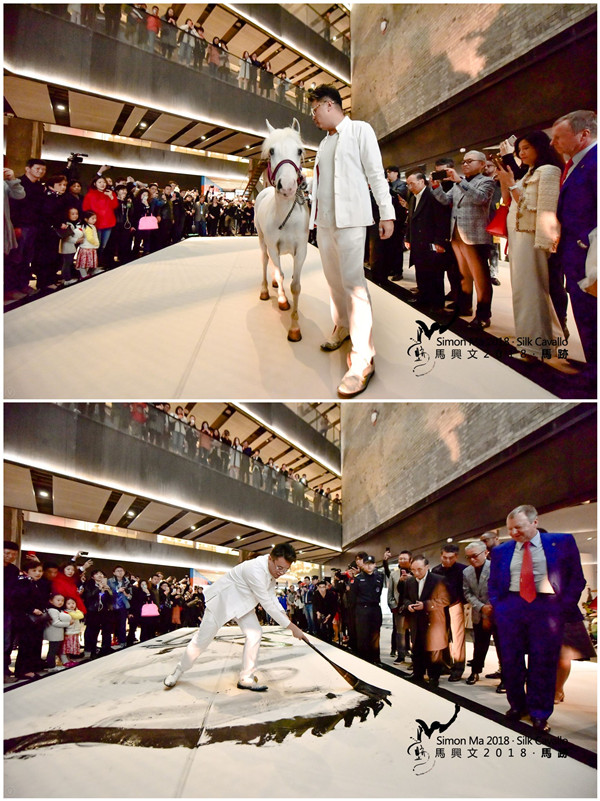 Mr. Ma guided his guests through his artworks during the exhibition.
He also collaborated with LV Zhongping, a famous artist known for his traditional Chinese art and tiger paintings, in finishing a colored ink painting on the subject of horse. The fabulous brushwork was created on a several-meter long Xuan paper and was finally stamped by both artists' seals.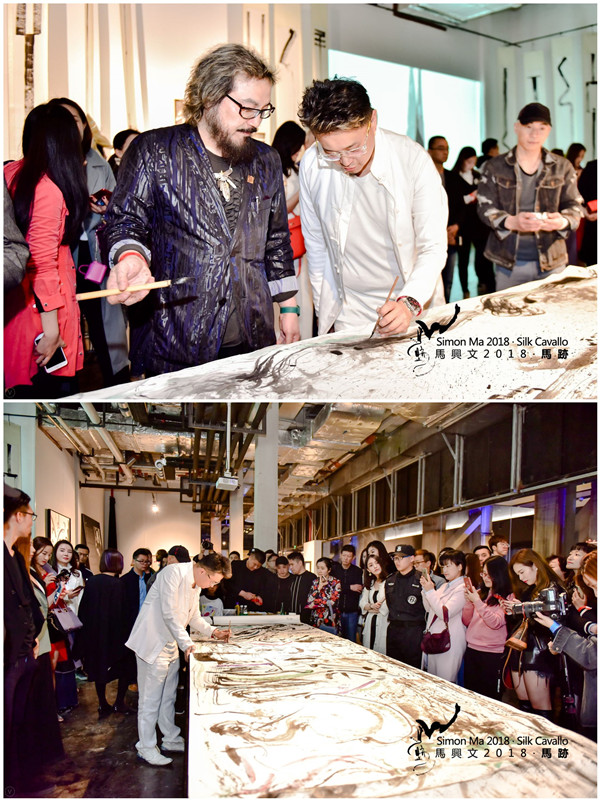 The exhibition reached its climax when visitors were led to the theater to attend the Crossover Arts Forum. The forum began with an amazing drum beating performance by artists from 6 different countries, with electronic horses galloping in the background, both wild and graceful at the same time. It was astounding how their movements seemed perfectly in unison.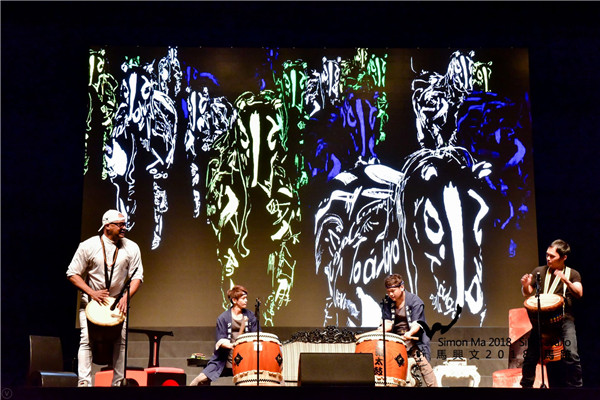 The drum-beat performance was followed by a Kunqu opera excerpt "Lanhuamei" performed by the "Prince of Kun Opera", Zhang Jun, whose beautiful voice stunned the audience.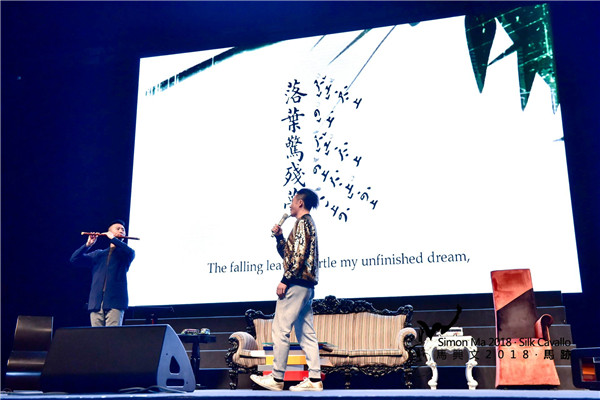 The invited guests at the forum, including Zhang Jun, famous psychologist Dr. Zhang Yijun, and Qi Heliang, Professor of Shanghai Institute of Visual Arts, shared their art and daily life experiences and stories in the "crossover" panel, with Simon Ma. They all agreed that love for life is key to creative boundary breaking.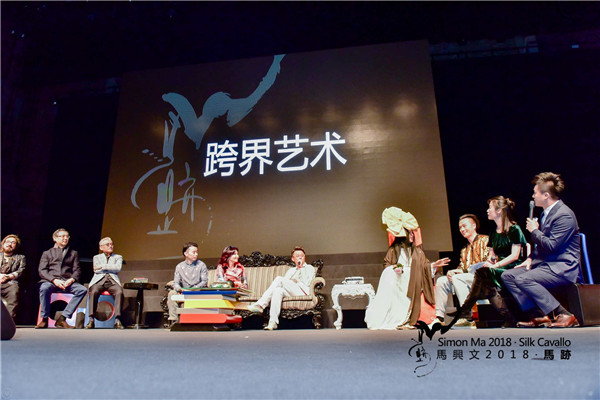 The forum also invited all guests to join Simon Ma's charity program and "embark on the Art Bus" to send their love, care and support to kids with autism or cerebral palsy or other disabilities in the poor mountainous areas in mainland China.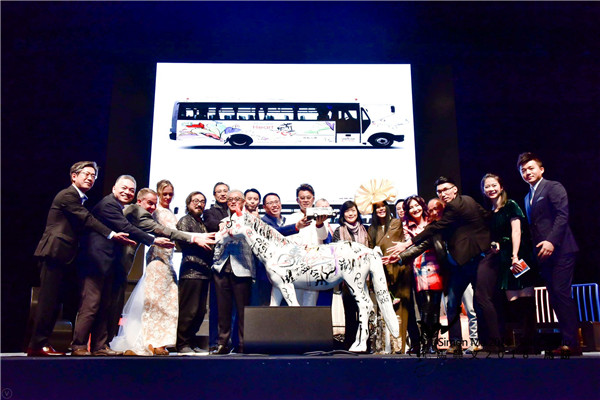 The forum ended successfuly with a chorus performed by the Happy Pony.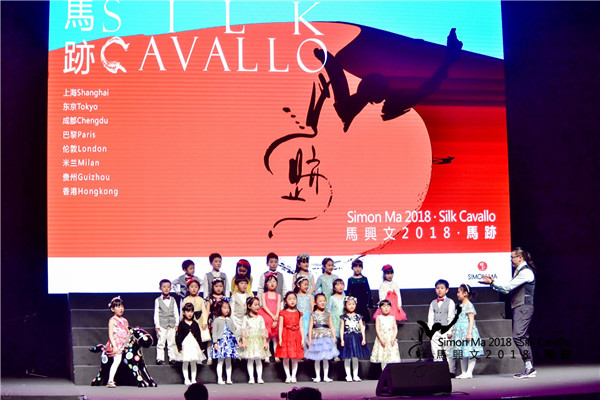 The Shanghai leg of the exhibition's global tour will last two months until June, 14.