Unlike most mornings, on May 12th, the Century Park in Pudong turned into an unusually lively place: the stage for a big international party. More than 3,000 people of different skin colors and different languages dressed in pink and green participated in the 6th More Than Aware (MTA) Family Fun Run.

200 cancer survivors, or thrivers as they prefer to be known, from the Shanghai Cancer Recovery Club (SCRC) also arrived at the park early to take part in the run. Wearing green T-shirts and pink sleeves, they showed up to cheers and applause. Greeting people around them with a high-five, they passed on their positive attitude towards life to all.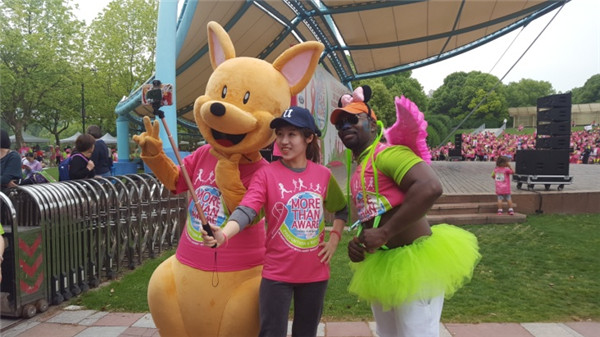 (People are dressed up for the run.)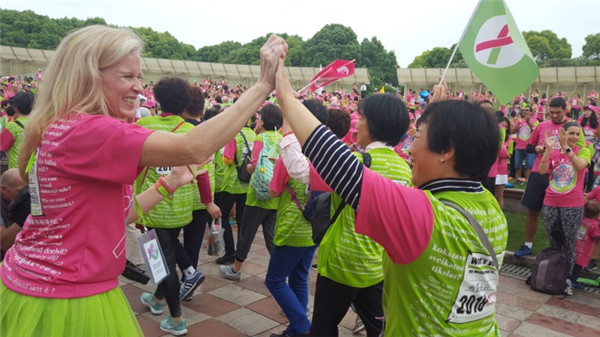 (A cancer thriver gives a high-five to an MTA volunteer.)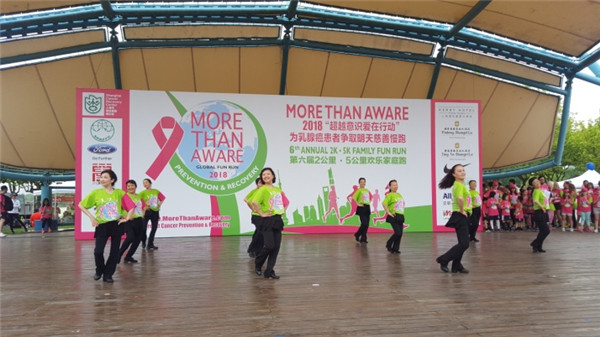 (Cancer thrivers from SCRC give a vibrant dance on stage.)
Hailing from all over the world, all the participants gathered only for one reason: to support breast cancer prevention and recovery.
If you know breast cancer, you may not be unfamiliar with pink: the Pink Ribbon is a universally recognized logo for breast cancer prevention. Green, meanwhile, represents "action." The logo of the event organizer, MTA, is a ribbon in pink and green, to encourage everyone to take action to enhance awareness of cancer prevention.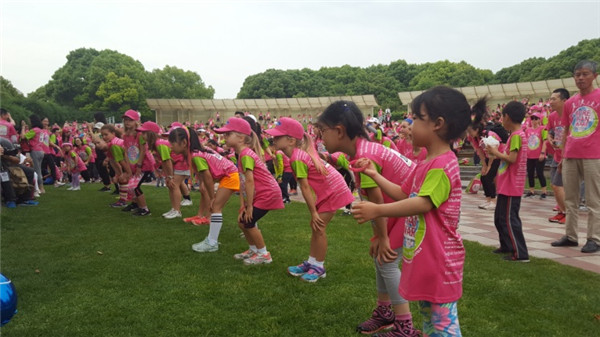 (Kids do a warm-up before the run.)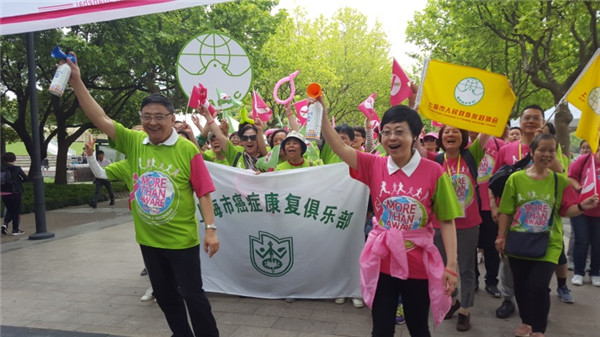 (SCRC members get ready at the start line.)
At about 8:30 AM, the 5k race and 2k walk began successively. Smiling and laughing all the way, the participants expressed their passion for life by running and walking. Many of them are families concerned about cancer prevention, such as Tanya and her family from Australia. Tanya's mother-in-law used to participate in similar charity campaigns against breast cancer for many years in Melbourne. Now in Shanghai, she said she will continue to cheer for cancer patients,"First, I run for breast cancer patients. Second, it is to celebrate Mother's Day."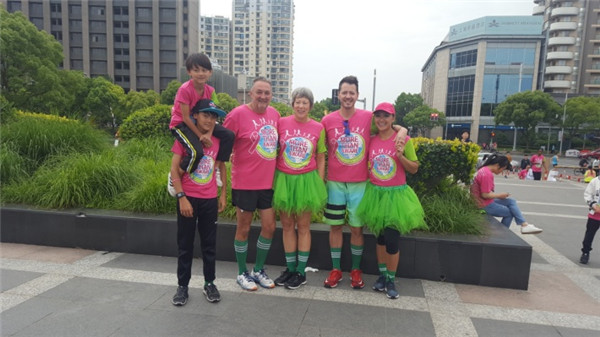 (Tanya and her family from Australia)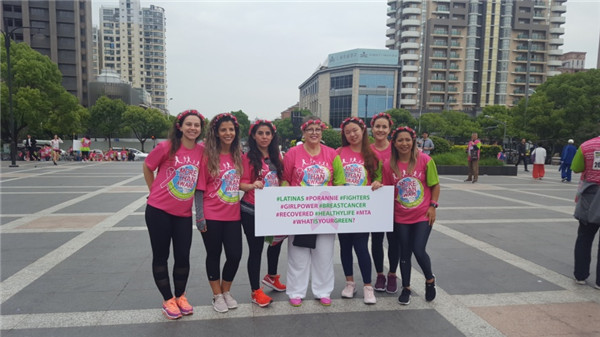 (Girls from Latin America)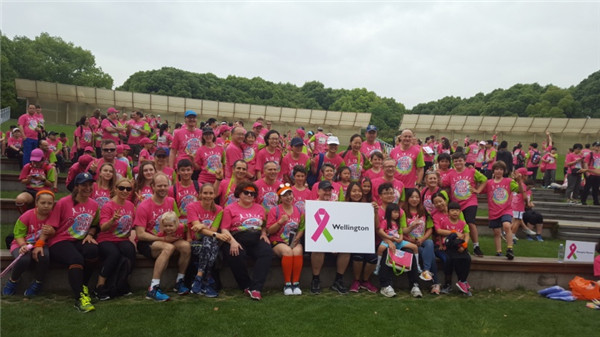 (Faculty and students from an international school)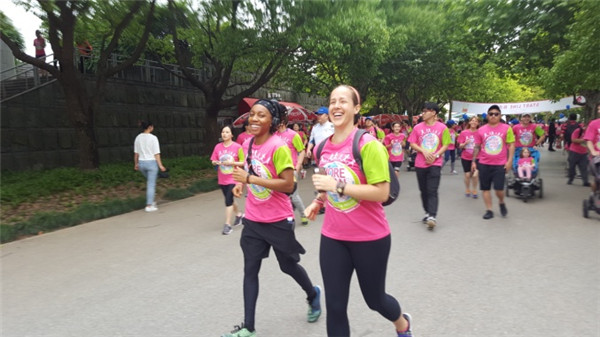 (Two friends run happily.)
It has been the sixth year that MTA has hosted the Family Fun Run in Shanghai. According to MTA's founder, Suzanne Calton, MTA is a nonprofit organization composed of volunteers and focuses on breast cancer prevention and recovery. "For prevention, people need to write their 'green' goal (which is the fitness goal) on their T-shirts, while cancer thrivers will get everyone's cheers and recognition. All funds raised from our activity will be donated to SCRC."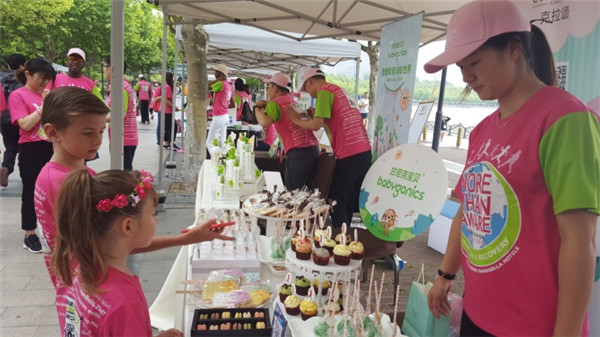 (Many sponsor enterprises hold charity sales to raise fund for cancer patients.)
"MTA is a big family. What inspires me is that our members take their personal time to serve others' heart and soul. Even though they get no credit and recognition, they still serve." Suzanne was very grateful to her fellow volunteers. "Everyone does his or her own part. And that's the energy we feel here: love."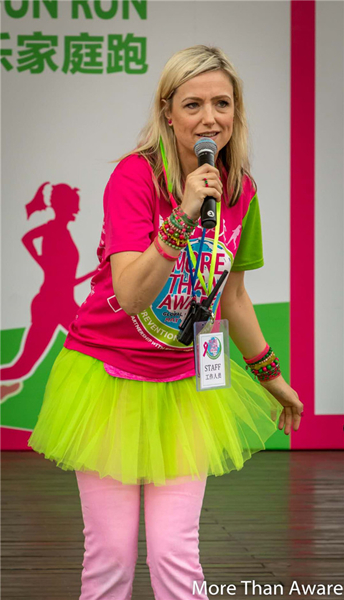 (MTA's founder Suzanne Calton [Photo provided by MTA])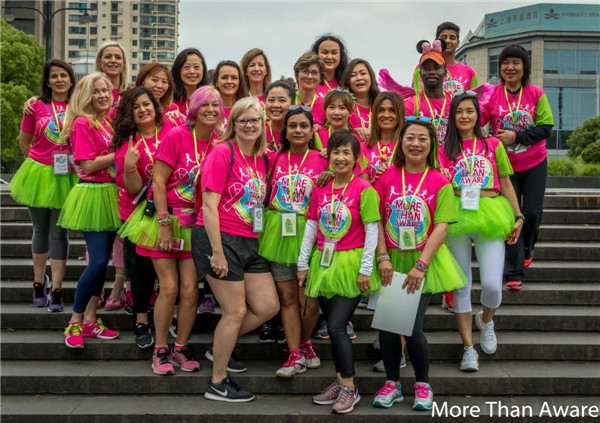 (MTA's volunteers are from different countries.[Photo provided by MTA])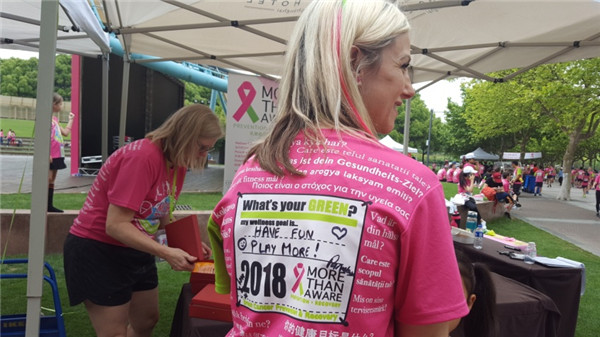 (See what Suzanne's "green" goal is?)
Ms. Cao is one of the participants in the 2k walk. She was diagnosed with breast cancer in May 2014. She said, "It's unfortunate to get sick, but fortunately, I joined SCRC soon after I took the chemotherapy. The club is like a haven for us, where we entertain, enjoy ourselves and help each other. It is the third time that I've participated in such activities. Each year, the scale of the event becomes bigger and bigger. Suzanne and her MTA team not only give us tremendous financial support, but also lead us through various activities to recover from and prevent cancer and live more positively. The theme of this year's activity ('What is your green?') advocates a healthy lifestyle, not only among cancer patients, but also among healthy people. To participate in such activities together with healthy people, we feel very inspired, and we have no reason not to recover, be happy every day, and get back to serve society after recovery. I am very happy now, and I'm in a good mood. During the treatment, there will be pain, confusion and even fear. But after the activity, I will definitely get inspired!" This year, Ms. Cao's "green" goal is "Quiet"- she wants to live comfortably even though life is busy.