The 2018 FIFA World Cup is to kick off on June 14. If you are not going to Russia to enjoy the exciting event in person, maybe you can feel the enthusiasm of every football fan at Xujiahui Metro Station in Shanghai.
Starting from June 10, an art gallery themed around the World Cup will be put on show at the subway station to amaze commuters. At Exit 12, people can see three original oil paintings created by Chinese artists Zhou Haohui and Zhuang Yuxing. Themed around "How the Continents Collided," the paintings, each as long as 3.6 meters, are crafted in a magic and fantasy artistic style. They tell a story of the world being divided into seven continents due to continential drift. With the advent of the 2018 World Cup, Russian football players kick a football which is passed to all the continents on a rope, thus reconnecting the world and causing a new round of crustal movement. At the end of the epic story, hundreds of millions of football fans cheer for the World Cup.
The artworks took two months for the painters to complete. It is the first time for them to be displayed in a metro station.
In addition to the three oil painting originals, eight installations made of Tsingtao beer cans are also being exhibited in the gallery. Each features a crowd chant in the language of a different country.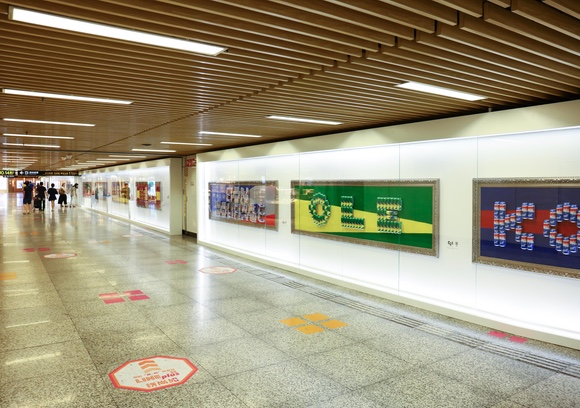 The exhibition will last for one month.