【改革开放40周年40人】Joaquim NASSAR: recipient of Shanghai's first unified work permit for foreigners
Joaquim NASSAR: recipient of Shanghai's first unified work permit for foreigners
At the end of 2017, Shanghai ranked first in the nation in terms of work permits issued to foreigners. The percentage of top-level talents (type A) reached 15.83%, far exceeding the national average. In the year of 2017 alone, Shanghai issued 34,551 foreigner work permits, accounting for 1/4 of all issued permits in the nation. 110,426 foreign talents were introduced and there are now 215,000 foreigners employed in Shanghai.
Why do these foreign top-level talents choose to work in Shanghai and what role does the city of Shanghai play? What do they expect from the city's future? What does the 40 years of reform and opening up mean to them? With these questions, eastday.com interviewed a representative of this group of people, the first to receive Shanghai's first unified work permit for foreigners—Joaquim NASSAR, the French dean of The SJTU–ParisTech Elite Institute of Technology.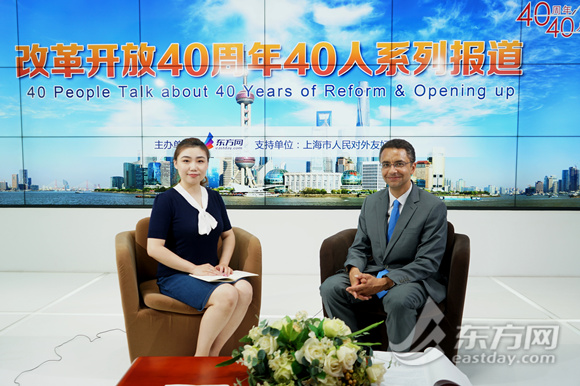 (French dean of the SJTU–ParisTech Elite Institute of Technology Joaquim NASSAR interviewed by Eastday.com)
First visit to Shanghai
2014 was the 50th anniversary of the establishment of Sino-French diplomatic relations. Prof. Nassar was invited to attend the commemorative activity at SPEIT along with a great many leading French experts in the field such as the 2012 Nobel Laureate, Serge Haroche.
Shanghai college students' proficiency in French and understanding of French culture made a deep impression on Prof. Nassar. During the commemoration, many students of SPEIT could fluently explain their physics experiments in French and even ask great questions to leading scientists.
Prof. Nassar told the reporter, "It was probably at that time that I thought about coming to work here. I did not expect it would be realized in just a year."
In 2015, Prof. Nassar came to work in Shanghai as the French dean of the SJTU–ParisTech Elite Institute of Technology. Before departure, he had been working for two years as the person in charge of the cultivation plan for the engineers of this new college. During this time, he traveled between China and France multiple times. He praised Shanghai's investment in education and the sciences. Shanghai Jiao Tong University has world-class laboratories and experienced faculty, many of which are returning students from top universities overseas. "Every time I come to SJTU I am shocked by the school's enormous investment in terms of faculty, facilities, technology and its students," says Prof. Nassar.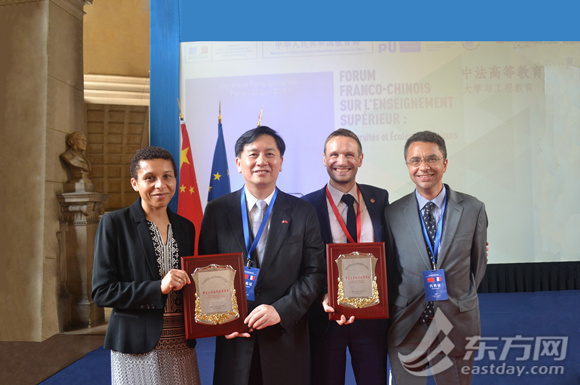 (Joaqium NASSAR is the first to receive a foreigner's work permit after Shanghai's pilot reform of the integration of the two certificates)
A witness to the reform
In the second year of his career in Shanghai, Prof. Nassar is awarded a big "present" from Shanghai.
In November, 2016, Shanghai implemented the pilot reform of the integration of two certificates and Prof. Nassar was the first to receive the city's first unified work permit for foreigners.
Foreigners who work in China normally face bureaucratic problems getting visas and having to provide a series of documentation. The reform has brought convenience to these foreigners.
Foreigners used to need a foreign expert work permit and an employment certificate for foreigners. With the reform, the two were combined into one single foreigner's work permit which is recorded online and goes with the holder.
This combination streamlined the application process as it requires seven less documents, such as the application letter, original permit or stub, Chinese and English resume and recommendation letter. At the same time, additional requirements of the highest degree certificate and a clear legal record were added.
Prof. Nassar admits, "I am not surprised to see Shanghai becoming the first city to put forward the convenient foreigner's work permit." For him, Shanghai is the perfect city where cultures of home and abroad are merged. "A lot of the city's features are attractive to foreigners and I think that with the reform Shanghai has set a larger goal—to become the top destination for global top-level talents, especially those in the fields of cutting edge sciences," says Prof. Nassar. "The combination of these two certificates means a lot and is a crucial step in achieving that goal."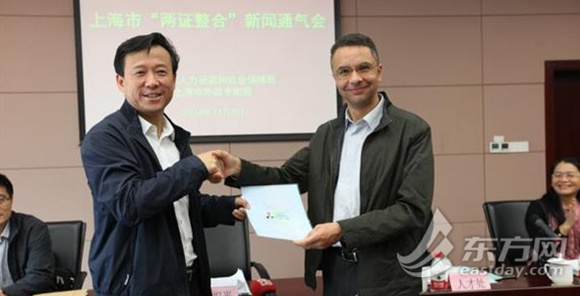 (In June 2016, the SJTU–ParisTech Elite Institute of Technology is named "outstanding Sino-French colleges' cooperation program" by the two governments.)
A contributor to Shanghai's development
As a scientist and the French dean of SJTU–ParisTech Elite Institute of Technology, Prof. Nassar has emphasized scientific innovation and talent cultivation in Shanghai.
"Scientific innovation is greatly valued in Chinese society and teenager's education. I see that there is a bright future as Shanghai's middle school students rank high in the results of PISA and other global comparative studies of teenager's math and science levels."
Prof. Nassar is willing to introduce advanced educational theories into Shanghai and prove his devotion to Shanghai's science, research and development, and the growth of talent. The SJTU-ParisTech Elite Institute of Technology utilizes its location and circumstances to synthesize the advantages of both sides in cultivating engineering talent and makes the most of the great research environment offered by Shanghai Jiao Tong University.
Prof. Nassar says, "In our college, whatever major a student chooses, he or she needs to spend a large amount of time on math, computer science, physics, chemistry and other basic subjects. Today the rate of update of technology is so fast that students should not begin learning prof. knowledge too early. Rather they should get to know the basics before beginning their careers and that would help them better get used to any new technology."
As a teacher, Prof. Nassar is also delighted that his students enjoy rich resources of practical experience. "A lot of companies from China and overseas set up their research and development center in Shanghai, which makes it easier for the university to cooperate with them," he says. SJTU–ParisTech Elite Institute of Technology in recent years has actively organized its students to visit, do research and intern at these companies and the feedback has been positive. The cooperation between the university and companies has become one of the outstanding features of the school and has greatly facilitated the development of practical high-level talent.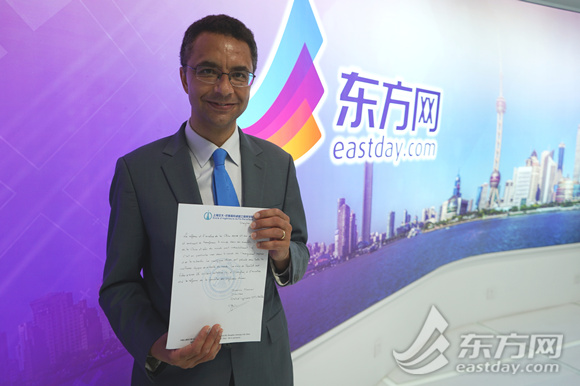 (Prof. Nassar sends his words for the 40th anniversary of reform and opening up.)
Words for the future of reform and opening up
"Today's Shanghai is greatly different from what it was 40 years ago. I cannot imagine what it would be without the reform and opening up," says Prof. Nassar.
In his career in Shanghai, Prof. Nassar has found out that most of the accomplished Chinese scientists at top universities in the world would eventually choose to return to Shanghai to further their academic career. The professor himself has also experienced Shanghai's appeal to foreign experts and the city's facilitation of foreign exchange research as he told the reporter, "In the academic circle in France, almost all universities would like to cooperate with Shanghai."
He also posits that, "The reform and opening up has not only changed China but also changed the world. Without China's reform, the entire human race would be living and working in another way. Nowadays, in fields such as energy, raw materials, food and climate change, China's decisions are making global impacts. The technology that China is researching is being introduced into other countries."
"Now China is in the position of being the one who produces the new technologies and the innovations that are adopted in the rest of the world and to contribute to innovations in other countries. I think this will happen in domains such as e-commerce, mobile services, shared and electric vehicles, autonomous driving, artificial intelligence, etc," says the professor. For him, it is very exciting to be here and to collaborate to educate students who will contribute to this.
Joaquim NASSAR's wishes for China's new journey of reform and opening up:
China's reform and opening up has changed and will continue to change both China and the world. China's future is closely related to the development of the world, especially in the fields of higher education and scientific research. The world's top scientific research teams have Chinese scientists. ParisTech colleges are very honored to have established SPEIT in Shanghai with SJTU, to jointly train China's future outstanding engineers. 
About the Interviewee:
Joaquim NASSAR, French dean of SJTU–ParisTech Elite Institute of Technology
From 1999 to 2002, he was in charge of a research project on semiconductor parts and technology in cooperation with the French Defense Department and served as the vice director of education and research at ENSTA-école Nationale Supérieure de Techniques Avancées. In 2007 he served as the vice director of research at ParisTech, in charge of the research of photovoltaic semiconductor devices and is responsible for teaching quantum mechanics, statistical physics and semiconductor physics. He was also part of the energy and environment cooperation project between Europe and China.
In November 2012, he took the post of the dean of the École Polytechnique.
Related reading
The SJTU–ParisTech Elite Institute of Technology (SPEIT) brings together the strengths of leading French Grandes Ecoles (Ecole Polytechnique, Mines ParisTech, Telecom ParisTech, ENSTA ParisTech) and of Shanghai Jiao Tong University to develop Sino-Frenchresearchandinnovation collaboration and to educate high-potential Chinese and international students to become industrial leaders and innovators. France places great importance on ParisTech. In 2013, François Hollande, the then French president, unveiled the school.
PISA
The Program for International Student Assessment (PISA) is a triennial international survey, which aims to evaluate education systems worldwide by testing the skills and knowledge of 15-year-old students. It was first performed in 2000 and then repeated every three years. Its aim is to provide comparable data with a view to enabling countries to improve their education policies and outcomes. It measures problem solving and cognition.