On the morning of June 9, the enrollment for the Visiting Program for Young Sinologists, sponsored by the Ministry of Culture and Tourism and supported by the Shanghai Academy of Social Sciences, was held in Shanghai.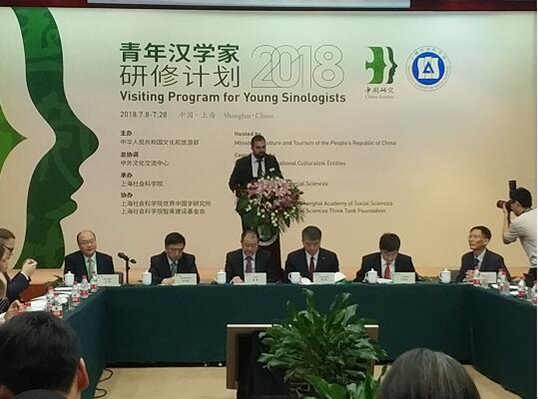 Enrollment ceremony of 2018 Visiting Program for Young Sinologists [Photo/eastday.com]
The Visiting Program for Young Sinologists is intended to set the global platform to support young Sinologists overseas to conduct Sinology research. First held in 2014, the program has been successfully organized 12 times and has received 360 young Sinologists from 95 countries. This year, the program in Shanghai maintains its format of one-on-one tutoring, high quality academic lectures and field surveys in order to lay a solid theoretical foundation for the students.
At the enrollment ceremony, four young Sinologists from Turkey, Russia, Egypt and the USA talked about their attraction to China from different perspectives. Ai Guoqiang, a research associate at Mehmet Akif Ersoy University connected with China through a book named "Chinese Mythology". He withstood pressure from his family and chose Chinese as his major, studying at Nankai University for two periods. Now he is taking his one-year old son on his first trip to China. Ai Li, associate professor at the Fareast Research Institute of Russia, followed his mother and devoted himself to Sinology along with his wife and younger brother. Researcher of Chinese affairs and translator, Mira Ahmed from Egypt, stated that to know a nation's culture one must know the language. She started with translating "Luotuo Xiangzi" and later translated works of Lu Xun, Zhang Ailing, Bing Xin and Jia Ping'ao. Hu Ruixue, a doctoral student at the University of Pennsylvania, was fascinated by Chinese through her Chinese American friends and she is now reading Cyber Security Law to understand China by looking at the rapidly growing Chinese internet industry.
During the program, the 32 young Sinologists will listen to lectures on the topics of Chinese culture, economy, law, diplomacy and urban development. They are also going to join experts from the Shanghai Academy of Social Sciences, Fudan University, East China Normal University, Tongji University and Shanghai International Studies University for a three-week seminar. In addition, these Sinologists will also have the chance to visit Shanghai's historical sites, characteristic communities, famous enterprises and Beijing's cultural relics.