Chinese people's friendly witness to Reform & Opening Up
The 77-year-old Franco Terenzi is the Former Captain Regent of the Republic of San Marino, a microstate in northern Italy, as well as the current President of the San Marino-China Friendship Association. The man who has visited China 58 times is an enthusiast of the country and has been devoted to friendly cooperation between China and San Marino for many years. For China's reform and opening up, he is a star witness.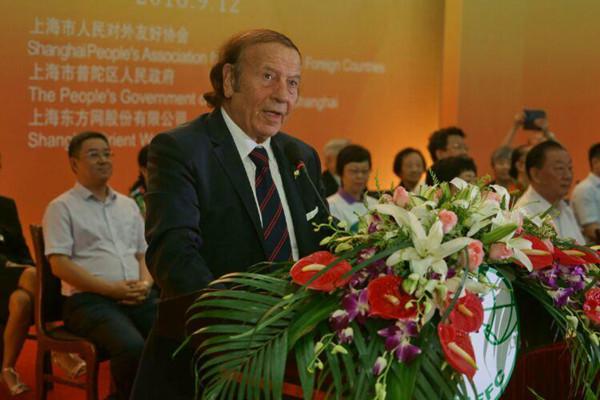 Franco Terenzi,"Chinese people's friendly messenger"
58 visits to China to witness dramatic changes
Speaking of his first visit to China, he was deeply touched. "As early as the 1980s, I had the privilege of officially visiting China as the head of state of San Marino, and I met the then president Li Xiannian and Premier Li Peng. I saw that the Chinese people were enthusiastically involved in the cause of building the motherland."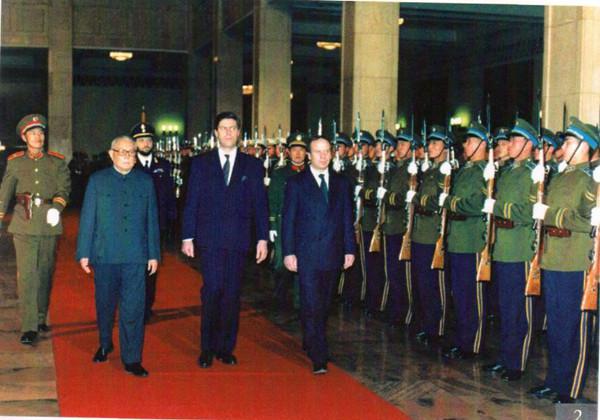 Franco Terenzi (right), as the head of state of San Marino, visits China in 1988 and takes part in the welcoming ceremony held by the then president Li Xiannian.
It is this enthusiasm that has made today's China totally different from that of the past after 40 years of reform and opening up.
"The speed of China's development and its changes are so magnificent that they are beyond words. But the general characteristics can be described."
He recalled his first visit to Shanghai. "I remember when I first visited Shanghai, according to the protocol, we had to cross the whole of Shanghai. At that time, the streets in Shanghai were very crowded and narrow, with bicycles everywhere. Few streets could withstand such a large bicycle flow together with ourhuge diplomatic convoy. Today, the traffic conditions in Shanghai are very different. This was unimaginable at that time. Nowadays, there is a three-dimensional transportation network and cars are everywhere.It is amazing. In 1988, Pudong still had nothing. Now its urban planning, including construction, transportation and greening are quite impressive, and everything is well organized."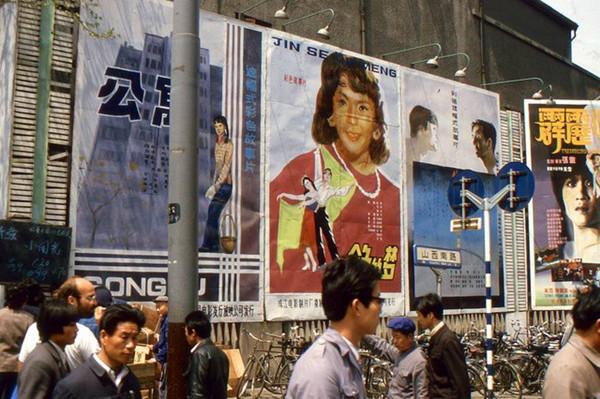 Street scene of Shanghai in the 1980s
He also commented, "Today's China is advancing with the times. It responds in a timely manner to issues like transportation, environmental protection, employment, rural development, population migration, young migrant workers entering the city and urbanization. Indeed, China's changes are not only as I described before, but also in aspects like people's way of life, dress and the way to carry out social activities. Also importantly, during the great changes, China has still maintained its cultural traditions, which set a good example for today's world."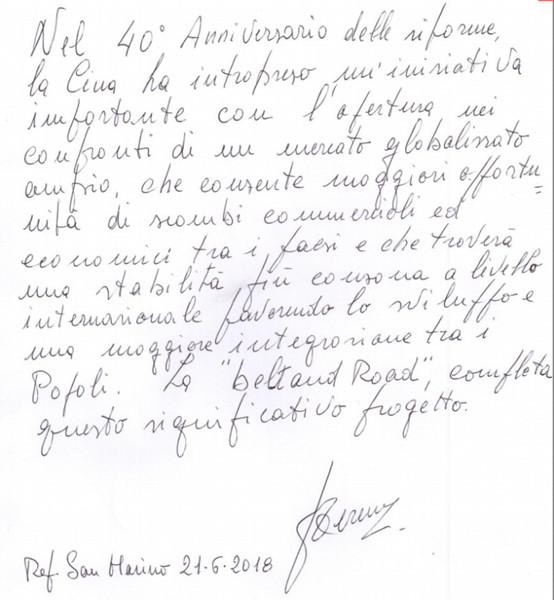 Franco Terenzi's expectation of China's continued reform and opening up
Faith in great opportunities and timeless bilateral friendship
When asked about the opportunities in today's world for San Marino to cooperate with China, the old man's smiling eyes light up with wisdom. "When President Xi Jinping launched the 'Belt and Road Initiative' in 2013, we realized that this is a very important strategy. The Republic of San Marino is also part of it. This project involves a large number of countries and brings great opportunities to participants. The idea is great, strategic and revolutionary! The ancient Silk Road was just for land or sea freight, while the new Silk Road connects the two with the land silk road reaching along the Arab countries to Russia and the heart of Europe. There will be not only trade contacts, but also currency exchanges. This initiative will push China to an important position in the world stage," said Terenzi, expressing a heartfelt admiration with his words.
As the President of the World Union of Small and Medium Enterprises, Terenzi delivered a speech at the opening ceremony of the 2018 Sino-European Entrepreneurs Summit on June 4, 2018.
He added that he had the privilege of meeting with Xi Jinping, then secretary of the Zhejiang Provincial Party Committee in San Marino in 2003, and met with him several times later. He also keeps exchanging letters with Xi to maintain friendship. "15 years have passed and I feel that President Xi Jinping is an important leader. He leads everyone to inherit the cause of reform and opening up pioneered by the former leaders and pushes socialism with Chinese characteristics into a new era."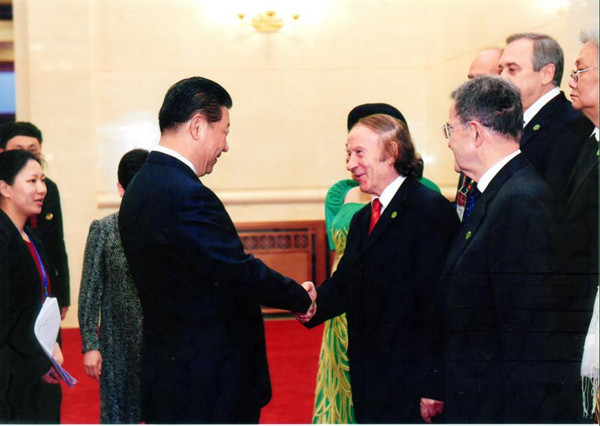 President Xi Jinping shakes hands with Terenzi. In September 2015, Terenzi attended the commemoration of the 70th anniversary of the victory of the Chinese People's War of Resistance Against Japan and the World Anti-Fascist War.
Terenzi is always optimistic about the friendly relations between the two countries. He said that although San Marino is small, it is willing to cooperate with China in all fields, such as ceramics, metal machinery and high-tech fields. "The friendly relationship between the Republic of San Marino and the People's Republic of China has a long history. Diplomatic relations were established as early as 1971. San Marino became one of the first Western countries to recognize the People's Republic of China. Although 47 years has passed, in my opinion this relationship will remain fresh even after much longer."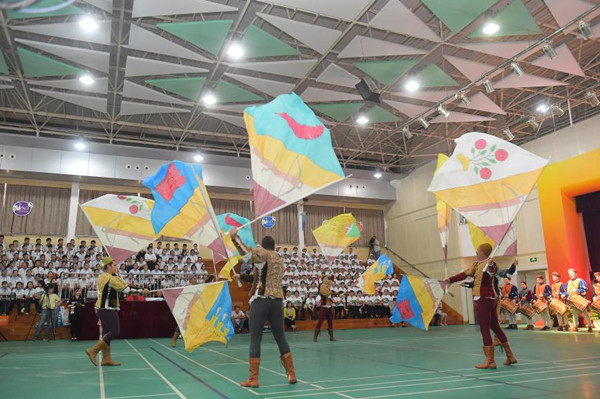 Introduced by Terenzi, San Marino Archer and the Flag-Feders Federation participates in the citizens exchange activity of the 60th Anniversary of the Shanghai People's Association for Friendship with Foreign Countries on Sept. 12, 2016.
He also mentioned San Marino's participation in the Shanghai World Expo and the Shanghai Luwan football friendly match, expressing his hope for San Marino's further participation in more of Shanghai's key events. "Shanghai has a special status in my heart. Every time I visit China, I will come to Shanghai."