Fujimoto Michio, founder of Shanghai's Jiading Wisteria Park
In recent years, when spring comes to Shanghai, the wisteria in Jiading and the cherry flowers in Gucun Park are top tourist attractions during the blossom seasons. But the wisteria vine does not grow to its current size in a day. There is a story spanning almost thirty years behind the present-day Jiading Wisteria Park.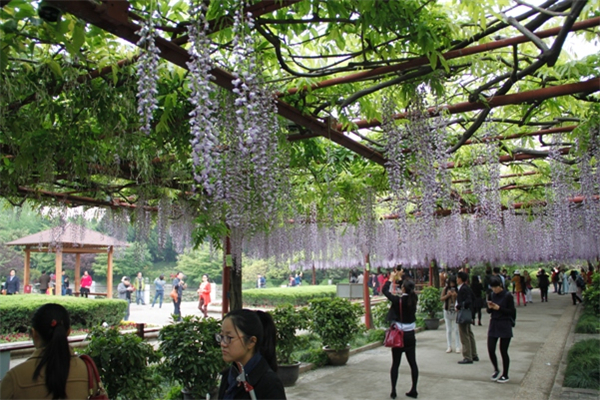 (Jiading Wisteria Park)
Despite the pouring rain, visitors are abundantly enthusiastic in appreciating the wisteria. Underneath the pergola visitors are quietly looking at the wisteria or taking pictures. The air is saturated with the fragrance of wisteria. An elderly man with gray hair and dressed in a natty suit seems a bit out of place. He staggers a little but his back is straight. The way he gazes at the wisteria resembles the way one looks at their children. The old man is Fujimoto Michio, who has spent the last 30 years contributing to Sino-Japanese friendship and the wisteria park is the crystallization of his efforts.
Attachment to Jiading
Fujimoto Michio was born in Okayama on January 23, 1932, and got his name from a line in the analects that says "establish one's foundation and the general way is clear". He served as the town master of Wake, Okayama, for 24 years consecutively. Regarding the reason why he devoted himself to Sino-Japanese friendship, Fujimoto told the reporter, "There was a great person born in my hometown—Wake no Kiyomaro, a famous politician during the Nara and Heian eras. He once helped send two Japanese monks to Tang Dynasty China, Saichō and Kūkai, to study Chinese culture, which greatly facilitated Japan's development. In today's Heisei period, I believe we should draw on our ancestors and open up international exchanges. That's why I decided to be associated with China."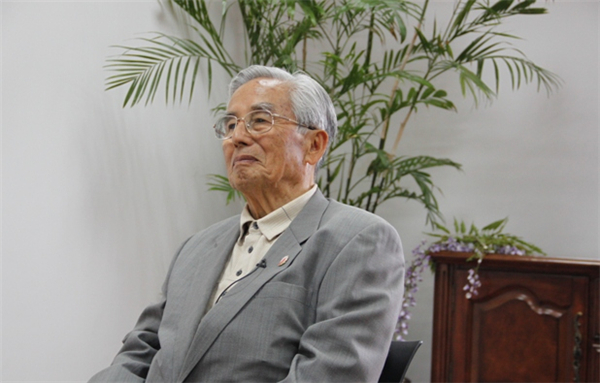 (Fujimoto Michio during the interview)
The then Wake government was looking for a Chinese city to form a long-term friendship with. Upon recommendation and contact with the Japan-China Friendship Association and the Chinese People's Association for Friendship with Foreign Countries, Fujimoto, then governor of Wake, visited Jiading, Guiling, Xian, Beijing and other nominated cities and eventually chose the unspoiled and convenient district of Jiading, Shanghai, as the partner.
Asked about this decision, Fujimoto responded,"In the village I lived in there was a good friend of mine who was of the same age as my father. He was doing business in Shanghai before the war and he really missed that time after returning to Japan. He told me a lot about his good old days and friends in Shanghai when we drank. Therefore I felt intimate with this city from an early age and I think that is the reason I finally chose Shanghai."
Wisteria: a symbol of friendship
In November 1987, Fujimoto visited Jiading for the first time and was welcomed by the hospitality of the then magistrate, Li Baolin, and the Jiading residents. This trip enabled him to make up his mind. When he visited China again in late 1989, he brought back to Japan what he saw and heard in China and with his political status and reputation Fujimoto actively promoted China's progress since the reform and opening up. He played a big role in pushing the friendly development of Sino-Japanese friendship.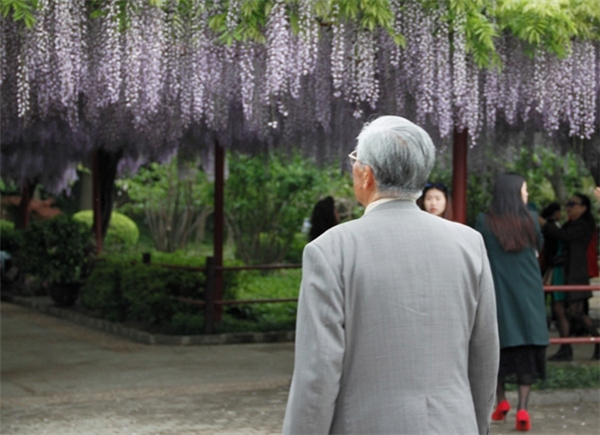 (Fujimoto Michio takes a stroll in the wisteria park.)
Since then, Fujimoto has led a group from Wake that travels to Jiading every year, composed of people from the senate, officials, people of agriculture, medicine, education and other fields. Jiading also send groups to Wake for communication at a frequent rate. With the continuing exchanges, the two places officially signed an agreement to establish friendship on October 15, 1992.
To celebrate the fifth anniversary of this friendship, Fujimoto planted over 120 wisterias on the riverbank of Jiading's city moat on March 19, 1997. The park, which spans 10,000 square kilometers, was also constructed. Now it has become a tourist attraction that draws thousands of visitors a day. This was not expected by Fujimoto.
The reason why Fujimoto chose wisteria as the memento is that, according to Fujimoto, "Over 100 years ago, Japanese senators brought 3,000 stubs of cherry tree to Washington and planted them by the Potomac river, a site that has become a renowned scenic spot today. I was considering what can symbolize our friendship with Jiading. Coincidentally, the park in Wake that commemorates Wake no Kiyomaro is filled with wisteria. Cherry flowers in Washington is a symbol of US-Japan friendship, I hoped wisteria would be the same for Sino-Japanese friendship. It was such a beautiful thought, so I planned to plant it in Jiading."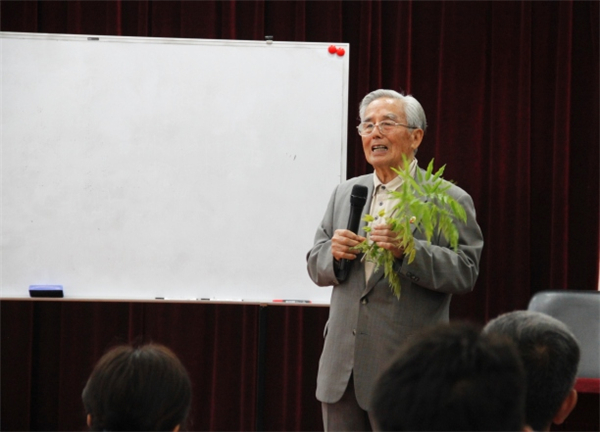 (Fujimoto imparting methods of grafting and pruning of wisteria)
Almost every year Fujimoto would visit Jiading to prune the branches of wisteria, staying for between one and three days. Fujimoto told the reporter that "Wisteria is different from cherry as wisteria requires much more care to blossom nicely." Early last year, Fujimoto passed on his knowledge of grafting and pruning wisteria to the locals.
A witness to Shanghai's development
Fujimoto has been to China almost 100 times in the 31 years since 1987. He witnessed the social economic development of Shanghai and its people's full-heartedness in making friends.
"Thanks to the reform and opening up, Shanghai has developed shockingly fast. When I first arrived at Hongqiao airport, I just went straight out from the gate since it was so small. It took an hour to go from the airport to Jiading and the roads were crowded with pedestrians and bicycles. Five years later, China's first highway was built between Nanxiang and Jiading, extending 20 kilometers and making it much quicker to go to the city center. At that time there was a lot of construction but it was all hand labor and scaffolding, whereas just 10 years later it was already done by heavy machines just as in Japan."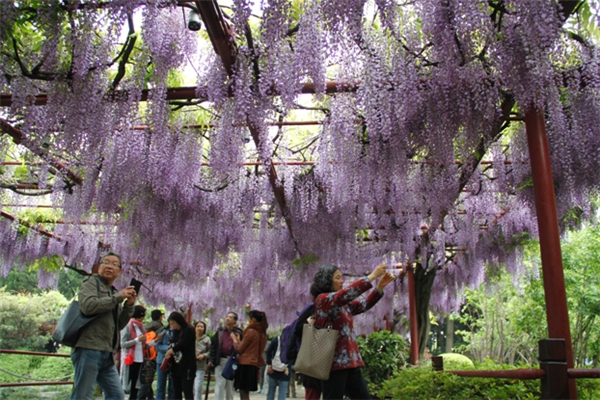 (The wisteria park is crowded with tourists.)
Fujimoto is amazed by Shanghai's recent development and his words gushed out:"The shanty houses 30 years ago have now been replaced by modern buildings, bicycles have turned into cars, newly established galleries and music halls look magnificent, metro lines are all connected to the city center, and public toilets are much more hygienic." Fujimoto smiled at the reporter and stated that the level of happiness and education have both increased by a large margin. He is always happy to talk about the growth over the past 30 years.
At the end of the interview, Fujimoto said, "I am now 86 years old. I wish to have half of my ashes buried in Japan and half under these wisterias because Shanghai is my second homeland and I love my Chinese friends."