Yukari Tsuru: Youth exchanges promote Sino-Japanese friendship
"Starting from 2006, I visit Shanghai every year because of the China-Japan-Korea Children's Painting Exhibition. Each time I come here, I am impressed by the speed of Shanghai's development," said Yukari Tsuru at the opening ceremony of the sixth China-Japan-Korea Children's Painting Exhibition hosted by Bellpo Organization. As president of the organization, Yukari had an interview with Eastday.com.
Forming friendship through paintings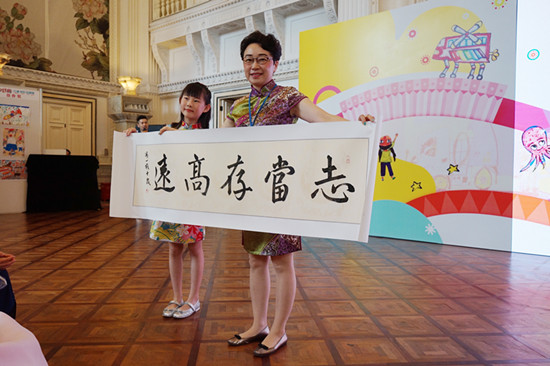 (At the opening ceremony, a child from Shanghai gives her calligraphy work to Yukari Tsuru as a gift.)
From July 5 to 9, 2018, the Shanghai delegation visited Fukuoka and attended the award ceremony of this year's painting exhibition with the Korean delegation. In the view of Yukari, Chinese children are better at expression in their paintings and are more active than Japanese children. "A fifth-grade kid from Shanghai befriended me on WeChat and sent many messages to me, like 'We arrived in Busan.' 'The food here is delicious!' 'When will you come to Shanghai next time?' Socially, I think they are more active than Japanese children."
In 2003, the Shanghai People's Association for Friendship with Foreign Countries (SPAFFC) and the Bellpo Organization launched the China-Japan Children's Painting Exhibition. Over the next decade, the painting exhibition has not only grown in size, but also expanded from Shanghai's Luwan District (now a part of Huangpu District) to the whole city, and from Fukuoka to Kyushu, and the selected paintings have been of higher quality.
In 2013, following the proposal of SPAFFC, South Korean Busan Foundation for International Activities became one of the event hosts — this is how the China-Japan-Korea Children's Painting Exhibition came into being. Each year, 300 paintings are selected from over 10,000 entries for a tour in the three countries, and outstanding works are honored with awards. Apart from getting certificates and prizes, children have the opportunity to go to each other's country to visit educational facilities and communicate with friends from all over the world. They are also invited to visit foreign embassies and consulates.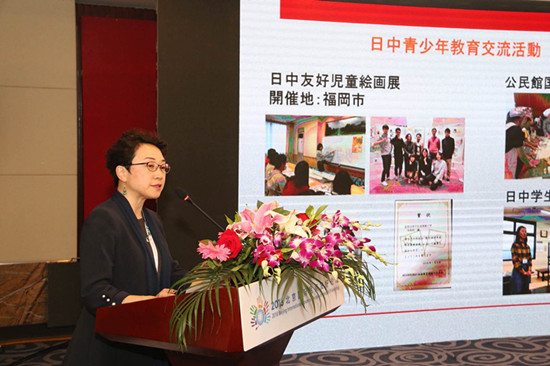 (Yukari speaks at the 2018 Beijing International Forum on People-to-People Friendship. [Photo provided by Yukari Tsuru])
At the 2018 Beijing International Forum on People-to-People Friendship held in at the end of May, more than 300 people from nearly 30 countries including China, the United States, Argentina, Singapore, Japan and South Korea were present. The attendees included representatives from NGOs, Beijing's sister cities, foreign experts and international students. Yukari was also invited to the forum, where she shared the stories of the China-Japan-Korea Children's Painting Exhibition with the audience.
Recipient of Magnolia Award
Bellpo Organization was founded in 1973 by Kenichi Tsuru, Yukari Tsuru's father. His intention was to form an equal educational group regardless of academic background, social experience, gender and age, and to cultivate more peace-lovers. In 2012, after Kenichi died of illness, his daughter, who had previously been his assistant, took over the presidency. Like her father, she devoted her enthusiasm to the youth exchanges between China and Japan.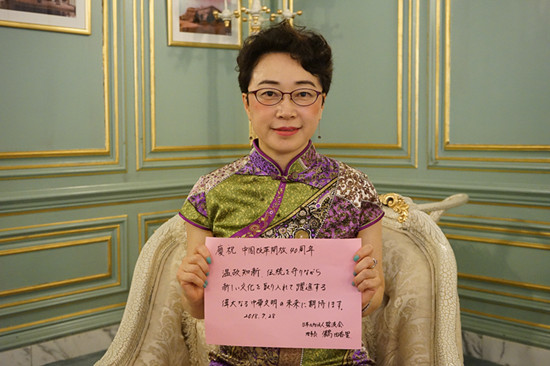 (Yukari Tsuru)
As a recognition of Bellpo Organization's contribution to the people-to-people exchanges between Shanghai and other countries over the past years, Yukari was conferred the Magnolia Award by the Shanghai municipal government in 2015. For her, the award is a very high honor which also recognizes her father's long-standing efforts of promoting Sino-Japanese friendship in China. In addition, it is an encouragement to Fukuoka citizens who have been supporting Bellpo Organization's activities back in Japan. She even said, "After receiving the award, I feel our bond with Shanghai is closer."
As Yukari put it, Shanghai is a window to Chinese culture and Shanghai citizens take the lead in internationalization. Compared to governmental exchanges, folk exchanges play a more important role. "I have investigated the situations of foreign language teaching in many schools. In foreign language teaching, teachers are lacking international background and vision. So in my opinion, exchanges between educators and ordinary citizens should be strengthened."
Youth exchanges between China and Japan
In his opening remarks for the 9th UNESCO Youth Forum in October 2015, Chinese President Xi Jinping expressed his hope that young people from different countries will view the world with an appreciative, inquisitive and sharing mind, so as to promote exchanges, mutual understanding and harmonious co-existence between different civilizations and make contributions to building a community with a shared future for mankind.
In addition to the China-Japan-Korea Children's Painting Exhibition, Yukari promised that in the future, there will be more exchanges between Chinese and Japanese children through various activities. For example, an orchestra formed by autistic children from Angel's Confidant Salon, an NGO in Shanghai, delivered a wonderful performance at the opening ceremony for the 6th Children's Painting Exhibition. They also exchanged handmade gifts with their Japanese counterparts.
Speaking of China's reform and opening up, Yukari said she is not an expert in politics and economics. However, she has read the report delivered at the 19th National Congress of the Communist Party of China held last October. During her stay in Beijing, she visited the Xiong'an New Area. What impressed her most is that the Chinese people are more internationalized thanks to exchanges with other countries. By drawing upon others' advantages, China has achieved a better development.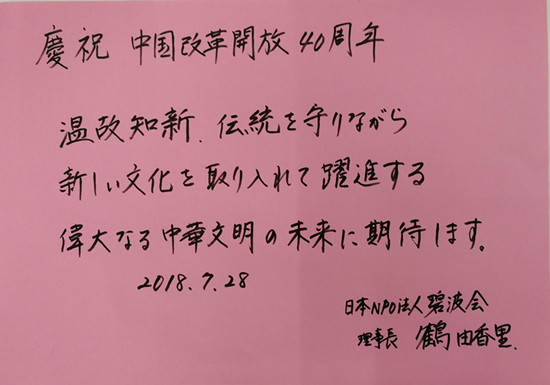 (Yukari Tsuru's wishes for China's further reform and opening up)
At the end of the interview, Yukari wrote down her wishes for China's further reform and opening up: "Reviewing the past helps one to understand the present. China should protect its tradition while absorbing new cultures to achieve further development. I am looking forward to the future of the Chinese civilization." She also hopes that the friendly exchanges between China and Japan can be passed down from generation to generation.