【改革开放40周年40人】Suzanne Calton : Shanghai's openness helps my charity dream come true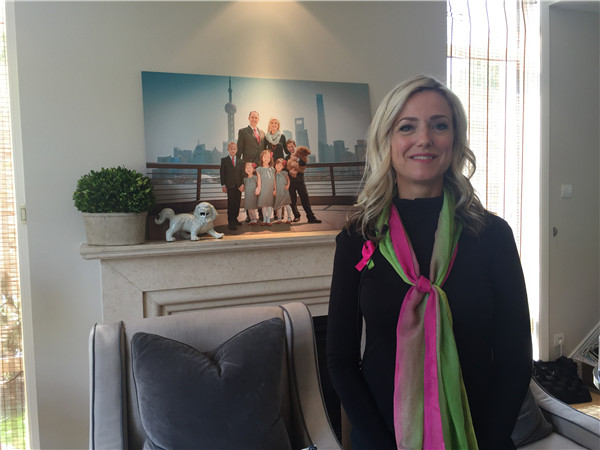 Suzanne Calton, Founder of More Than Aware
Founded in 2011, More Than Aware is a charitable organization started by a group of expat women here in Shanghai. More than Aware focuses on lifestyle prevention and recovery from breast cancer and encourages people to turn awareness into action. The annual Family Fun Run held at Century Park in Pudong is the largest charitable activity organized by foreigners in Shanghai. This year's event, the 6th Family Fun Run, attracted more than 3,000 participants of different nationalities, age groups and gender, including 1,000 members of the Shanghai Cancer Recovery Club. What kind of stories does the team behind such a big event have? Our reporter invited Suzanne Calton, the founder and director of More Than Aware, to have a special interview to share with us her stories with More Than Aware and Shanghai.
My charity efforts bear fruits in Shanghai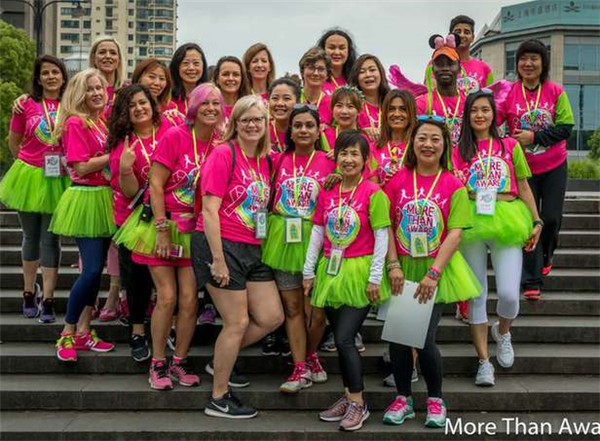 Local and foreign volunteers of More Than Aware pictured
"That was the coldest winter in 50 years in Shanghai when I and my husband first arrived in Shanghai, so I remember it clearly. I thought we were here for only 3 months," Suzanne recalled the time when she came to Shanghai in 2008." I was still waking up early and staying up late, so I could call America and talk to my friends and family."
However, she and her family have been deeply rooted in Shanghai after living in Shanghai for more than 10 years. They also adopted three girls in Shanghai. "I think it will be harder for me to return than to stay in Shanghai because the connection is so tight," smiled Suzanne. "It's like a door with a hinge and as a foreigner in Shanghai, the door opens wider and your efforts are amplified. In my home country, I felt my impact was very small, I couldn't make a big change. But in Shanghai, people are anxious for changes. They want to learn and they want to grow. So it is a beautiful partnership."
Suzanne told us that her mom died of breast cancer in 2011 and she thought if there had been a such a support group in her hometown, her mom would still be alive today. There are actually thousands of breast cancer organizations in the U.S. They all mostly focus on treatment and research and are more associated with medical industry. She found there was no organization that only focuses on lifestyle of prevention and recovery. That's why she founded More Than Aware. She wanted to create a family of support and sisterhood for those diagnosed with breast cancers] and in recovery. Suzanne hopes to involve a broad participation of both healthy people and patients in recovery through advocating for a healthier lifestyle.
"Shanghai is a fertile soil for dreams because in Shanghai your idea has the potential to become huge, and things move fast because it is a fast-paced environment. Moreover, the open-mindedness of people in Shanghai has also fueled the growth of the organization. In many cultures, people don't want change. But here in Shanghai, people are welcoming and anxious for change." According to Suzanne, now the team of More Than Aware has a committee comprised of members of 16 nationalities and half of them are local. Despite the diversity, the rapport between expats and locals has ensured the stability of the organization.
To Suzanne's gratification, while some expats might leave Shanghai, they also bring the concept of More Than Aware to their home countries, including India and some African countries. The roots of More Than Aware, however, will still be kept in Shanghai while its branches are spread to the rest of the world.
Partner with enterprises to bring laughter back to "thrivers"
We have learned more about the initial ideas behind More Than Aware as the interview went on. Suzanne told us she chose the name More Than Aware because many times the focus of breast cancer campaigns is awareness, but that message has been going for 40 years with little response. People need to turn awareness into action--drink more water, do more exercise and eat more vegetables. During the annual Fun Run, the participants, both healthy ones and those in recovery, or "thrivers", a more proactive name Suzanne prefers, will be required to write down their wellness goals on the back of their pink and green T-shirts and keep the goal for the whole year.
Besides the annual Fun Run, More Than Aware has partnered with many enterprises to hold some lively and interesting activities to bring laughter and confidence back to thrivers. In September of last year, More Than Aware cooperated with White Collar Boxing to run a boxing course for a thousand attendees at the Kerry Hotel in Pudong to show the relentless spirit of those thrivers.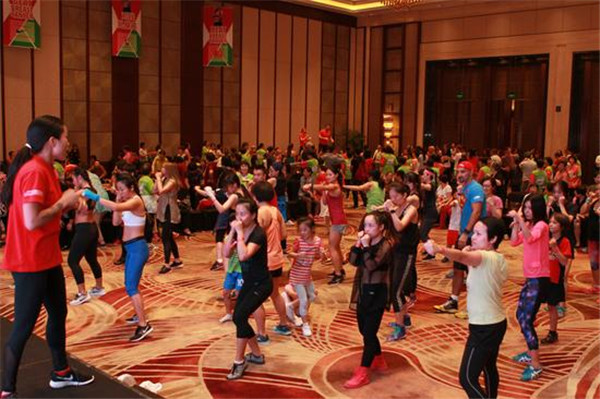 Boxing course for a thousand attendees
Incredibly, More Than Aware has also set a few Guinness World Records over the past few years. In 2013, 1 million pink and green balls were filled into an emptied Olympic-sized swimming pool at Pudong Kerry Hotel. Wellness pledges were written on the balls and 300 Breast Cancer thrivers jumped into the pool. In 2014, facilitated by partner Shangri-La Pudong, over 300 breast cancer thrivers joined the More Than Aware Team to set the record for "The Most People Eating Breakfast in Bed". In 2015, 511 Breast Cancer Thrivers joined the More Than Aware Team to set the record for the Most People Tossing Pizza Dough at Shangri-La Pudong.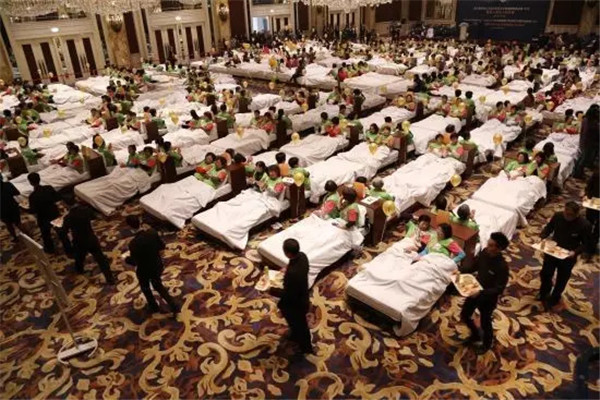 "The Most People Eating Breakfast in Bed" record
All these activities and idiosyncratic world records have brought laughter and confidence back to those in recovery from breast cancer, something they need beyond medical treatment and charitable funds. Moreover, healthy people can also learn something about how to be proactive and optimistic in their attitudes towards life.
Reform protects the development of charitable causes
Suzanne told us that all the committee members and volunteers either have their own jobs or hold a position in the Thrivers' club and they never earn a dime from the organization. They have a bank account, which is run by their local partner Shanghai Cancer Recovery Club. More Than Aware team members barely touch the money.
However, not all charitable organizations are as clean and transparent as More Than Aware. Suzanne mentioned that four years ago China found some foreign-run charitable organizations sent the funds they raised in Shanghai back to their own countries. The government then began to draft a law to prevent such a situation and to more closely monitor where the funds go and how the funds are being managed. In 2016, China's first Charity Law was passed by national lawmakers and took effect to address many issues during the development of charitable causes, such as registration, qualification and monitoring.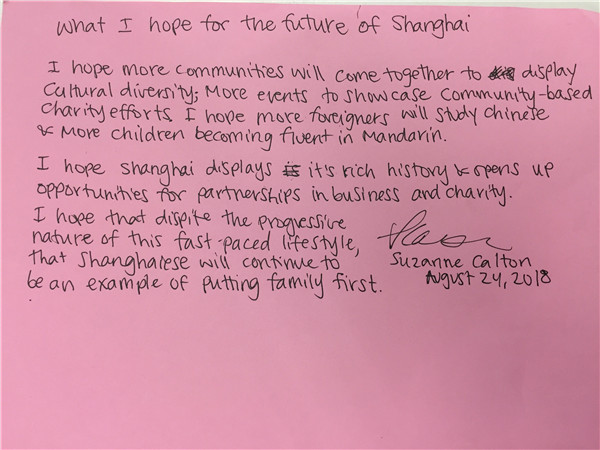 Suzanne's best wishes for Shanghai's further opening up and charity cause
Suzanne wrote down her expectations for Shanghai's further opening up and charity cause at the end of the interview. "I hope Shanghai displays its rich history and opens up opportunities for partnerships in business and charity. I hope that despite the progressive nature of this fast-paced lifestyle, Shanghai will continue to be an example of putting family first."