"…The starlight leads the way; listen to the whisper of the breeze; I am pursuing my dream with zest; my dream is peace…", when the music started and Tanimura Shinji sang the Chinese version of his famous song "Star", the audience burst into a resounding chorus of applause. On September 21, Tanimura Shinji, now 69 years old, came to Shanghai to perform again one year later, with his new album "Star of 38 Years". Everyone has a different memory about him: a Japanese national treasure musician; the famous songwriter whose songs have been reproduced by such great Chinese artists as Teresa Teng, Alan Tam and Leslie Cheung; a professor at the Shanghai Conservatory of Music; and an envoy of Sino-Japanese friendship.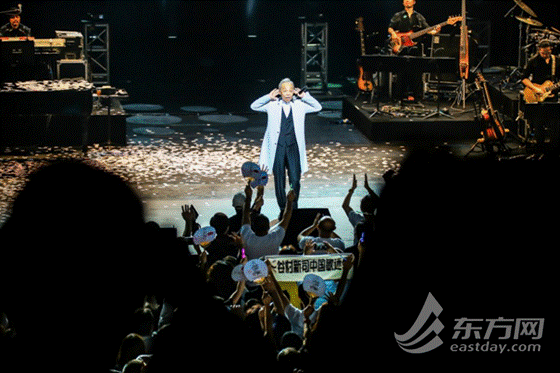 Tanimura Shinji at the 2018 Shanghai concert
The star still shines after 38 years
The songs performed during this concert had been carefully selected by Tanimura Shinji from all the songs he has written since 1980 and they had been recomposed by himself specifically for this concert. He sang a total of 21 songs during the two-hour event, including "Star","Flower" and "Hometown".
When, at the very beginning of the concert, the music for "Star" started and Tanimura started to sing, the whole audience began to sing along with him and when he sang in Chinese for the second part of the song, the audience burst into a resounding chorus of applause. It was noteworthy that the last song of the concert was also "Star", but sung in Japanese. A spectacular atmosphere was thus created that night with thousands of fans singing in chorus. Tanimura said that he would sing for another 20 years and the audience responded, "We will attend your concert 20 years later!"
Tanimura has sang this song every time he has come to China for a concert since his first trip to China in 1981. The song "Star" has been reproduced and sung by many Chinese singers like Teresa Teng and Michael Kwan. Many Chinese share the same memory when they hear this familiar melody.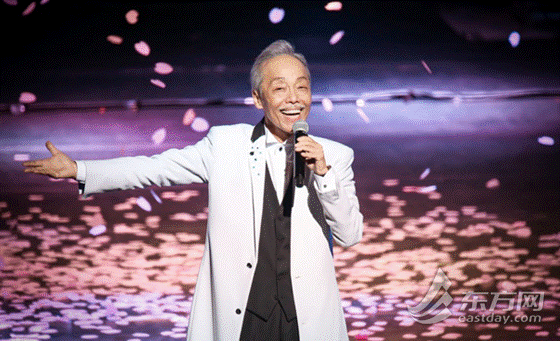 Tanimura Shinji at the 2018 Shanghai concert
The original Japanese name for the song "Star" is "Subaru". Subaru is the Japanese term for the Pleiades star cluster, which is one of the brightest star clusters visible in the night sky. When Tanimura was a little boy, he always saw such a picture when closing his eyes: an endless prairie, ridge after ridge of peaks in the distance and a sky strewn with stars with cool wind in the air. He had no idea what place it was but he thought that was his hometown in his past life. That could be somewhere in northern China and it was a place he yearned for. Inspired by this thought, he composed the song "Star".
The lyrics of the song have a deep and profound meaning and seem to have gained insight into the universe and uncovered the secrets of life. He was only 32 when composing this song.
His voice is no longer young when singing this song again after 38 years. The song itself, however, is like a vintage bottle of wine with a mellow, rich taste. He is still the brightest star on the stage and the audience are still mesmerized by his performance.
Became friends with Mao Amin after the first concert in Shanghai
He came to Shanghai in 1994 for the first time. The 7th Asian Music Scene concert was held in Shanghai in October of that year, commemorating the 20th anniversary of the friendship-city ties between Shanghai and Osaka. The Shanghai People's Association for Friendship with Foreign Countries (SPAFFC) hosted the event with Mainichi Broadcasting System (MBS) and Shanghai Oriental TV Station. On that night, 6 famous singers from 5 different countries and regions gathered in Shanghai to perform for the Shanghai audience at the beautifully lit Shanghai Indoor Stadium.
It was a large-scale concert, said Tanimura, and there were around 5-6,000 spectators. Singers from different Asian countries and regions gathered in Shanghai and sang in their own languages. He and Mika Chiba sang in Japanese. Other singers included Cho Yong Pil from South Korea, Haitie from Indonesia, Shanghai-born Mao Amin and Sandy Lam from Hong Kong. "Mao Amin and I have been good friends since that concert and our friendship has lasted for a very long time."
"At the beginning of that concert, the audience might have been unable to fully indulge themselves in those foreign songs. However, the enthusiasm and atmosphere brought by the singers created resonance with the audience. The concert finally ended with a fantastic atmosphere," recounted Tanimura. "Today's concert is very different from those of the past. Many of the audience can sing along with me in Japanese and I feel very happy and moved."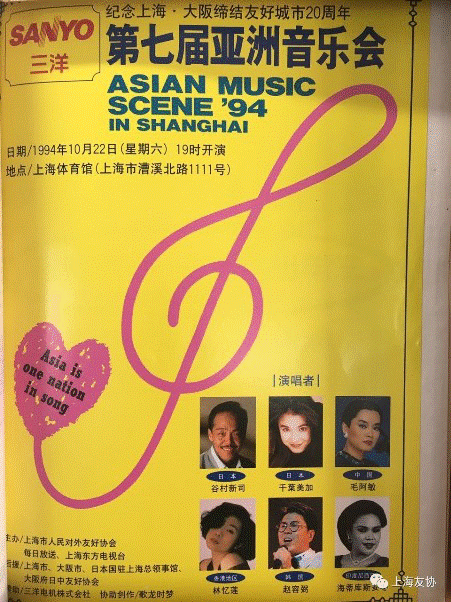 Poster for the Asian Music Scene concert in 1994
The first Asian Music Scene concert was held in 1988 and the Shanghai concert in 1994 was the 7th event. Tanimura was not only one of the performers but also a founder of this event, and he told us a story behind the event. In 1981, he performed on a stage in Beijing for the first time and there was a farewell banquet after the concert. A student fan responsible for interpretation asked him why Japan, as an Asian country, often ignored other Asian countries in diplomatic relations. This question provoked Tanimura's reflection on Japan's practice oflearning from America's culture and systems. He began to pay more attention to Asian countries and felt obliged to promote the friendly exchange between them since that event. So later he, together with Moriyoshi Saito, then president of the Mainichi Broadcasting Corporation, one of the first commercial radio broadcasters in Japan, proposed the promotion of understanding and exchange across Asian nations via music. That's how the Asian Music Scene concert was born.
Shanghai is like my second hometown
"My impression of Shanghai people when I first came in 1994 was that everyone was energetic and full of vitality. I have been fond of Shanghai people and have had close ties with Shanghai since then," said Tanimura, sharing his stories about Shanghai.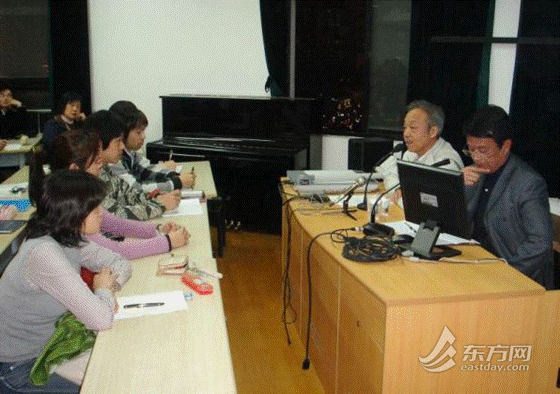 Tanimura giving a lesson at the Shanghai Conservatory of Music
In March 2004, Tanimura accepted an offer from the Shanghai Conservatory of Music and became a professor with the Music Engineering Department and consultant with the Sino-Japanese music culture research center. From 2004 to 2008, Tanimura came to Shanghai once every month and stayed for a week each time. He gave a ninety-minute lecture each day from Monday to Friday. He communicated face to face with young Chinese and passed his music knowledge on to his Chinese students.
Tanimura said that he had been an active singer for many years but had never been a college teacher prior to that experience. He remembered that Mr. Yang, then principal of the Shanghai Conservatory of Music, came and invited him and said to him, "Most Chinese music schools focus on classical music and our students excel in both technique and theory. But only you can teach them how to write songs and lyrics and then perform on the stage."
Tanimura had little experience of teaching at that time. There were 50 students in his first class. He asked his students in the first lesson if anyone had ever written lyrics for a song. It turned out only two raised their hands. So he asked the class to write down their mood and feelings first. That's how he started his teaching career in Shanghai. Tanimura believes that everyone has their own personality and strength and how to guide students to unleash their own personalities and potential is of utmost importance.
His students were enthusiastic about all his lessons. Sometimes he would hang out with his students to have dinner on a Friday night, after a week of lessons. "Those were very pleasant days, and I made a lot of friends in Shanghai through concerts and my teaching career. Shanghai is just like my second hometown and a place special to me."
Deng Xiaoping stood up, clapping out the rhythm to our song
1981 was the starting point of Tanimura's relations with China. In that year, Tanimura performed on a stage in China for the first time. He participated in the Hand in Hand Beijing concert with a lot of Chinese singers at the Workers'Stadium. He recalled that Deng Xiaoping was sitting in the middle of the audience. The singers went up to Deng Xiaoping and sang before him, and he stood up, clapping out the rhythm to their song. Then the 10,000 audience all stood up. He felt deeply at that moment that music is borderless.
Significant changes had happened to the whole Chinese society by 1981, only three years after the launch of the reform and opening up policy. More and more foreign singers like Tanimura Shinji were able to hold their concerts in China. That was one of the most important changes in cultural life.
Tanimura said that after Deng Xiaoping launched China's reform and opening up policy, people in China began to freely access foreign culture. As far as pop music is concerned, foreign singers from all over the world came to China to perform. Though many young Chinese did not understand the foreign songs, they did feel impressed and inspired. China's pop music thus enjoyed great development in such an open environment.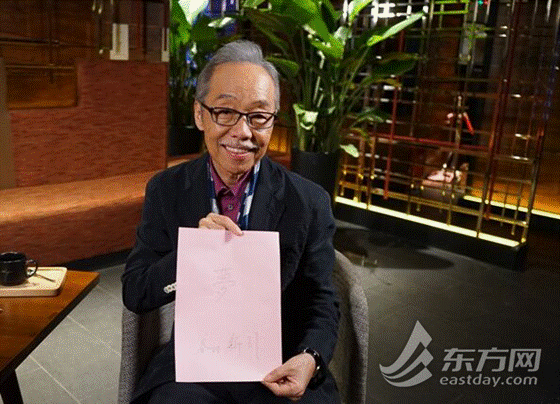 Tanimura's best wishes for China's further reform and opening up
"Thanks to these opening up policies, Chinese and Japanese people could finally socialize with each other and became friends. The two countries have developed close ties with each other due to those opportunities provided by that era," Tanimura said.