"When our first daughter was born, she suffered with sensitive skin and developed bad diaper rash. I wanted to find out why, so I took a look at the ingredients in the baby wipes we were using. I was shocked to learn just how many chemicals were in them – and questioned should we be putting them on her delicate skin? I thought there had to be a better way so I decided to create a purer and safe alternative. After six years of hard work, testing, and scientific research, a pure, gentle and safe baby wipe product, WaterWipes, was born." So shared Xavier Renaux, Chief Commercial Officer of WaterWipes (owned by Irish Breeze), at the first China International Import Expo. Yesterday, the second day of CIIE, WaterWipes baby wipes were showcased at the Irish Pavilion in the Shanghai National Convention and Exhibition Center, where a signing ceremony for a strategic partnership was held between the brand and JD Worldwide, the cross-border e-commerce platform of JD.com, China's largest retailer.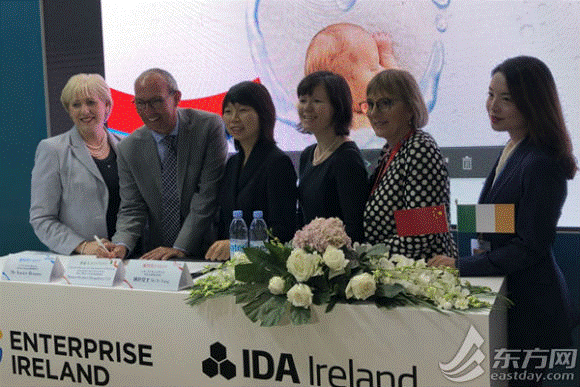 Photo:Mr. Xavier Renaux(second from left), Chief Commercial Officer of WaterWipes and Ms. Yang Ye (third from right), General Manager of JD WorldWide signed a Memorandum of Understanding.
Ireland's Minister for the Department of Business, Enterprise and Innovation, Heather Humphreys TD, commented in her speech that China is the world's largest e-commerce market and the signing of a Memorandum of Understanding with JD Worldwide at the CIIE will allow Irish products to enter China's market through JD.com's platform and be brought to the families of Chinese consumers.
Yang Ye (third from right), General Manager of JD WorldWide said that this skincare wipe has been available for sale on JD WorldWide since October and has been well-received, with over 1,000 positive remarks. She hopes that the advantages of JD.com in distribution channels will help the brand to flourish in China.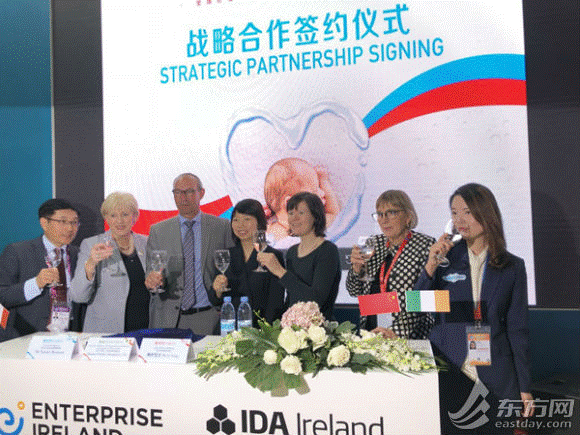 Photo: guests drank the pure water squeezed from the wet wipes
WaterWipes have been carefully designed to be gentle on babies' sensitive skin. They contain 99.9% water and a drop of grapefruit seed extract – a natural skin conditioner. At the event, Xavier Renaux conducted a small experiment. He pulled a piece of wet wipe out, squeezed and twisted the wipe, and let the water drip into glasses. Then he invited the present guests to drink the water. All the guests drank the water all up, a testament to the purity of the wipes.
In addition to the deal signed between JD.com and WaterWipes, Reagecon Diagnostics Ltd has signed a distribution agreement with Beijing Thorigin for €10 million over five years; Solvotrin Therapeutics, a manufacturer of new and innovative healthcare and medicinal products has completed an exclusive distribution agreement with Shanghai Fosun Pharmaceutical for over €15m per year over 3 years, a deal that will see the exclusive marketing of Solvotrin's Active Iron in China; and air purification specialist Novaerus has secured a lucrative agreement with Hangzhou Door Import & Export, with €760,000 worth of product purchasing over a 3-year period.
According to the staff of the Irish Pavilion, a total of 45 Irish enterprises have participated in the first China International Import Expo, among which 9 have set up their booths inside the Irish Pavilion. These businesses are engaged in such industries as health, dermatology, medical technologies and diagnosis, software and tourism.