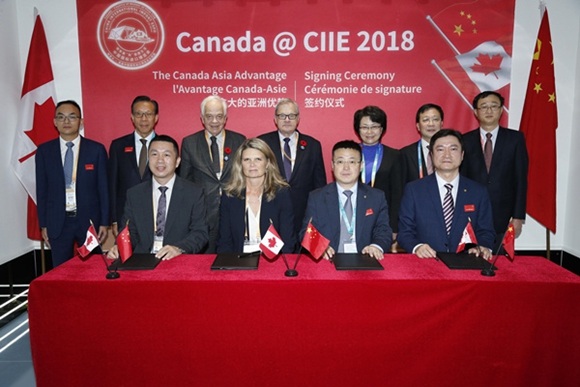 As famous Canadian agricultural products like lobster, beef, blueberries and canola oil have long been available to Chinese consumers, more Canadian products in other areas are expected to enter the Chinese market with the aid of China International Import Expo (CIIE).
As one of the guests of honor, Canada has set up a national pavilion at the Expo with an area of 256 square meters to showcase its high-quality goods. In addition to the physical exhibition hall, a virtual pavilion has also been built online through VR technology.
At the opening ceremony of the Canadian national pavilion on November 6, Chinese and Canadian companies signed 19 commercial agreements worth a total value of more than 3 billion yuan.
The agreements involve industries of life science, health care, agricultural products, aviation and transportation. Among them, the most important commercial agreement is the Strategic Partnership Agreement signed between the Canadian Health Management Center and Chinese insurance and medical institutions. According to the agreement, the Canadian Health Management Center will work with Chinese partners to promote the construction of 400 Canadian Health Management Center branches across China.
"This is the fifth time I have led a delegation to visit China," said Lawrence MacAulay, Canada's minister of agriculture and agri-food. "This is also the largest delegation I have led to China. I hope the import expo could further promote economic and trade exchanges between China and Canada and let us make new friends to enjoy new business opportunities." Themed around "healthy life", the Canadian national pavilion is green and paperless. During the expo week, seminars on topics such as clean technology and investment will also be held by the Canadian exhibitors.