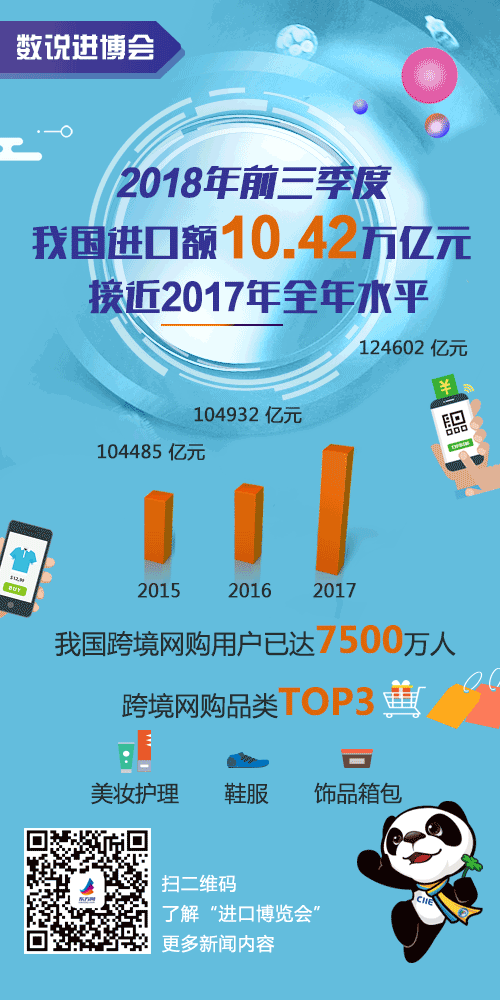 During the China International Import Expo held in Shanghai, the report "China's International Imports 2018: An Overview" was released, giving a picture of the overall condition of China's import consumption and a profile of consumers of imported goods.
As analyzed by the National Bureau of Statistics, the total amount of China's imports has shown a rapid growth in the past two decades. In 2015, the total value of imported goods was 10.45 trillion yuan, while in 2016 and 2017 it grew to 10.49 trillion and 12.46 trillion yuan respectively.
This year, China has also seen a significant growth rate of imports. According to the latest data from the General Administration of Customs, in the first three quarters of 2018, China's cumulative imports reached 10.42 trillion yuan, a year-on-year increase of 14.1%, and close to the 2017 full-year import value.
According to the newly released report, in the first half of 2018, the top 10 favorite categories among China's cross-border online shopping users were: beauty care products, shoes and clothing, jewelry and bags, maternal and child care supplies, household items, outdoor apparel and products, food, digital household appliances, fresh fruit, and health products. As of the end of June, the number of frequent cross-border online shopping users in China had reached 75 million.
In addition, as big data from China's largest online retailer JD.com shows, the number of imported branded goods in 2018 has increased by more than 150% over 2016, and the categories of imported brands have become more diversified.