A research paper on the treatment of central paralysis by Shanghai's Huashan Hospital ranked first on the list of the NEJM Notable Articles of 2018 released on Jan. 11 by the New England Journal of Medicine, one of the world's most prestigious peer-reviewed (the assessment of articles for publication by fellow professionals) medical journals.
The "most notable" collection is selected by the editors as being the most meaningful in improving medical practice and patient care. Since its launch in 2015, a total of 45 articles have been included with an annual number of about 10.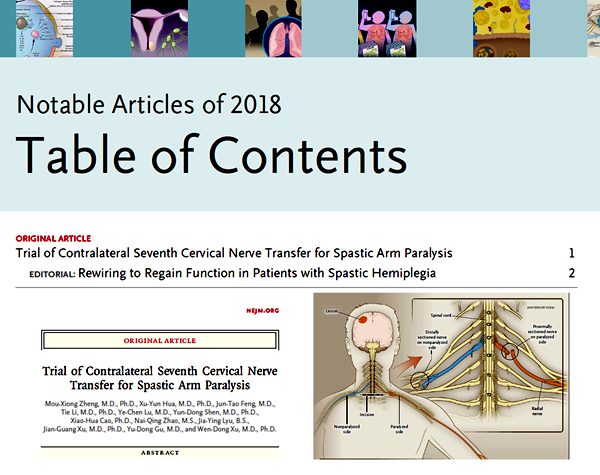 Huashan Hospital's original research documented in the article "Trial of Contralateral Seventh Cervical Nerve Transfer for Spastic Arm Paralysis" was achieved by the team of Professor Xu Wendong and Academician Gu Yudong. It is the first time for a team from the Chinese mainland to feature on the prestigious list.
A creative surgical strategy coming from the research has helped patients to recover well since being applied in clinics. The article featuring the research result was released on the NEJM on Jan. 4, 2018 and the publication gave it high praise in its editorial.
It is known that the technique utilized in the procedure has been expanded across the globe to benefit more patients.