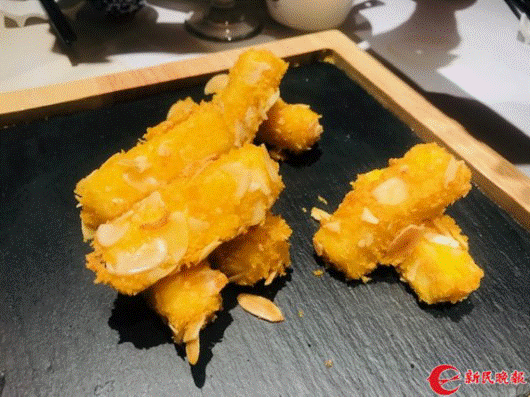 Fried cream milk with flaked almonds [photo by Xinmin Evening News]
Xinya Cantonese Restaurant inaugurated its "new brand" Xinya Teahouse on the second floor of its restaurant on Nanjing Road on its 92th anniversary in September last year. In doing so it brought its teahouse business, which had disappeared for more than 80 years, back to life. Recently, the time-honored brand has opened two new branches in prime locations in west Shanghai and a fourth tea house, located inside Pudong International Airport, is under way. Another new brand, "Xinya Chef", which focuses on semi-finished and fast food, is also to be launched soon, as part of Xinya's plan's to inject vitality into the brand.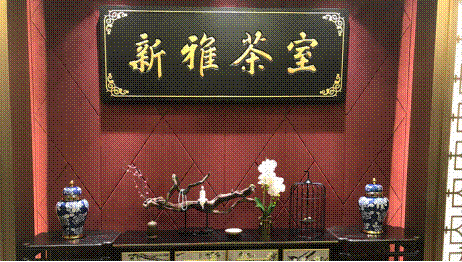 By the early 1920s, a lot of cafés had already emerged in Shanghai. Scholars in Shanghai at that time seemed to prefer teahouses over cafés. This gave birth to Xinya Teahouse in 1926, which was one of the earliest "cultural salons". Cultural celebrities like Lu Xun, Shao Xunmei, Zhang Ruogu, Dai Wangshu, Yu Dafu and Lang Jingshan were all regular patrons to this tea house. Aside from traditional tea, western drinks and Cantonese dim sum were among the offers that attracted the locals.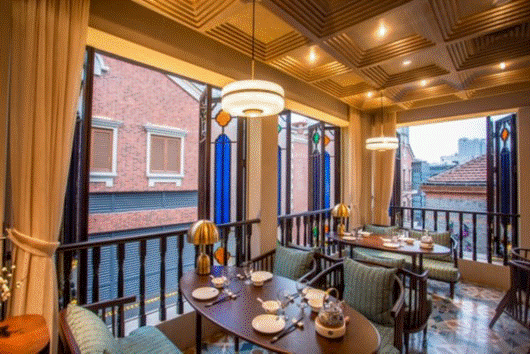 Fengshengli branch of Xinya Teahouse
Last year, Xinya restored its Xinya Teahouse on the second floor of its Xinya Cantonese Restaurant, which features Lingnan (the geographic area referring to the lands to the south of the Nanling Mountains) style decorations and dim sum carts and has become a new landmark on Nanjing Road. The Xinya Teahouse expanded its presence in Shanghai in January by opening two branches in Chamtime Square in Zhangjiang and Fengshengli near West Nanjing Road. The third branch will be opened inside Pudong Airport.
The Fengshengli branch has attracted both office workers from nearby and middle-aged and elderly patrons. Compared with Xinya Cantonese Restaurant, which focuses on traditional and classic cuisines, Xinya Teahouse features more innovative dishes. For example, Cantonese shrimp balls with three flavors, offers truffle, Thai style sour and spicy sauce as well as salad as choices to go with shrimp balls. Fried cream milk with flaked almonds is a dim sum that the Chief Chef from Foshan is most proud of, and is purely handmade with buffalo milk.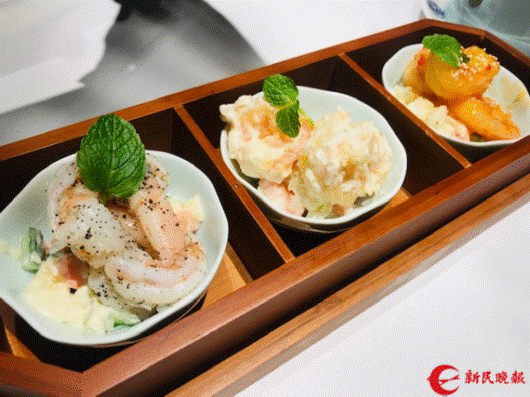 Cantonese shrimp balls with three flavors [photo by Xinmin Evening News]
Xinya Chef is another fast-food chain brand to be officially launched later this year. It is more like a lunch box menu targeted at office workers and will mainly feature semi-finished food and fast food. Xinya has already started its first stage cooperation with convenience stores in the city to set aside a "fast food island" inside a convenience store.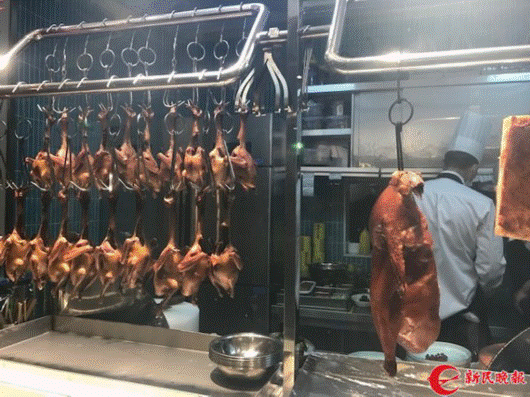 Roasted pigeons [photo by Xinmin Evening News]
The reason behind Xinya's efforts to develop its new sub-brands, instead of opening more branches that replicate the original Xinya Cantonese Restaurant, as they did in the early 1990s, is to adapt to the fast-changing market where there is a growing need for small and refined restaurants and casual catering services. The nearly hundred-year-old brand hopes to inject new vitality into its business and woo more young consumers while fully bringing out its advantages as a time-honored brand.