During the Spring Festival, everywhere in China has been decorated with Chinese-style decorations and is full of festive feeling. However, there are a lot of Chinese people who study or work abroad and cannot go back to China during the festive period. To find how they celebrate the Spring Festival, our reporters interviewed three overseas Chinese.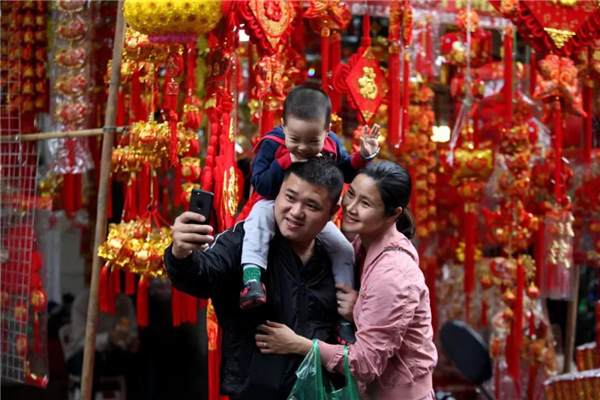 (An Asian family take selfies at an overseas' Temple Fair)
Miss Wu (Florida)
At the end of December, 2018, Miss Wu went to a university in Florida for a two-year exchange program. She told us, as this is her first Spring Festival abroad,"The feeling of novelty is stronger than homesickness." Because of the time difference, Miss Wu and her classmates decided to celebrate before the Chinese New Year's Eve. They went out shopping early on Sunday morning and prepared for a "Chinese Food competition" in the evening."Everyone participating in the competition brought a dish from their homeland, and the winner won a red packet with money in it."
According to Miss Wu, that night's reunion dinner was made up of many delicious dishes, including hot pot, Ma Po tofu, fish-flavored pork and Chinese cabbage dumplings. Among those dishes, an eight-treasure rice pudding (a dessert made of glutinous rice, eight dry fruits and red bean paste) from Ningbo impressed her deeply. Miss Wu grew up in the northern part of China, where there are not manyglutinous rice desserts. She said,"It's delicious to eat eight-treasure rice pudding after some salty food."
Miss Wu said that it is also a kind of reunion to be with classmates from different parts of China on this family reunion day. She also told us,"We had video calls with our parents at night and showed them our reunion dinner. They said they wanted to eat our dishes too."
Deng Bo (Tokyo)
"Is it the first day of the first lunar month or the second day of the first lunar month?" Deng Bo asked, after we mentioned the Spring Festival to him in Tokyo, where he has worked for five years.
"To celebrate the Spring Festival is still common among Chinese students in Japan, but for me, it is quite strange," he said. Japan doesn't celebrate the Spring Festival so they don't have a holiday for it. It is hard for people to find time on workdays to celebrate the Spring Festival, unless one asks for leave, but only a few people have done this. According to Mr. Deng, for him, the Spring Festival is nothing more than eating Chinese food in a restaurant and watching the Spring Festival Gala at home."Firecrackers could be set off years before, but are no longer allowed in recent years." So neither Mr. Deng, nor mainland Chinese, can enjoy the fireworks during the festival.
However, when we talked about the customs of the Spring Festival, Mr. Deng became nostalgic for his homeland. Mr. Deng admitted that when he was alone, he was in a low mood. On New Year's Eve, he lay in bed and looked at photos of reunion dinners posted by his family and friends on WeChat.
He told us,"Although I miss my family, I would like to earn more money in order to make my family proud of me when I return."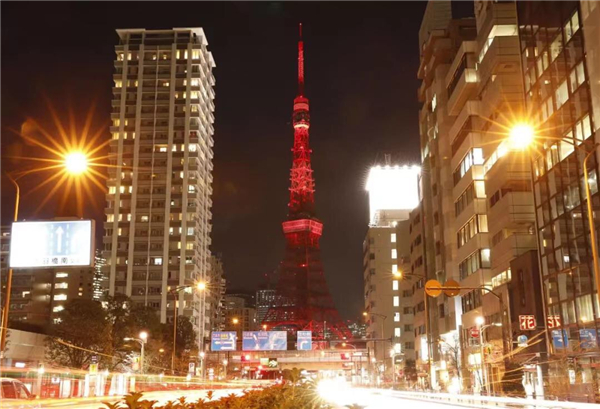 (Street view of Tokyo: the Tokyo Tower)
Mrs. Zhao (New York)
Mrs. Zhao, who is from Shanghai, and her husband Sam were recently settled in their new house in New York. When we mentioned the Spring Festival, she laughed and said: "My husband was more excited than me." Since the beginning of January, Sam had found out about a lot of New York's Spring Festival activities online."He wanted me to know that I am not a drifter in New York," Mrs. Zhao said.
According to Mrs. Zhao, the New Year's Firecracker Show, Brooklyn Lunar New Year Celebration and New York Lunar New Year Concert are all on their schedule and due to this year's Spring Festival being close to Valentine's Day, the activities up to February 14th have been arranged.
Mrs. Zhao mentioned that on New Year's Eve day, her husband gave her a red bag with a French cake inside, because Sam thought the red bag represented a blessing no matter what is inside.
"I am also glad to accompany him during the Spring Festival, so that I can show him how Chinese people celebrate the Spring Festival," Mrs. Zhao told us.
From studying to working, Mrs. Zhao has been living in the United States for seven years. Having experienced the ups and downs of life in the US as a foreigner, she had different feelings about the Spring Festival. She said: "Although most foreign countries' celebrations of the Spring Festival only focus on the form [Chinese people may pay more attention on a deep level which is family reunion.] I am extremely proud that foreign countries are also gradually recognizing and accepting Chinese culture."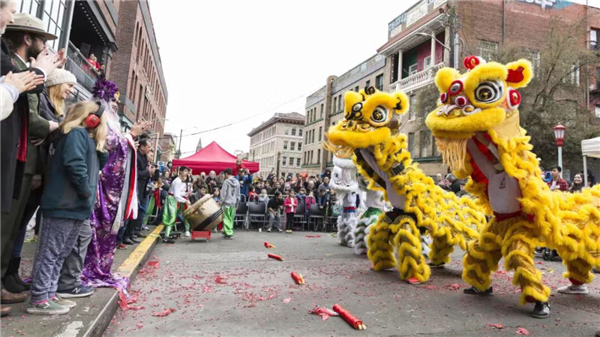 (A Spring Festival activity on a foreign country's street)