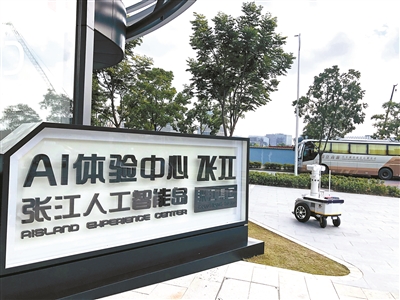 (Photo by Yang Zhenying)
Exoskeletons help the paralyzed to walk; intelligent fridges recommend healthy meals by analyzing users' eating habits; outdoor sensors automatically close the window as the weather changes. All of these and much more are in Shanghai's first AI exhibition hall, depicting a smart life scenario.
The hall is housed in the Zhangjiang AIsland Experience Center which has recently been opened. The center is also China's first "5G+ AI" full scenario demonstration hall. Nicknamed Seed Center, it implies a place where people can learn about artificial intelligence and benefit from the era of AI.
The exhibition area is composed of seven zones featuring AI products and the application of AI in six different fields including the home, campus, healthcare, finance, manufacturing, and development park management.
In AI+Campus, for instance, class attendance can be easily identified thanks to a smart classroom management system. With the help of AI image recognition, students can interact with teachers from all over the world. In AI+Home, which has appealed to the most visitors, touchable screens can be seen everywhere in the hall. In a kitchen, the cooking bench and the walls are covered by screens that can be illuminated by touch-controlled lighting. If you want to cook steak but have no idea how to make it, the surrounding walls will display the process and give you instructions. Also, the cooking bench will tell you the strength of the fire and the fridge will considerately tell you the food materials you need.
It is reported that the AI+Home applications will be put into use in some of the international talent apartments in Zhangjiang.
Covering an area of 66,000 square meters, the Zhangjiang AIsland aims to concentrate AI, big data, cloud computing, block chains, and VR/AR in the heart of the Zhangjiang Science City, striving to bolster Shanghai's science and innovation.