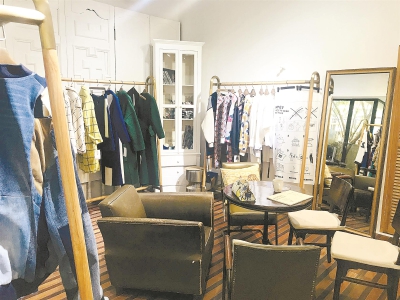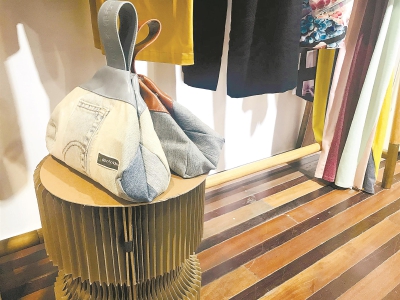 (The clothes store makes clothes and bags with environment-friendly materials)
A seemingly "original" sackcloth in a roadside clothes store is made of coffee beam sack from the Starbucks Reserve Roastery on West Nanjing Road.
Regarded as the most environment-friendly store in Shanghai, Reclothing Bank is quite a low-key clothes store. Despite its relative geographical isolation -- deep in a lane -- and little advertising, the store still attracts lots of fashionistas.
Upholding its operating principle of "declining waste", the clothes shop's designer said, "We think the original color and texture of coffee beam sacks is natural and charming, so we turn them into clothes in a way that preserve the patterns and inscriptions. Every piece of clothing here is unique."
The "reclothing" in the store's name indicates its aim to redesign old clothes, and the "bank" the desire to store and circulate old materials. In this innovative store, customers can witness those threadbare materials being redesigned and becoming fashionable clothes. They can also see various specially-developed environment-friendly materials and feel the clothes made from plastic bottles and fishing nets.
For example, jeans and jean bags in the store are made of recycled jeans. After procedures including recycling, disinfecting, cutting and redesigning, those hand-stitched fabrics are made into attractive products. The store has also worked with a famous brand to launch a long dress that looks fancy and chic, and uses bold colors in a Chinese style. It cut and stitched from more than a dozen different jerseys.
In fact, Zhang Na, the brand founder of the Reclothing Bank, is an independent designer known as China's first-ever environmental fashion designer. From seven or eight years ago, she has devoted herself to "turning garbage into treasure". In addition to injecting more and more environment-friendly elements into the brand, she also tries to better connect the past, the present and the future by creatively designing clothes that carry a lot of precious memories and experiences.
The price of this kind of clothing is also highly acceptable to environment-conscious consumers, with T-shirts for autumn and winter, sweaters and coats in the range of 1,000 to 4,000 yuan. And the eco-friendly store is also constantly adjusting the price of some lines, hoping to make the brand accessible to more people.