Since the Magnolia Awards, a series of awards given as recognition of the contributions foreigners in Shanghai have made to the city, was established in 1989, 42 foreigners recommended by the Huangpu District have won this award.
In order to commemorate the thirtieth anniversary of the Shanghai Magnolia Awards, Huangpu District plans to hold a celebration activity in November.
Eastday has therefore especially launched a series of exclusive interviews to review these award winners stories in Huangpu District and Shanghai.
Swedish CEO: Never forget why I started
Oriflame, a cosmetics company from Sweden, has made great progress over the past six years under the leadership of Thomas Ekberg, the President of Greater China. Between moving from Huaihai Road to the SML center and expanding from a small team of several people into the company's Greater China's headquarters, Shanghai's open business environment and the development of the direct sale industry has contributed to the company's ever-increasing sales revenue and market share. In return, Oriflame has given back to the society with products of a higher quality, more public welfare projects, and a sincere care for the society.
As the winner of the Magnolia Award in 2019, Thomas is a "new face" of this award. But on the other hand, he is an "old friend" for the Shanghai people, as he previously worked and lived for three years in Shanghai since 1993 and witnessed the rapid changes of this city in its early stage of reform and opening up.
Thomas has always had an ineffable feeling for China, and the temperament and atmosphere of Shanghai also fascinates him. He likes taking a casual stroll along the streets in Huangpu District at dusk. "It's very comfortable to saunter outside at night in this season," he said with a wild smile. In his view, Shanghai is a city full of dreams and charm. For this "dream-seeker", his aspiration has always been developing Oriflame into a successful enterprise headquartered in Huangpu District and targeting the whole of China.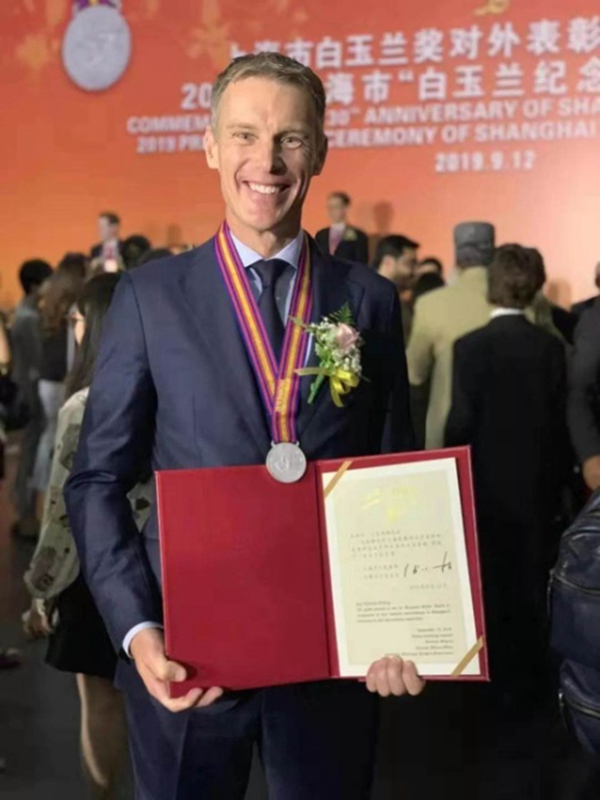 Thomas was awarded the 2019 Shanghai Magnolia Award. [Photo provided to Eastday]

Technology makes it an industry benchmark
In the direct sales industry, Oriflame has been committed to being a benchmark. Seeking development by sticking to its norms and in turn setting new norms in the process of development has always been an important aim in Oriflame's values. To this end, Thomas has a strong sense of mission, "I hope that through our standardized operation, we can constantly set a new example in this industry and guide others in the correct direction. We hope to make the whole market environment and industry environment healthier and sounder."
In 2006, Oriflame obtained a direct sales license in China, becoming one of the eight of the first batch of licensed direct sales companies and also the only licensed European direct sales enterprise at that time. In 2014, under the proposal of Thomas, Oriflame China was upgraded from a national market in Asia to a prospective market -- Greater China. This change enabled Oriflame China to assume the role of regional headquarters of the multinational company. Thanks to the huge opportunities brought by the rapid development of e-commerce and the improvement of residents' consumption level in China, Oriflame China has developed rapidly and Greater China has now become one of the most important markets for Oriflame in the world.
At present, the company is preparing to establish an R&D center in Shanghai, which will be the third R&D center in the world after the two established in Stockholm and Dublin. "The establishment of an R&D center in Shanghai will facilitate product testing on Chinese consumers' skin to ensure the effectiveness of the product," Thomas introduced.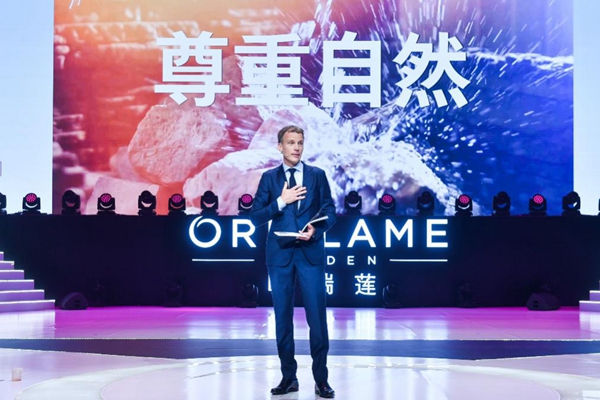 Thomas giving a speech at the 2019 Oriflame (Greater China) Sales Elite Seminar. [Photo provided to Eastday]

Ardor for charity
Under the leadership of Thomas, the management team of Oriflame China always considers the social responsibility of the enterprise, caring for and repaying society of their own volition. During 2010 to 2014, Oriflame China donated about 4 million yuan to charitably support blind orphans, bringing light and strength to them.
From 2015 to 2017, Oriflame, in association with the Chunhui Children's Foundation, a well-known domestic public welfare organization, donated 4.8 million yuan for various charitable projects in China.
In Thomas' words, to help the disabled and the children is to pay attention to the future.
Devotion to promoting communication and learning
Harboring deep interest towards Chinese culture, he has always been committed to promoting exchanges and mutual learning between Chinese and European companies. In August 2016, Oriflame China gathered nearly 1000 excellent dealers from Shanghai and all over the country to travel to northern Europe for a week-long overseas seminar. In 2019, more than 1000 excellent dealers were also invited to visit Oriflame's headquarters in Stockholm, Sweden. This kind of in-depth field investigation not only deepened Chinese dealers' understanding of the Oriflame brand, but also promoted cultural exchanges between Shanghai, China as a whole and the Nordic country, so that, "the Swedish headquarters know more about the Chinese market and the demands of Chinese consumers."
Thomas emphasized his thanks for the Huangpu District government for its support in Oriflame's development, by saying that he always seizes every opportunity to promote Huangpu and Shanghai. In the internal exchange meetings of the industry, the company often nominates Shanghai as the site, so that more people can have a deeper understanding of Huangpu and China at large. Whenever friends from other countries visit Thomas' office in Shanghai, he spares no effort in introducing the latest situation of Shanghai's development to those international friends to promote Shanghai's foreign exchanges.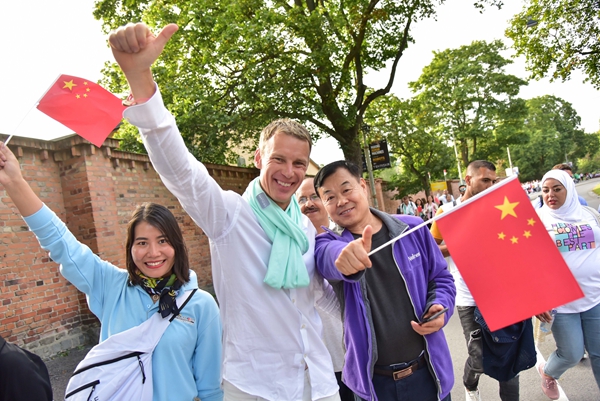 Thomas poses with Chinese dealers in Stockholm (August 2019). [Photo provided to Eastday]

The company's relaxed and happy atmosphere is quite impressive. As one employee said, Thomas is not only a colleague but also a friend to them. Apart from the entrepreneurship of the Swedish president, what also touches them is that Thomas is "really a very good person".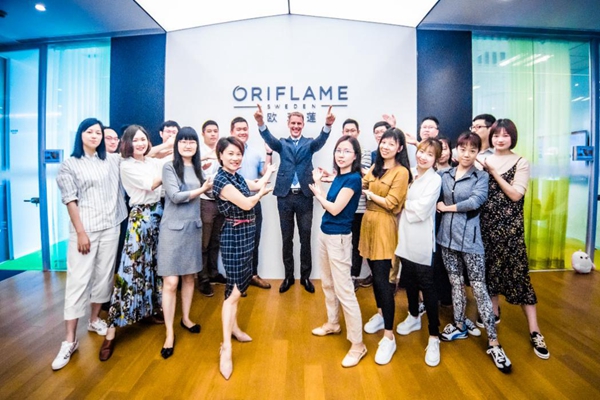 The Oriflame team pose for a photo. Its slogan for the upcoming celebration activity is "Change a little every day to embrace a healthy new life!" [Photo provided to Eastday]