Featuring cute animals like pigs, raccoons and otters, recently many places of recreation have seen the emergence of indoor zoos which are quite popular among parents and kids. At the same time, the bitter reality behind the "zoos" has raised discussion in society.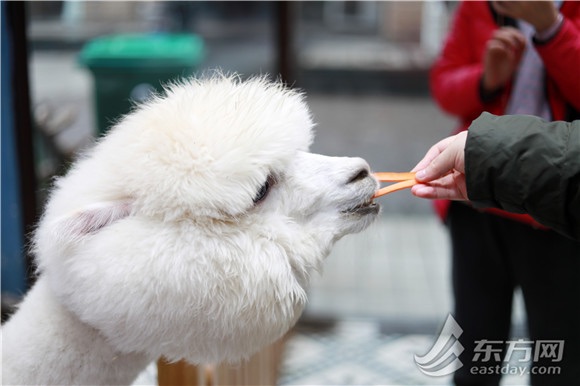 (A customer feeds an alpaca.)
Different from cats and dogs, the animals housed in these indoor zoos are extraordinary pets such as lizards, snakes, rabbits, hamsters, and hedgehogs. In Shanghai, there are nearly ten such mini zoos, some of which also provide coffee, desserts and other catering services.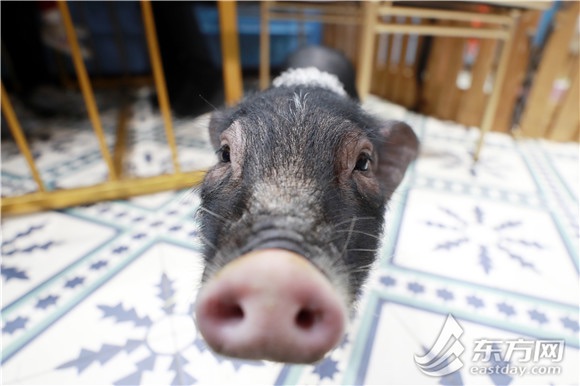 (The mini pig in an indoor zoo is not afraid of people at all.)
In a café on Changle Road, the superstar is a little raccoon. The café is divided into two areas: one for dining and the other for watching the raccoon. Some uncivil visitors, in order to play with the raccoon, wake up the animal by shaking its cage.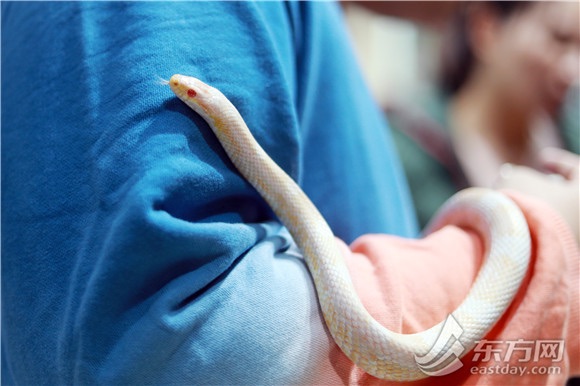 (A corn snake in a kid's arm)
In another coffee shop on Xichuan Road, people frequent there to see mini pigs. Customers need to make a reservation in advance and then go inside in batches. Before hugging or touching the pigs, they need to wash their hands with disinfectant and follow the instructions for how to hug a pig. "You need to stop if the piggy gets nervous and howls," said the staff. "They are really cute. But my heart goes out to the pigpies, who must be tired of people's strokes day after day," said a customer who feels sorry for the caged animals.
In Baoshan District, an experience museum with an entrance ticket of over 40 RMB has its peak hours on weekends. The visitors will be greeted by an alpaca, a golden retriever and a mini pig. Inside, guinea pigs, rabbits, snakes, lizards, and parrots are kept in glass boxes. If people want, they can ask the staff to take the animals out to play with them. If they really like them, they can also buy the animals.
The customers are happy, but is that the same for the animals? As a matter of fact, most of the indoor zoos, subject to site constraints, can hardly provide simulated environments of nature for the animals, said an animal-feeding professional. What's worse, for climbing animals, insufficient room for vertical climbing and over-exposure to visitors' will lead to their anxiety. The lights and noise in some shopping malls can also be a disturbance to animals, especially nocturnal animals like sugar gliders.