Traditional Chinese Medicine (TCM) is playing a part in fighting against COVID-19, even beyond China. In Mauritius, a country known as a gateway to the Indian Ocean, TCM doctors, while concerned with the epidemic's situation back in China, are figuring out a way for the control and prevention of the coronavirus in the locality.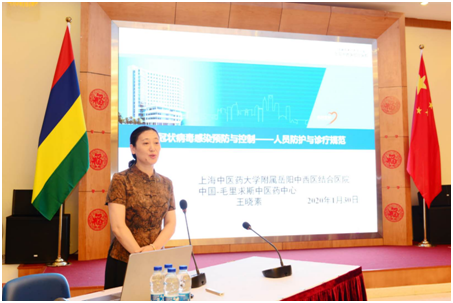 (Dr. Wang Xiaosu introduces knowledge on epidemic prevention to staff in the Chinese embassy.)
Wang Xiaosu and Hu Binglin, two TCM doctors from Shanghai Yueyang Hospital of Integrated Traditional Chinese and Western Medicine, have been serving at the China-Mauritius TCM Center since 2019, an institution founded last year in Port Louis, capital of Mauritius. After COVID-19 broke out in China, they have been in close contact with their colleagues who are now fighting at the frontline in Wuhan's Leishenshan Hospital. While learning from the Wuhan experience of fighting against the disease, they also wanted to help with preventing the virus spreading in Mauritius.
Mauritius is a tourist hotspot for the Chinese during the Spring Festival, while many Chinese residents in Mauritius flew back to China to spend the holiday, so they need to be checked upon arriving back. Because of the poor prevention facilities in Port Louis and people's low awareness of the epidemic, if there is a single imported case of COVID-19 in the country, the consequences could be disastrous.
As such, Dr. Wang Xiaosu and Dr. Hu Binglin decided to prioritise the prevention of the epidemic in the China-Mauritius TCM Center. Upon learning that a tourist from Hubei was put under quarantine because of a fever and two staffers at the Chinese embassy felt discomfort at work, Wang and Hu prepared a lecture about the prevention, diagnosis and treatment of novel coronavirus pneumonia for the Chinese embassy and healthcare institutions in the locality.
Wang also introduced some TCM prescriptions to the audience, based on her colleagues' clinical experience of treating the epidemic and the TCM concept of preventive treatment of disease. Hu, specializing in acupuncture and tuina massage, introduced some ways of keeping fit via herbal diet, breathing exercises and therapies like massage, guasha, and cupping.
The two doctors also visited the staffers who had contact with the quarantined Hubei tourist, and imparted them with some preventive measures from TCM.
Prevention and control plays a crucial part in fighting infectious diseases. As COVID-19 has been deemed a global health emergency, the entire world has to stand in solidarity to fight the epidemic. Through the TCM center in Mauritius, Yueyang Hospital will work hand in hand with the Mauritian government and its people by sharing Chinese doctors' treatment experience through the integration of traditional Chinese and Western medicine.