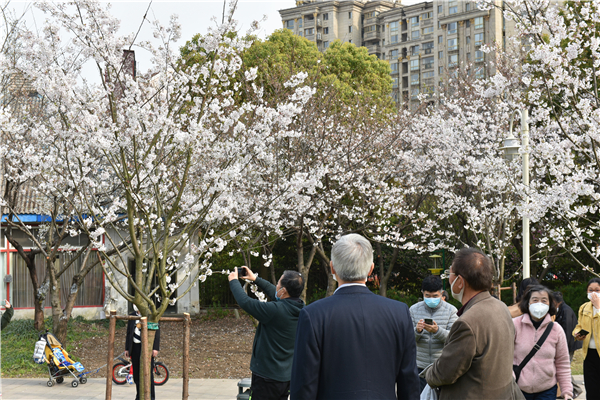 As spring is here, life is beginning to go back to normal. People in Shanghai, relieved by the current steady control of COVID-19, are coming out to enjoy the sunshine. The cherry blossoms at New Hongqiao Centre Garden in Changning district have attracted many citizens. "The cherry blossom trees were planted by us one week ago. Now they are in bloom. Well done," celebrated Hitoshi Nakamura, secretary general of the Shanghai Japanese Commerce & Industry Club.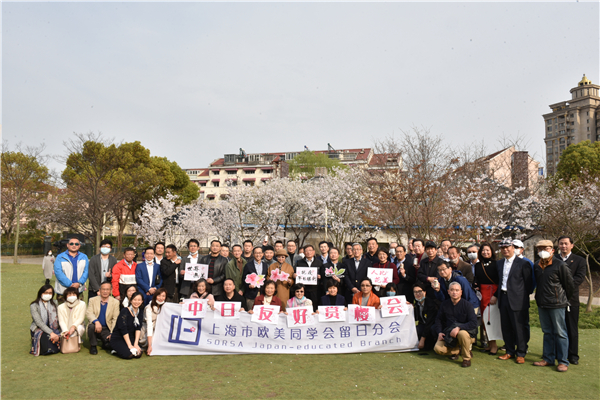 On March 14, a total of 20 cherry blossom trees were planted at the garden by Mr. Nakamura and some other 30 people, including both Chinese and Japanese. Many of them did not expect that the trees would bloom so quickly. They got together on March 22 to enjoy the blossoms and talk happily with each other. Now China and Japan are getting better as the number of new confirmed domestic cases of COVID-19 has been declining, but the world is still in a tough time, and much work still needs to be done for all of us to eradicate the virus.

Since 2009, the Japan-educated Branch of the Shanghai Overseas Returned Scholars Association (SORSA) and the Shanghai Japanese Commerce & Industry Club have been organizing tree planting and Hanami (a Japanese tradition of welcoming spring among cherry blossoms) activities. This year, in the context of the novel coronavirus pandemic, the event still took place despite a delay.
That has shown us a positive signal of Shanghai's full resumption of production, the recovery of the market and life, said Jing Ying, vice chairperson of the Shanghai People's Association for Friendship with Foreign Countries (SPAFFC).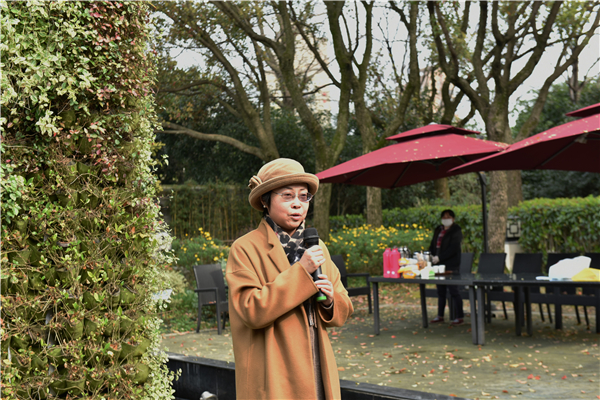 While viewing the beautiful cherry blossoms, Hu Zhiwu, secretary general of the Japan-educated Branch of SORSA said, "The petals of the cherry blossoms are ordinary, but if you put them together, you will see a spectacular sea of flowers. That is the same when it comes to the friendly relations between China and Japan and the peace of the entire world. We have to make friends and work hand in hand. In this critical time of the COVID-19 pandemic which threatens humankind, it is high time that we should help each other and work for a win-win outcome, as we share the same destiny."
"The past two months have been a tough time for all of us," said Kazushi Takeda, director of the Shanghai Japanese Commerce & Industry Club, an organization in Shanghai that has around 2,400 Japanese companies. "Thanks to the Shanghai authorities' help, more and more Japanese companies have resumed their work." As Mr. Takeda said, the tree planting and Hanami events this year have also reflected the Japanese companies' confidence of resumption of work and production.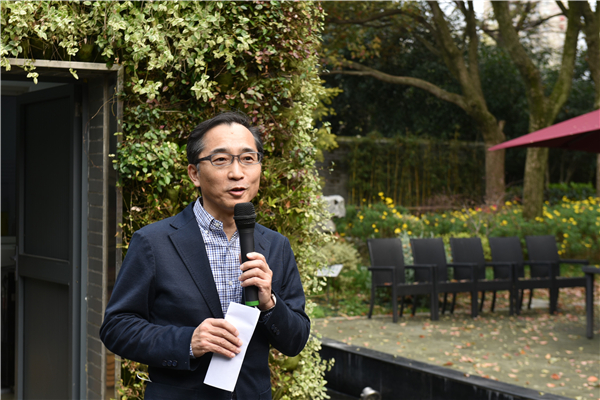 The pandemic has indeed affected China's economy, especially in several industries, according to Mr. Takeda. "But we believe that China's market is very large and has huge consumption potential. We believe that China's economy will rebound," he added.
Situated on West Yan'an Road, the New Hongqiao Centre Garden is nearby many Japanese companies' offices and many Japanese' homes. Starting this year, the tree planting and Hanami activities will be held at the garden, to attract more people to come and celebrate the friendship between China and Japan. Over the previous years, the activities were held at Luxun Park in Hongkou district, where there are many cherry blossom trees planted by Japanese people.
(Photos courtesy of the Japan-educated Branch of SORSA)