Wenceslas Square in Prague is always flooded with tourists. However, things have changed since the night of March 15, when the Czech Republic approved a nationwide quarantine prohibiting much free movement across the country. People began to put on masks or other shields to protect themselves, and the whole country has fallen into a state of emergency due to COVID-19.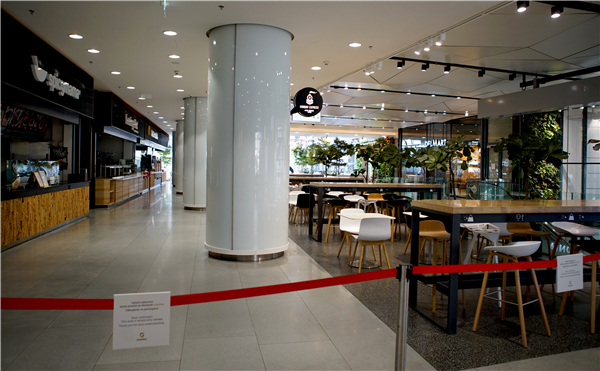 (This shopping mall was closed on March 13, one day after the state of emergency was announced by the Czech government. Photo by Xinhua News)
As 2020 began, COVID-19 was discovered in China, resulting in wide concern across the globe and among people, especially medics. Dr. Guan Xin, a TCM doctor working at the Sino-Czech TCM Center in Prague, has been keeping an eye on the happenings back in China. He was especially professionally interested after learning that TCM doctors from Shanghai were being dispatched to Wuhan.
Each time he is asked by his patients about the situation in China, Dr. Guan usually replies with confidence, "Facing the epidemic, the Chinese government and people have shown impressive togetherness and execution capability. Besides, they have both traditional Chinese medicine and Western medicine. With the two-pronged approach, I believe that China can handle the epidemic."
Guan also said he is ready to help the Czech people fight against COVID-19, as the disease has begun to strike the country.
Guan Xin is an associate chief physician of Shuguang Hospital (affiliated to Shanghai University of Traditional Chinese Medicine). Since 2018, he has been working at the Sino-Czech TCM Center. Using his expertise, he and his coworkers have recently been promoting TCM's role in preventing the epidemic.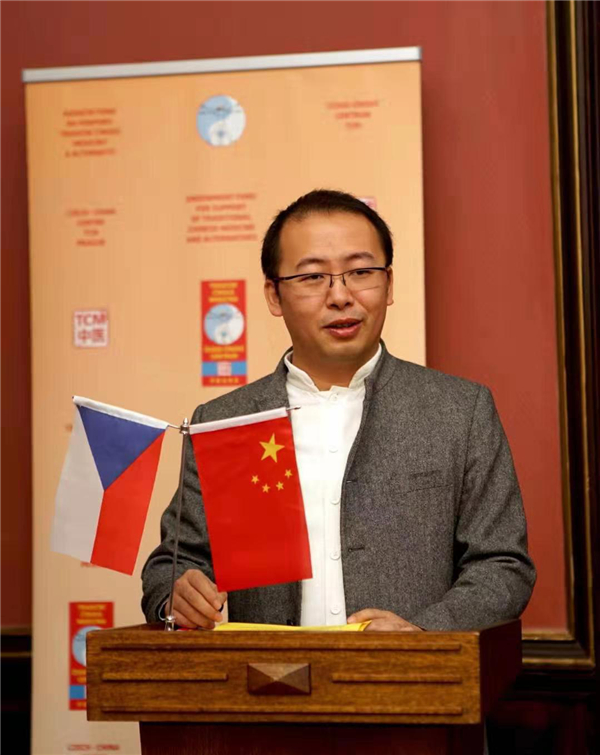 (Guan Xin. Photo from World Federation of Acupuncture-Moxibustion Societies)
As TCM physicians in the Czech Republic haven't been recruited to fight against COVID-19 on the frontline, Guan and his colleagues in the TCM center decided to offer a helping hand in preventing local people from getting infected. Immunity, as Guan said, is the best "medication" against epidemic, while TCM has many methods to improve people's immunity.
In TCM, when there is sufficient health qi inside the body, the pathogenic qi have no way to invade the health body. The positive qi or energy is very important in TCM treatment. According to Guan, even with no epidemic outbreak, the TCM center teaches people moxibustion and daoyin exercises. Not only do TCM physicians do moxibustion on patients, but patients also learn to do it for themselves and family members.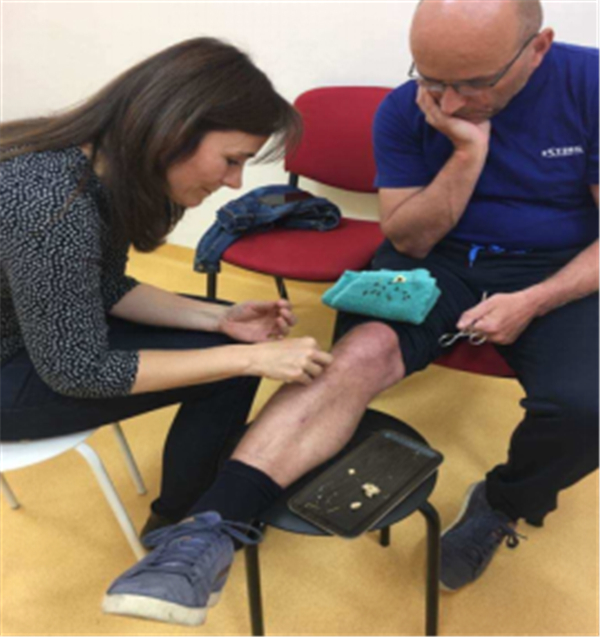 (A couple does moxibustion at Zusanli point)
As the disease emerged in the Czech Republic, leveraging the precious experience of TCM doctors in Wuhan, the epicenter of the novel coronavirus, Guan began to offer preventive prescriptions to highly susceptible patients, like Chinese patent medicine and TCM formula granules.
The most widely used medicine to prevent COVID-19 infection is the No. 1 Formula. Thanks to its stable therapeutic effects, so far, over 100 doses of No. 1 Formula have been prescribed at the TCM center.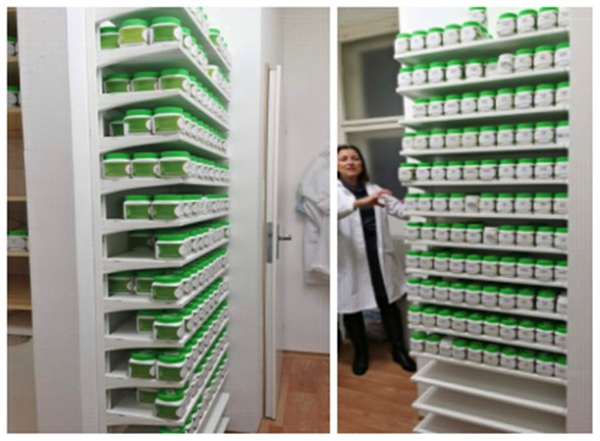 (TCM formula granules at the TCM center)
While providing online counseling services for people in the Czech Republic, Guan has also been busy sorting out relevant literature and information to educate the local people on how to prevent COVID-19 infections, including utilizing social media platforms like Facebook to promote daoyin. Daoyin, a method of health keeping and disease prevention, can be easily practiced at home, making it especially useful at this time. Many of the netizens do the exercises every day, and many of them are Guan's patients.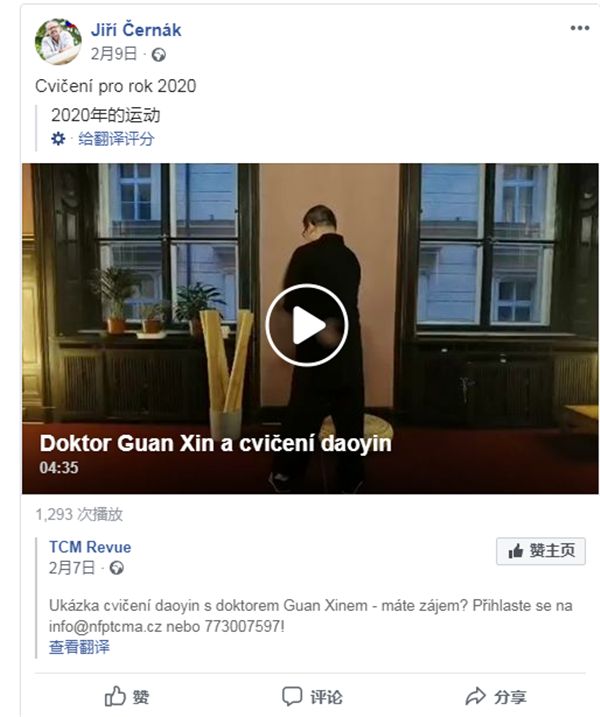 (A netizen forwards Guan Xin's daoyin video on Facebook, naming it "exercise for the year 2020")
Guan's workmate at the TCM center is Daniela Blahová. As vice president of the Acupuncture Committee of the Czech Western Physician Association, she is an advocate of Traditional Chinese Medicine, especially acupuncture and moxibustion. She agrees with Guan that the best way of treating COVID-19 is through integration of TCM and Western medicine. These days, she is also helping Guan sort out relevant materials about TCM's role in epidemic prevention.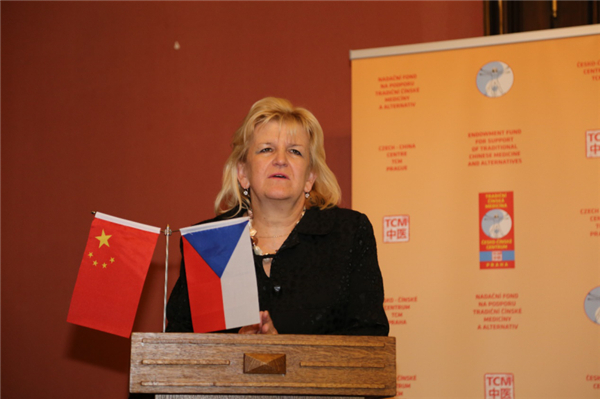 (Daniela Blahová. Photo from World Federation of Acupuncture-Moxibustion Societies)
In the Czech Republic, there are around 5,000 overseas Chinese. They are staying in the country, fighting against the coronavirus with the Czech people. Overseas Chinese have shown solidarity during this difficult time, setting up three chat groups on WeChat, where Guan and other TCM physicians teach people how to take good care of themselves and avoid infection. Guan also teaches them acupuncture and moxibustion, body massage, food therapy and Ba Duan Jin (which means "Eight Steps to Healthy Living", a form of qigong). People with mild symptoms (like coughs, a sore throat, gastrointestinal upset and swollen lymph nodes) also resort to Guan for advice. Fortunately, so far, no case among Chinese people in the country has been confirmed.
"The Chinese community has shown strong solidarity over this time," added Guan. They have set up in a volunteers' alliance, promoting epidemic prevention and control knowledge in supermarkets, pharmacies, and clinics. They also provide convenient life services for the local people, such as emergency food delivery, translation, medical, legal and psychological counseling, quarantine, and distribution of supplies.
Once they gave away surgical masks to staff in a daily necessities store. Touched by their deeds, the manager of the store sent them some skin care products and body lotions in return.
A manager of a daily necessities store received the masks presented by the volunteers to the employees in the store, and was very moved. In return he gave daily skin care products and body lotions in the store to the warmhearted Chinese friends.
As of March 28, the number of confirmed cases of COVID-19 in the Czech Republic has surpassed 2,000, with a daily increase of over 100. Unfortunately, there is a dearth of face masks, protective gear, and other anti-epidemic supplies.
Ready to join the frontline in treating the patients, Guan is also learning from the best practices of Chinese doctors back home. As he believes, TCM has many "weapons", be it decoction, herbs, grain moxibustion or daoyin, with which to make contributions in global anti-epidemic efforts. These are explained in one of Guan's articles titled "Drawing on the wisdom of 'The Yellow Emperor's Classic of Internal Medicine', TCM's role in fighting COVID-19".