Since the 1st Shanghai Nightlife Festival kicked off over the weekend, at a nightfair in Fengxian, dazzling vending carts with various mouthwatering snacks have been luring thousands of diners.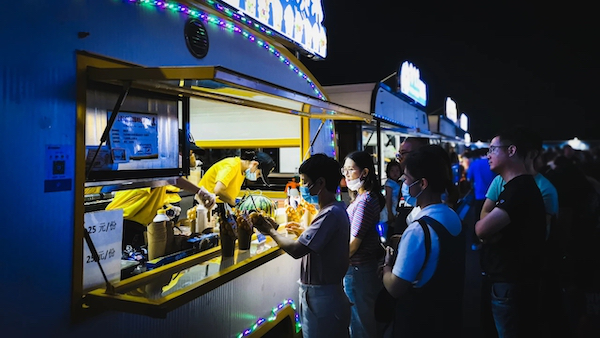 Certified by departments like City Management, Fire, Public Security and Food Safety, these street sellers all post a temporary business card at the movable cart.
To prevent cooking fumes and noise from disrupting the surrounding residents, each cart is equipped with a fume purifier and the vans are not allowed to use any advertising loudspeakers to announce their presence or what they are selling. The kitchens have also been designed to prioritise food safety. Garbage collection and transportation is managed by the environmental sanitation department.
Wang Menglan, a post-90 generation lady, is one of the vendors at the fair, selling cheese hot dogs. Wang resigned from her barista position to open a Burnbang Hot Dog store two years ago after tasting delicious cheese hot dog sticks in South Korea. Due to the coronavirus epidemic, the store which reaped a turnover of more than 2,000 yuan per day only received two to three hundred yuan after the Spring Festival.
As expected, Wang's cart is now receiving streams of customers."In my full store, there are several varieties including French fries, chicken chops and hot dog sticks, but the cart is quite small so I only sell hot dogs, 300 to 400 pieces a day at the most,"said Wang satisfactorily.
In her view, the epidemic is preventing people from going out to dine. Since people have higher food hygiene requirements, the key to seize the business opportunity at the night fair is to strengthen the management to make people buy food at ease.