As life has become normalized in China, Disney reopened its Shanghai Disneyland, becoming the first Disney park reopening in the face of the coronavirus pandemic. While embracing the long-awaited visitors, the park on Sunday, July 5, welcomed a special group of guests: nearly 200 expats in Shanghai who have helped to keep the city on its feet.
The expats are from Pakistan, Canada, France, Germany, India, Israel, Italy, Japan, Laos, Netherlands, Nepal, Russia, Singapore, Sweden, the United States, and other countries and regions. They were invited by the Shanghai Municipal Foreign Affairs Office, the Shanghai People's Association for Friendship with Foreign Countries (SPAFFC), Shanghai Shendi (Group), The Walt Disney Company (China), and the Shanghai Disney Resort.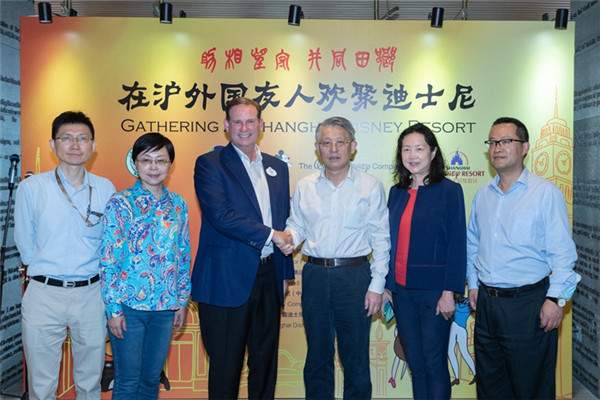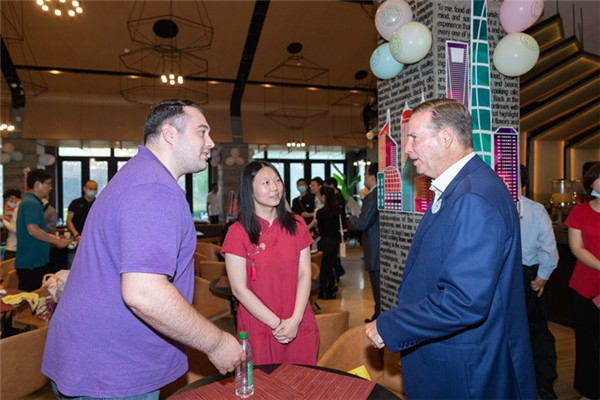 Sha Hailin, chairman of SPAFFC, extended his heartfelt gratitude to expats for their long-standing support and contribution to the city as well as promotion of friendship. "When the pandemic hit us, you chose to stay with Shanghai and fight against the virus. When the situation came gradually under control, you contributed through various channels to the reopening of the city. Thank you for everything you have done for this beautiful city," he said.
Among the expats, some are volunteers who have offered a helping hand during the epidemic outbreak; some are professionals from different sectors, making contributions to the city's development; some are residents of international communities; and others are international students at Shanghai's universities. They stayed in Shanghai, fighting against the coronavirus when the epidemic was serious; now, they can finally gather and enjoy the new normal of life.
Blood donors' love for Shanghai
Volunteers from Bloodline, a Shanghai-based non-profit advocacy group for blood donations, took part in the activity. They launched blood donation campaigns soon after the city turned a corner in its fight to contain the outbreak in March, with the latest one taking place on July 4.
Each successful blood donation is like an expression of our love for Shanghai, said Ashish Maskay, a Nepalese doctor who founded Bloodline in 2017. In addition to donating blood, the organization has also hosted various activitiesto enhance publicawareness about the safety and significance of blood donation. Dr. Maskay even uses his daughter's toys to introduce anti-epidemic knowledge and encourage blood donation. "When children see their parent donate blood, they will understand that's a good thing. When they grow up, it (blood donation) comes to them naturally." More than 2,500 volunteers have so far donated blood by joining the organization.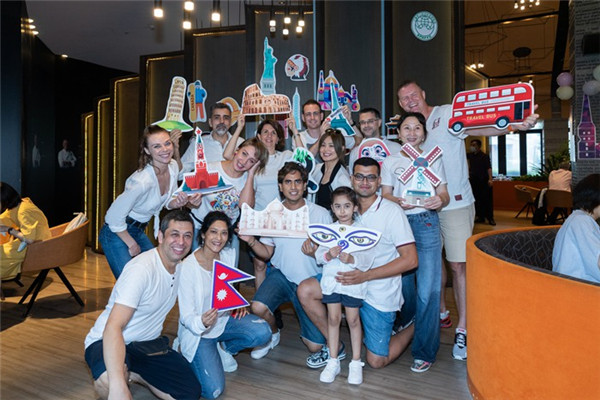 (Volunteers from Bloodline)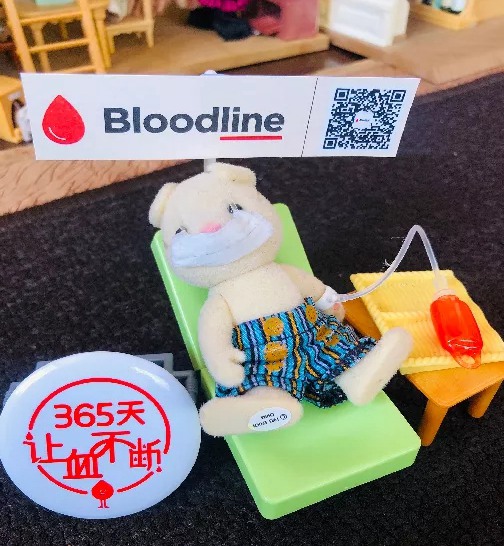 (A scene created by Ashish Maskay to encourage blood donation)
Business confidence in Shanghai
Claude Maillot, chief executive of Bureau Veritas' Marine & Offshore North Asia and China Zone, shared with people his observations and feelings during the epidemic. As the winner of a Shanghai Magnolia Gold Award 2019 said, the coronavirus did exert some impact on the global shipbuilding industry, but with the help of new technology his company Bureau Veritas has changed its way of work, including adopting working from home. A remote inspection center was also opened to push the company toward digitalization so as to move the company into a "new normality."
Learning that China is speeding up its construction of "new infrastructure," Claude Maillot showed no doubt in new technology's role in shaping the shipping industry. New technologies are making shipping greener and cleaner, as he said, and Bureau Veritas has also set up an R&D center in China for sustainable shipping. As he noted, Shanghai is already a global center in using digital technologies. He has confidence that "in ten years, Shanghai will become the center of green technology to promote a green way of life."
Harmen Dubbelaar, president and general manager of the Okura Garden Hotel Shanghai participated in the activity with his daughter. He was one of the Magnolia Silver Awards winners in 2019.
Mr. Dubbelaar has been in Shanghai since the outbreak of Covid-19, during which he has never felt worried with the city's effective measures.
As the haze of the coronavirus dissipates, business is getting better and better in the hotel he works for. Currently most of their guests are domestic because of the travel restrictions, but they are optimistic about their future development in town. Now Mr. Dubbelaar also goes out for dinner with his family in his leisure time. "Shanghai is a shopping paradise," he added.

Ker David Gibbs, president of the American Chamber of Commerce in Shanghai, said that their member companies responded quickly after the Covid-19 crisis. They collected as much personal protective equipment as they could and delivered PPE to where it was needed in Wuhan.
Moreover, the chamber has coordinated closely with the city's relevant government departments with regard to the shutdown and the reopening of the American businesses. Mr. Gibbs was happy to say that almost all of their businesses are now fully operational.
"The commercial relationship between the US and China has been mutually beneficial for a lot of years. We believe that it can continue to be beneficial," the president noted, expressing their hope to see more and more American companies come to China and establish businesses.
Dr. Kamran-Charles Vossoughi, president & CEO, Michelin Greater China,expressed his gratitude for the invitation, saying that "we have been in China now for a year and we feel at home."He is looking forward to working with the SPAFFC and promoting the deep links that connect foreigners like him to China and to Shanghai.
We're like family, all in this together

Residents of Shanghai's international communities and foreign students from New York University Shanghai (NYU Shanghai) and the Shanghai Institute of Technology were also invited to enjoy a day at the Shanghai Disney Resort. Like Chinese people, they have used their own ways to help fight the epidemic.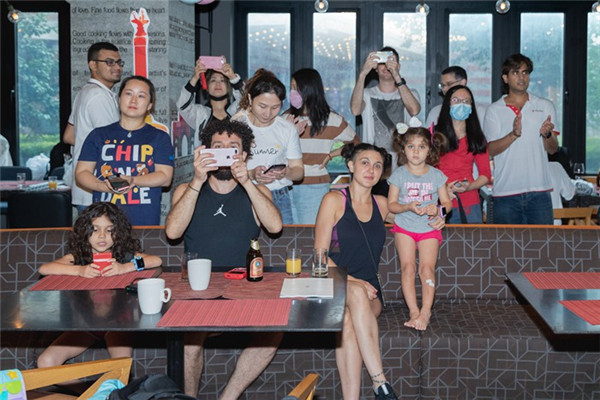 (Expats gather at Shanghai Disney Town)
Nicole from the USA is a volunteer at More Than Aware (an expatriate-founded nonprofit organization that helps breast cancer sufferers in Shanghai). Over the past few months, she and her friend Janette initiated several mutual aid groups on WeChat, to help those who are eager to return from abroad to China. As admins of those groups, they search for flight information, local anti-epidemic policies, give packing tips and then post them in the chat groups.
As another admin of the mutual aid groups, Silver from Canada is a drama coach living in Jinfeng International Community in Shanghai's Huacao Town. Together with her daughter and husband, they raise funds for pet dogs who are left behind by their owners. As Silver explained, many people went back to their home countries for a holiday at the beginning of this year, but due to the pandemic, they cannot fly back to reunite with their pets. With the raised funds, Silver and her friends ask each airplane passenger who is flying abroad to take one pet with them and send the dog to their family. So far, they have helped over 80 dogs.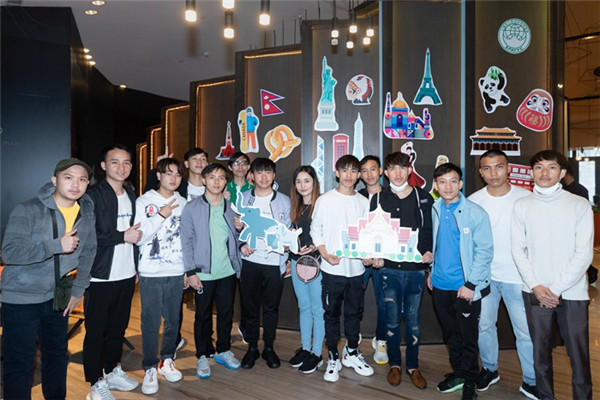 (Lao students)
The pandemic has also brought changes to some Lao students studying Railway Engineering at the Shanghai Institute of Technology. Most of them have been staying in Shanghai since the outbreak. They even recorded videos, along with those who have returned to Laos, to encourage Chinese people in their fight against the coronavirus.
Speaking of their future plans, Xong Sou, one of the students, said they will work harder on study, making up for the lessons disrupted by the outbreak. Next semester, they will also intern at the construction site of the China-Laos Railway. Thoryiachor Chengxue thanked the SPAFFC and its chairman Sha Hailin for loving and caring for them as if they were their own children. Yang Ye hopes to study the Chinese language and his major well, so as to contribute to the friendship between China and Laos in the future.
Shanghai's inclusiveness brings together people from all over the globe and together they help each other through trials and hardships. The friendship will last forever.
Story by Wang Jiaye, Wu Qiong
Photos by Pan Jiandong
Video by Gu Ming