At the start of 2020, the State Council unveiled legislation that will ban fishing in the Yangtze River for the next decade. Since then, the authorities have been tightening restrictions and regulations to try to achieve their goal of a fisherman-free Yangtze River by the end of 2020.
There are largely two parts to the State Council'sprocess – restriction and allocation – taking into consideration both the means of banning and the aftermath.
Up to now, authorities have retired eighty thousand fishing boats and one hundred thousand fishermen. Big places such as Shanghai, Jiangxi and Yunan provinces have already finished preparation for the ban, and contained the fishing boats. But in order to expand the success in these places to all, an innovation in policies is needed.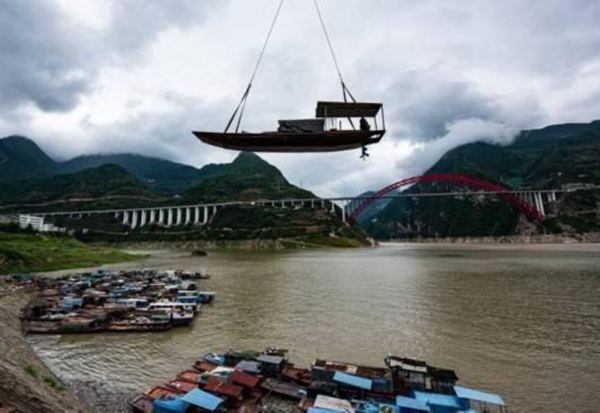 (A fishing boat collection site where boats are being moved onto land to be dissembled)
Deputy director at the School of Marine Culture and Law, Tang Yi, said that there are two urgent needs: the ability to restrict, and the ability to regulate. These two parts ensure the retirement of a myriad of ships and fishermen and lessen the possibility of illegal fishing in the future respectively. Tang also stressed the importance of multiple agencies cooperating in order to accomplish this "grand act of protection". Throughout the year, this cooperation has eradicated illegal markets which creates demand for wild fish, ridding illegal fishing from its source.
Speaking of protection, why exactly does this ban of 10 years have to happen now when the rest of the economy is trying to recover?
The Yangtze Riveris China's longest river and a biological resource, supporting the country with its abundant, unique variety of ecosystems. However, high-intensity human activity has caused this mother river to significantly lose its ecological functions. With both the endangerment of of scarce species and the depletion of overall fish stocks, the Yangtze River's proportion of freshwater fish and seafood produce nationally has dropped from 60% to barely 0.15%. This tremendous change caused great alarm to the authorities, and eventually, urged them to intervene. This act lives up to China's "respect towards nature, heedfulness of marine life and resources, and fulfillment of obligation to future generations."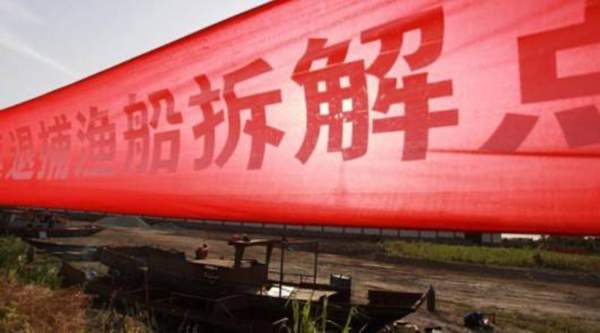 (A banner for a ship dissembling site)
The fishermen who have had their boats and livelihoods taken away now represent a big issue. Generally, fishermen in the Yangtze River area are older, easily marginalized, vulnerable stakeholders who are undereducated and lack professional knowledge. This makes it extremely hard for authorities to allocate them to other vocations, posing a possibility of them falling intopoverty. Currently there are policies and instructions in place to make sure that these fishermen are compensated for their losses. The central government will also be helping less-developed local administrations by making new policies and privileges.
These plans all sound promising, but the effectiveness of them still needs to be tested by time. When carrying out these changes, there has and will continue to be obstacles, but we all hope to restore our magnificent Yangtze River for present and future generations.