The name Dassault Systèmes might not ring a bell with many people, however, this French 3DEXPERIENCE company dedicated to making 3D simulations and Product Life Management (PLM) software is well-involved in many Chinese industries. From the Shanghai Expo's virtual exhibition halls to the Bird's Nest stadium in Beijing; From the China Railway High-speed Train to the C919 airplane; From Beijing's Daxing International Airport to Leishenshan Hospital in Wuhan, Dassault's software products are ubiquitous in China.
Dassault's Executive Vice President Sylvain Laurent claimed on July 23rd that they will finish moving their Asia Pacific headquarters from Tokyo to Shanghai's Pudong district in 2020. They also aim to construct a life science and intelligence innovation center in Pudong, hoping to use simulation technology in developing new drugs.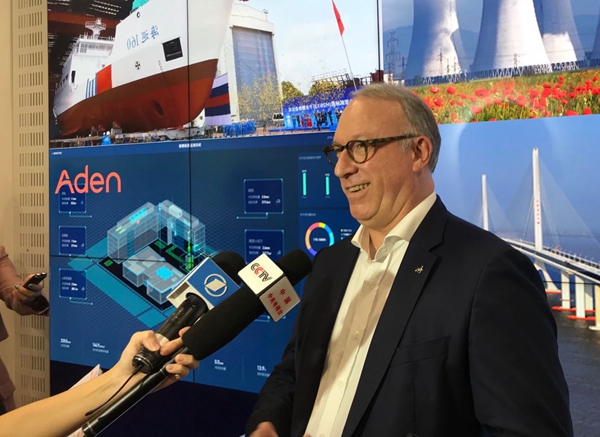 Sylvain Laurent, Dassault's executive vice president being interviewed. [Photo by Zheng Qian/ eastday]
Laurent explained that Shanghai's great business environment, government support for foreign companies, superior university talent, and China's improvements in the protection of intellectual property rights contributed heavily to their decision in moving their Asia-Pacific headquarters to Shanghai. Revealing the digital potential of the Chinese economy in the post-epidemic era, Dassault has strengthened its strategy of "in China, for China, with China". So far, Dassault has done well in Asia-Pacific, and is planning to grow their investment in China, using this as a gateway to further development in Asia-Pacific.
As the world's biggest industrial software producer, Dassault's software systems and customized technological services have branched into the aviation industry, automobile manufacture, vessel design, energy management, and city intellectualization. Ever since Dassault was introduced to China in 2005, it has provided reliable digital solutions to multiple national projects. In recent years, Dassault has been gradually integrating from heavy industries, to the medical field, with its newest project, Wuhan's Leishenshan hospital, an application of its 3D software.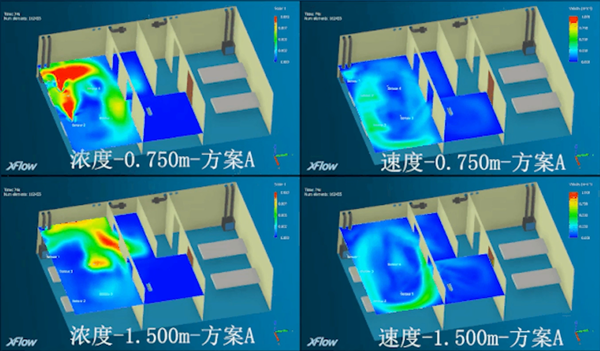 Dassault's Aerodynamic Load Simulation used in the design and construction of Leishenshan hospital. [Photo provided to eastday]
According to Zhang Ying, Dassault's managing director of Greater China, the corporation used the company's 3DEXPERIENCE platform's simulation capabilities to simulate virus contamination and diffusion within the hospital's ventilation system so as to counteract the negative effects of unplanned ventilation risks.
Zhang also revealed that the Life science and Intelligence innovation center about to be built in Pudong will focus on production, education and research– a representation of Dassault's focus on life science in the next decade.
"We are making preparations to provide mankind with a healthy future with digital life science. We have already seen the potential of digitalization in this industry, such as managing patients'symptoms with big data, as well as simulating surgeries to attain lower risks."