As the 23rd Pet Fair Asia was opened on August 19 in Shanghai, the potential of the pet economy, especially home delivered food for pets, has once again been highlighted.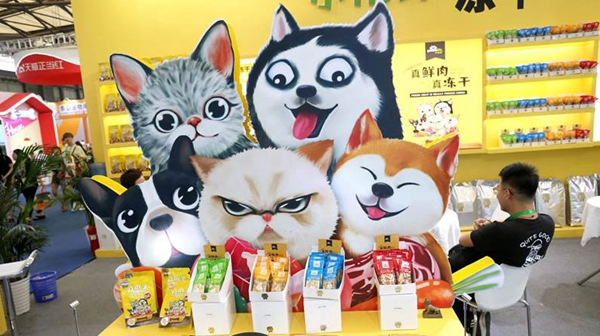 Data from the Chinese pet industry shows that in 2019, the number of pet dogs and cats had increased 8.4% and the pet-related consumption among urban Chinese had reached 202.4 billion yuan.
Statistics released on the opening day of the fair by Meituan Waimai, one of China's major food delivery platforms which is participating in the fair for the first time, indicated that the sales of pet products on home delivery platforms has grown 3.5 times in the past year, with cat food seeing prominent trading.
"Whether it is the sales volume and diversity of pet products, or the frequency of ordering, data suggests that the pet economy has ushered in a time of big expansion," said Zeng Wei, a head from Meituan. Moreover, buying pet products online has become increasingly popular.
Domestic pet brands are also a highlight at this year's fair. Experts say that pet food is the most competitive area in the pet industry and domestic pet food brands are beginning to replace international ones as the mainstream in the Chinese market.