The Russian schools of music enjoy a stellar reputation across the world. To many Chinese, Russian music has been very familiar since their childhood, due to the two countries' long relationship. For Chinese tenor Han Peng and soprano Yang Xuejin, who made their Russian debuts around ten years ago, the music exchanges between the Chinese and Russian peoples are a continuing source of excitement.
At a friendship event held in Shanghai last week, the two singers performed both Chinese and Russian songs to the audience, such as "Troika", "Red Berries in Blossom", "Swan Goose", and "Jasmine".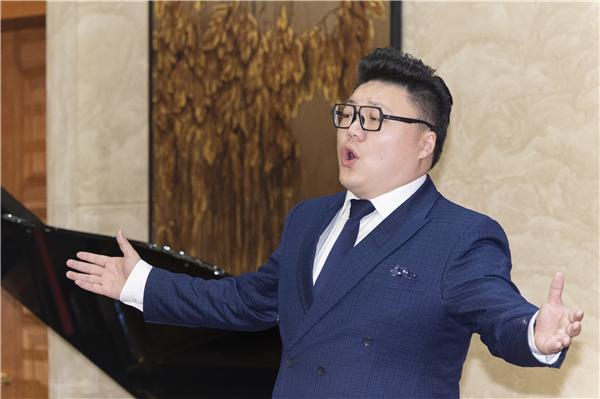 (Han Peng. Photo/Pan Jiandong)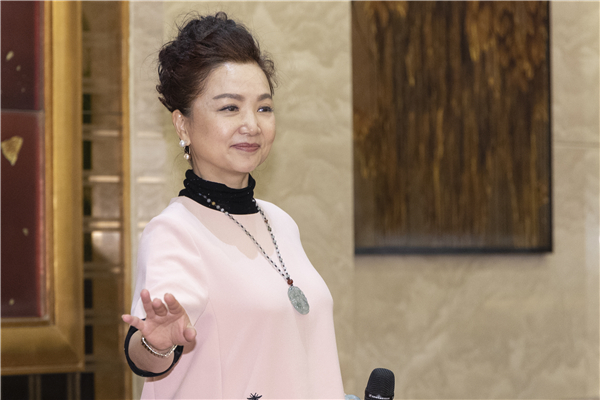 (Yang Xuejin. Photo/Pan Jiandong)
"I hope the exchanges between Chinese and Russian people can be like swan geese, who fly back and forth between the South and the North," said Han Peng, a young artist from the Shanghai Opera House.
As Han recalled, back in 2004, he went to perform in Russia with four other Chinese tenors, in celebration of the 65th anniversary of Sino-Russian diplomatic relations. "The Russian people were very excited when they saw us. In their country, there are many famed basses and baritones, but few eminent tenors. So it is rare to see such a group of Chinese tenors like us," explained Han.
That year, to sing authentic Russian music in Moscow, Han made preparations six months in advance and learnt Russian from university teachers.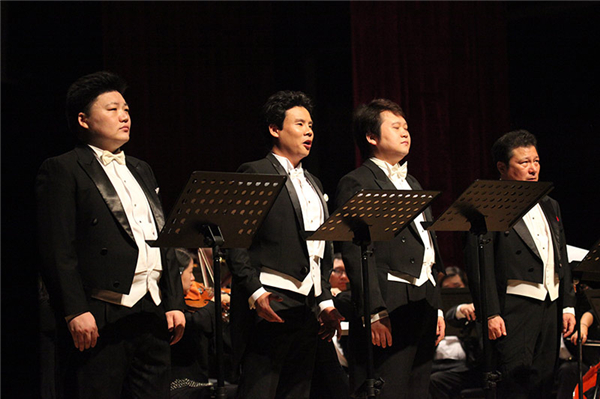 (Han Peng (left) in Moscow in 2004. Photo/People.cn)
The Chinese tenor group in Moscow also attracted the attention of the Alexandrov Ensemble (formerly known as The Red Army Choir), the most prestigious military artistic team in Russia. They specially performed a show for the Chinese artists.
Even though it was 16 years ago, Han still remembers the 2004 trip to Russia and hopes to perform both Russian and Chinese operas in Russia's opera house.
"Music is the best vehicle of people-to-people exchanges," commented Yang Xuejin.
Yang, a professor in vocal music at the Shanghai Conservatory of Music, went to perform in St. Petersburg in 2007 for the "Year of China" in Russia.
Speaking of her best memories of the trip, Yang said, "We had two hosts for our performances. One was Chinese and the other Russian. The Russian host said his grandpa joined the Red Army in China. So he was very friendly to us."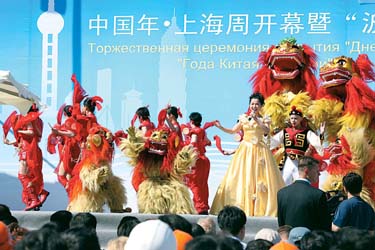 (Yang Xuejin in St. Petersburg in 2007. Photo provided by Yang Xuejin)
During her one-week stay in the European city, Yang also had a chance to become immersed in the charm of Russian art. She strolled around the city's museums and galleries and watched a beautiful ballet show in the Mariinsky Theatre.
Currently, thanks to the push of the two countries' heads of states, China-Russia relations are at their "best time in history". They are the important partners for each other from any perspective. In Yang's opinion, "We can tell stories to each other through music." Like she said, just like we feel adrenalin pumping when Tchaikovsky's Piano Concerto No. 1 is played, Russian people may become interested in our nation when they enjoy Chinese songs like "Jasmine" and "From Afar".