Shanghai's No.71 bus route is now going quiet.
After the Beijing-Shanghai high-speed bullet train and the city's metro have gone into "quiet mode" bus 71 has also taken on a quiet route since January 5, with loudspeakers having been banned on the bus.
On December 1, 2020, the new version of Passengers' Code for Shanghai's Rail Traffic went into effect, stipulating that passengers should not speak loudly and make excessive noise on subways and electronic devices are not allowed to play in speaker mode.
Following suit, the Beijing-Shanghai bullet train launched in late December a pilot service called "quiet car", receiving many people's applause, and has since then seen an increase in demand among citizens.
On January 5, the first day of Bus 71 going quiet, passengers voiced their support for the convention."Others might be disturbed if you make noise in a relatively small space, especially the sound made by electronic equipment. One should respect others and keep quiet," said a passenger, though he said he was not much aware of the launch of the convention.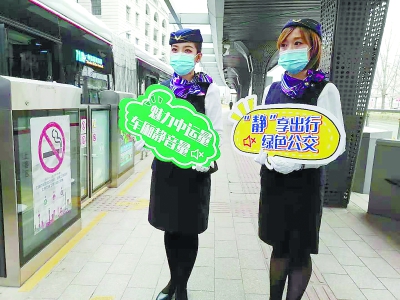 (Bus conductors remind people of the newly-launched "quiet bus" convention.)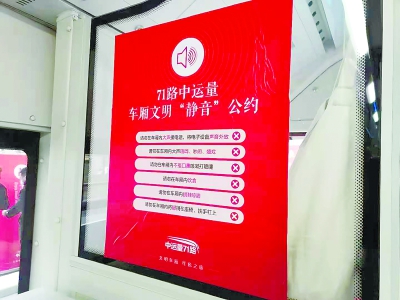 (The "quiet bus" convention on Bus 71)
Bus 71, which was opened in February 2017, is a major line from East through West Shanghai. Over the past years, it has carried nearly 60 million passengers. According to Zhang Zhuo, head of the Bus 71 fleet,"silent bus" is a relative concept. It doesn't mean that people must be silent, only that they should avoid excessive or unnecessary noise.
To facilitate the implementation of the "silent bus" convention, drivers and conductors are taking training sessions to remind passengers of keeping quiet. They will also solve passengers' queries in a gentle manner.