Together with the Shanghai Philharmonic Orchestra, renowned pianist Lang Lang and conductor Tang Muhai presented a stunning concert on March 26, connecting Chinese and foreign hearts with music.
The concert was held in celebration of Ludwig van Beethoven's 250th birthday at the Nine Trees Future Art Center in Fengxian District in south Shanghai. A relay concert of piano masters from the world was also kicked off the same day.

Nearly 100 people from 22 countries attended the event.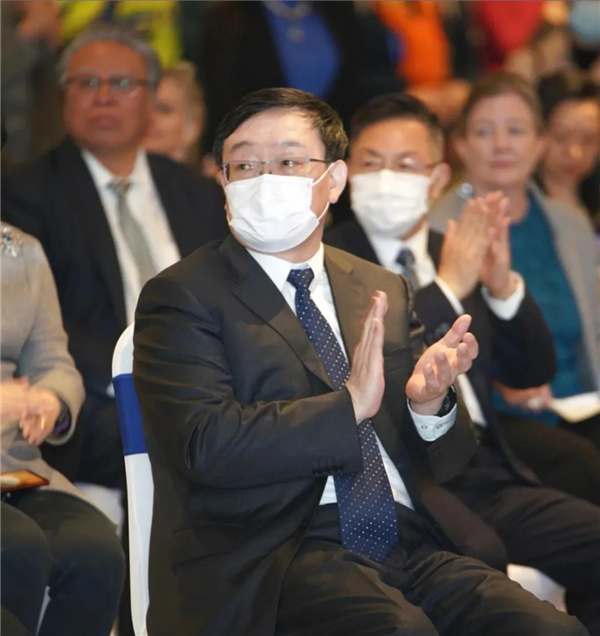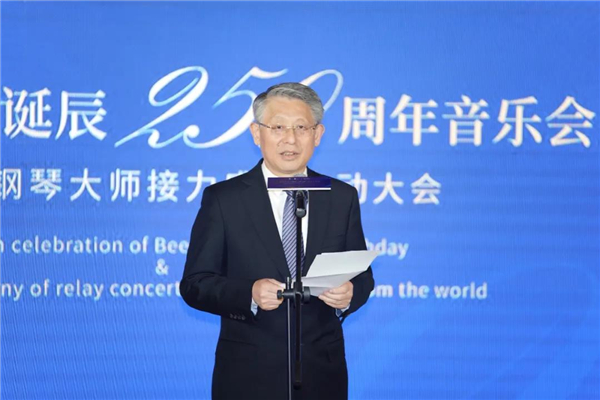 "In China, Ludwig van Beethoven's melodies are known to almost every household. In 'Für Elise' and 'Moonlight Sonata', we taste the sweet and sour of love; from 'Destiny Symphony', we gain the power to survive and move forward; and 'Ode to Joy' is the ultimate tribute to unity and the brotherhood of mankind," said Sha Hailin, president of the SPAFFC (Shanghai People's Association for Friendship with Foreign Countries). "At this special moment when we are fighting against the COVID-19 virus, only through unity and cooperation can we solve the world's problems and finally defeat the pandemic. Let us embrace peace in the melody, connect truth, goodness and beauty through Beethoven's music, and warm our earth with beautiful notes in the human spirit of 'music without borders'."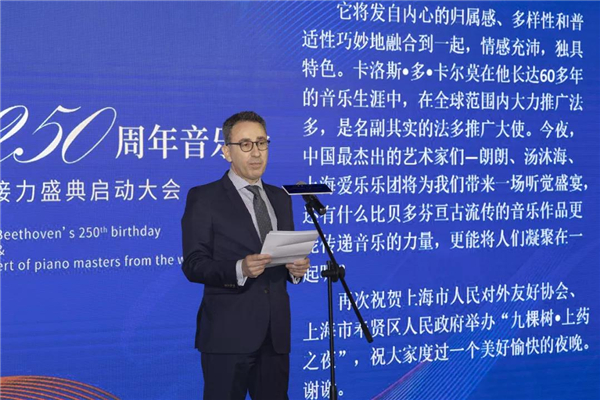 "The melody that represents the European Union comes from the Ninth Symphony composed in 1823 by Ludwig van Beethoven, when Beethoven set the music to 'Ode to Joy'," said Israel Saraiva, Consul General of Portugal in Shanghai. On January 1, Portugal took over the rotating Presidency of the Council of the European Union, until June 30. During such challenging times, a global challenge requires global action. Israel Saraiva believes that "only together can we move forward on this path of hope, trust and credibility".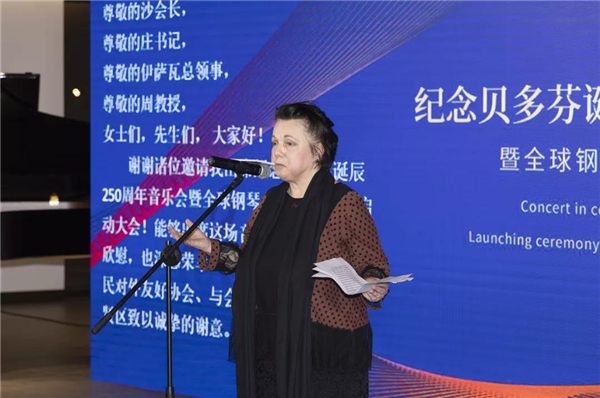 According to Christine D. Althauser, Consul General of Germany in Shanghai, activities commemorating the 250th anniversary of Beethoven's birth were mostly cancelled in many countries and a part of them moved online. She said it was a great pleasure to be able to meet here in Shanghai and listen to the master musicians playing Beethoven's works. At the moment when it is difficult for the orchestra and musicians to travel abroad, this concert is also needed by both Germany and China from the perspective of cultural exchanges.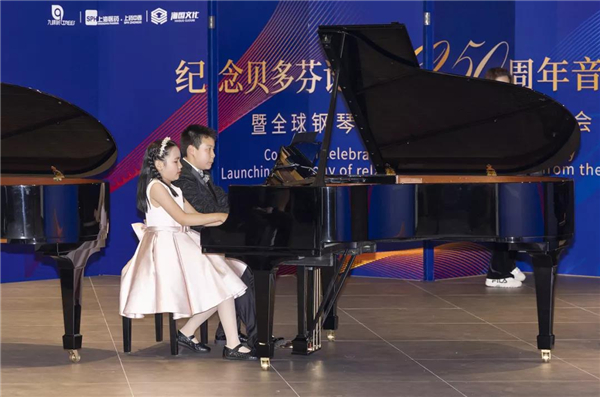 The concert was officially launched after a wonderful performance of Beethoven's Symphony No. 5 by six musically-talented children. In the beautiful theater, audiences enjoyed "Symphony No. 7 in A Major, Op. 92" and "Piano Concerto No. 3 in C Minor, Op. 37" by Lang Lang and Tang Muhai, members of the Nine Trees Committee of Arts Masters, along with the Shanghai Philharmonic Orchestra.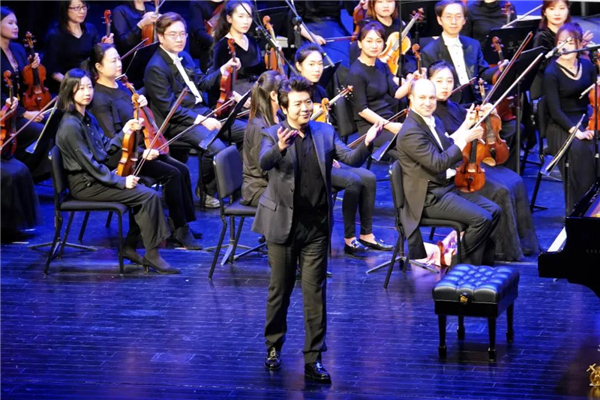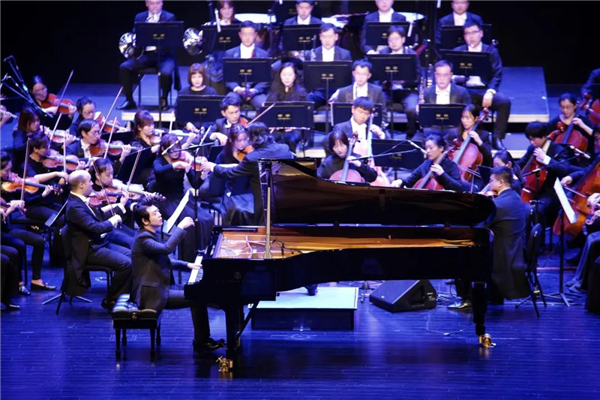 When asked about their favorite Beethoven pieces, Rosie Hawes and Alex Roberts from the UK replied with the same answer: Symphony No. 7. According to Rosie, chair of the British Chamber of Commerce Shanghai, the strong sounds make her heart feel full, and give her a lot of imagination. "It's a good sound to listen to when you want energy."
For Alex, a British lawyer who has been living in Shanghai for nine years and has married a Shanghainese wife, Mandarin is not difficult to understand. But in his eyes, one doesn't need to have understanding of the language of words to appreciate the music and the sound.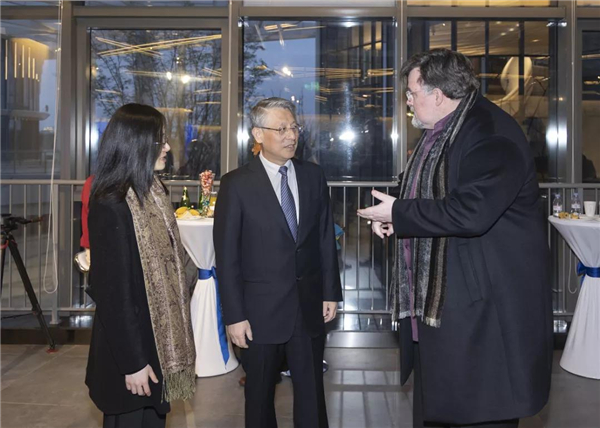 (Sha Hailin with Marshall Strabala)
Theater is one of the hardest buildings for architects to design, said Marshall Strabala, the designer of the city's landmark Shanghai Tower, noting that the audience is very close to the stage in this concert hall with a steep slope and well-arranged seats. "The live show tonight was terrific and it's very nice to start a wonderful year with the concert," he added.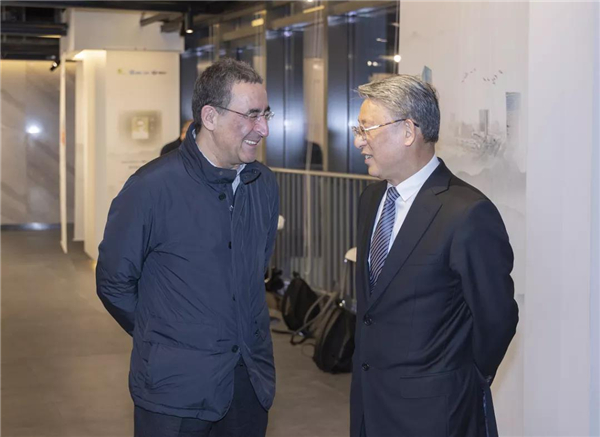 (Sha Hailin with Noyan Rona)
"I am very happy to have the opportunity to watch Lang Lang's live performance!" said Noyan Rona, a Shanghai Honorary Citizen from Turkey. "With spectacular skills and an unhurried demeanor, Lang Lang's piano performance with the symphony orchestra shows a different facet of Beethoven's style." It is also a different feeling for Noyan to enjoy the show in an art center nestled deep in a forest preserve. He looks forward to seeing more supporting facilities around the art center to make the place more attractive to urban residents and tourists.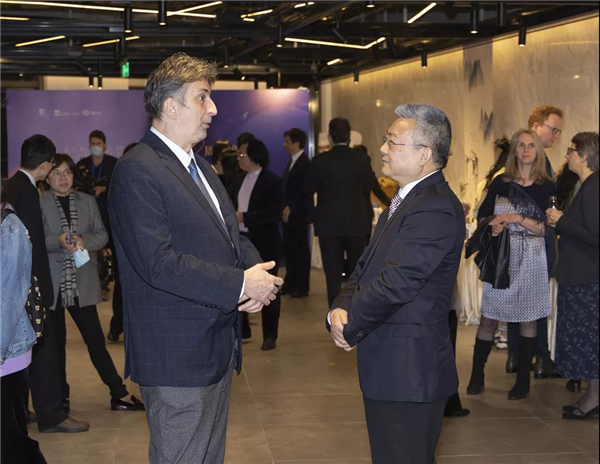 (Zhang Xiaosong, director general of Shanghai Municipal Foreign Affairs Office and executive vice president of SPAFFC, with Consul General of Serbia in Shanghai, Dejan Marinkovic)
After the concert, Mariana Usach Franck, executive director of the Chile Chamber of Commerce in China was still excited. "I had goose bumps. I felt my heart all the time pumping like crazy. We are so lucky to be able to have this cultural event, especially when the world is all closed," said Mariana emotionally. She and her husband have been in Shanghai for more than one year. "We love everything in Shanghai. The people here are very friendly and kind," she said, adding that she is working with the Chilean Consulate General in Shanghai to build stronger cultural bonds between Chile and China, which includes translating the poems of Nobel Prize-winning Chilean poetess Gabriela Mistral into Chinese.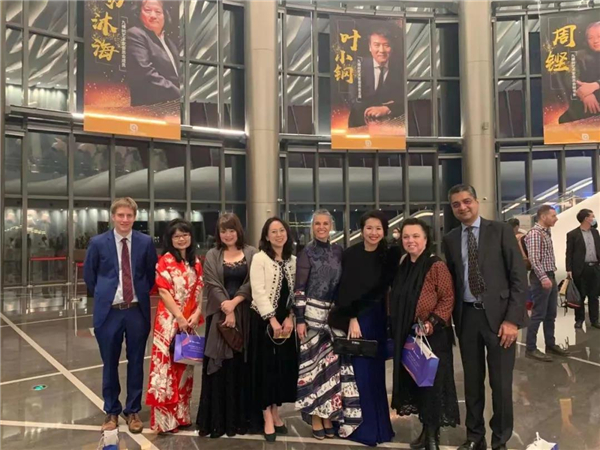 (Mariana Usach Franck [4th from right] poses for a photo with friends)
Imbued with the melody of Beethoven's masterpieces, the event was not only a music gala event, but also an excellent stage for the exchange of Chinese and Western music, enhancing the friendship between peoples of all countries. The piano masters, as friendship ambassadors for people to people diplomacy, will pass on emotions and build friendship through music.
The event was guided by the Shanghai People's Association for Friendship with Foreign Countries and the Fengxian District People's Government.
Story by Wu Qiong & Wang Jiaye

Video by Jiang Meiqing
Photographer: Pan Jiandong
Some photos provided by Fengxian Integrated Media Center and interviewees