The Shanghai Sanlian bookstore at No. 624 Middle Huaihai Road has always been a literary hotspot. Most readers know that its founder was Zou Taofen, but who is lesser known is its other founder Xu Xuehan. Premier Zhou Enlai once praised him for his enquiring spirit and excellent achievements in his career.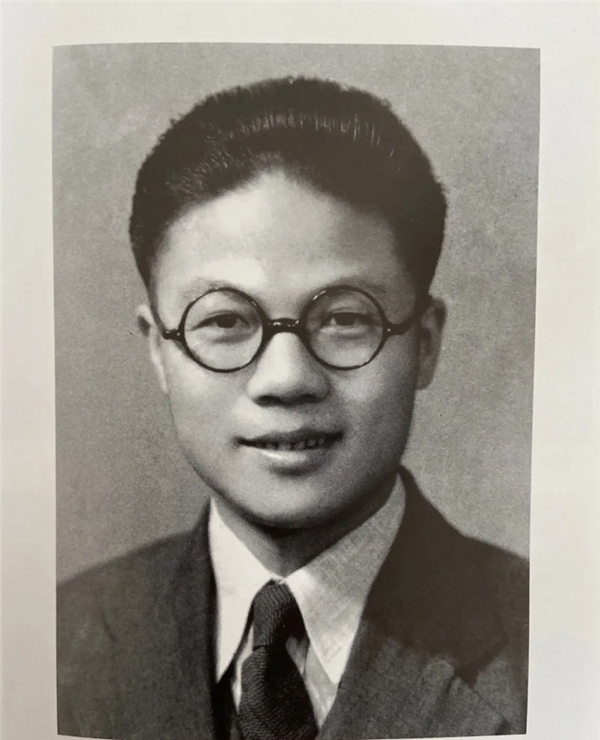 Xu Xuehan in his youth
Chinese economist from "prison university"
Xu Xuehan was born in Cixi, Zhejiang in 1911. His father was a Western medicine doctor who returned from Japan but died when Xu was young due to an infection from performing an operation on his patient. It was his stepmother who paid for him to attend school. The Middle School Affiliated to Shanghai University where he studied was one of the revolutionary fortresses.
He joined the Communist Youth League in the school in the winter of 1925, and converted to the Communist Party of China in the summer of 1926. Due to his organizational talent, he was named as the Minister of Organization of the CPC Hangzhou Prefectural Committee at the age of 15.
Later, when the CPC Zhejiang Provincial Committee was destroyed by KMT rightists, the 17-year-old Xu was arrested and imprisoned. Refusing to surrender, he was handcuffed, chained, and punished. To his stepmother who came to visit the prison, he even said firmly that he would rather die than surrender.
His five-year prison life did not make him succumb. In the prison, he and his inmates Xue Muqiao and Luo Gengmo studied Cai Hesen's "Social Evolutionary History" and Luxembourg's "New Economics". He also got a stone-printed "The Records of the Grand Historian" through his family members. Since there was no pen to mark it, he even used the toilet broomstick with an ink pad to mark it up. Among the inmates were teachers and people who had studied abroad, with whom Xu devoted himself to studying the masterpieces, while learning Japanese and Esperanto. He was thus called "a translator" by them. He said jokingly that although he only had a junior high school education, he had been to a "prison university".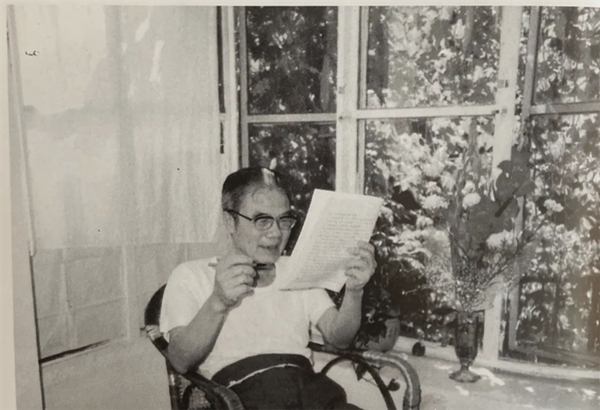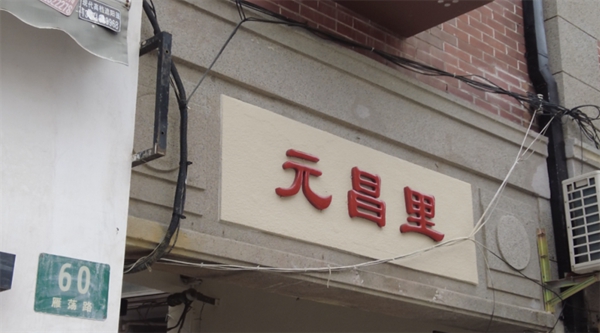 Xu Xuehan at home in August in 1954
After being released from prison, Xu was recommended to the China economic intelligence newspaper office and wrote a large number of economics papers. Due to their rich collection of data and substantial content, his papers gradually received attention from the economics circle. To further raise people's awareness of China's economic issues, Xu joined the monthly magazine "Chinese Countryside" in 1934. In his collected works, there were 26 economics papers published before 1949, covering economic issues such as matches, sericulture, postal services, railways, aviation, tariffs, currency and cotton spinning.
In 1935, Xu founded Xinzhi Bookstore,one of the predecessor bookstores merged into Sanlian Bookstore.
It was clearly positioned as a tool of revolution. Financial shortage was a major feature of the bookstore. During the first two years in Shanghai, it moved from the 10-square-meter room in Yuanchangli Alley on Hualong Road (now Yandang Road) to a three-story small lane in Fushoufang on Huanlong Road (now Nanchang Road). Despite the difficulties, it made great achievements and published more than 30 new books.
Besides the monthly magazine "Chinese Countryside", it also published works like "Where is China's currency system going?", "Criticism of Rural Construction", "The Controversy on the Nature of Chinese Rural Society" and "Basic Economics". It became an important force in the economics circles of the KMT Control Area to promote Marxism and the Party's policies.
Xu and his friends were so devoted to the country's political and economic events that their life was extremely simple. Xu never received wages but only had contribution fees. They usually ate at roadside stalls and the rice was often mixed with sand, and their non-staple food was usually a bowl of vegetable soup. When the bookstore moved to Fushoufang on Huanlong Road, it was a bit larger. These young economists began to cook by themselves, but they often burnt the rice or charred the vegetables. Zhou Enlai once said to Xu in 1940, "Your (Xinzhi Bookstore's) low salary system provided a far more difficult life than that of the supply system in the base area."
After the Anti-Japanese War broke out, Shanghai was occupied. Xinzhi Bookstore moved from Shanghai to Wuhan, Guilin and other places. During this period, Zhu Feng, a female revolutionary, became Xu's subordinate and was responsible for the administration work at the bookstore. Xu's trust and reliance on using Zhu Feng was widely known among the old generation staff members of the bookstore.
Xu was extremely sincere to his friend Zhu Feng. In the spring of 1945, Xu recommended Zhu to join the Party and arranged her to do trading and finance management for the hidden front. Before Zhu went to Taiwan to do intelligence work in 1949, she also wrote to ask Xu's opinions.
Xu went to work in the base area in the 1940s and served as the vice president of Central China Bank. At that time, paper currencies issued by KMT and counterfeit currencies plummeted in value and prices soared. However, the base area controlled the issue of its currency, and maintained goods prices. The currency used in the base area was so popular that it even spread to the KMT controlled area, gradually expelling KMT paper currencies and counterfeit currency. Xu published the article "Currency in the Liberated Area of Central China", summarizing the experience of currency issuing in the base area. In the article, he pointed out that the number of currencies issued could only be adjusted appropriately according to market needs, so as to maintain the purchasing power of the currency.
Cracking down on speculation in Shanghai
After the liberation of Shanghai, Xu took over responsibility for domestic and foreign trade, and together with Wu Xuezhi and Lu Xuzhang, he cracked down on speculation in currencies, rice, gauze, and coal, and stabilized urban goods prices. At that time rice, gauze and coal were key to daily life in Shanghai and were thus particular targets of Shanghai speculators.
To solve this problem, Xu proposed a natural wages system to issue wages in the units of goods, such as 1 liter of white japonica rice, 1 foot of cloth, 1 tael of raw oil, and 1 catty of ordinary briquettes, so as to ensure staff members' basics were covered even if the goods' prices were driven up.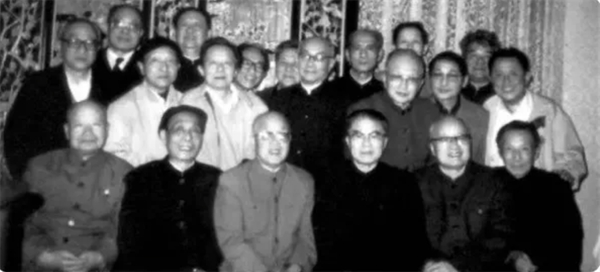 The fourth from left in the front row is Xu Xuehan.
Hard working, unselfish and tolerant communist
When Xu was in his later years, he kept the plain appearance of an intellectual. He liked to wear black-rimmed glasses, a tunic suit and cloth shoes. But his thoughts were still active. When the State Council planned to establish a central bank in 1983, the four major banks opposed it, and Xu coordinated among them. After 12 seminars, the People's Bank of China was finally established.
The Bank of Communications, headquartered in Shanghai, was China's first nationwide state-owned joint-stock commercial bank. In 1984, Xu, then executive officer of the Economic Research Center of the State Council, proposed at a Shanghai Economic Development Strategy Symposium that "there should be a bank dedicated to Shanghai and supporting the development of Shanghai", leading to the renewal of the Bank of Communications.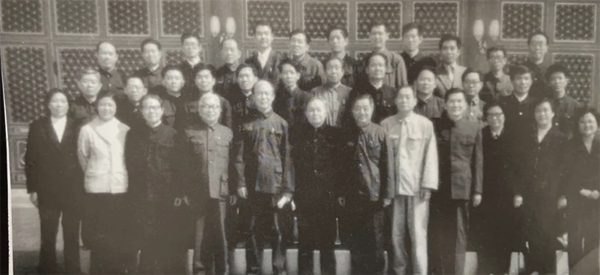 Group photo of staff from the Development Research Center of the State Council in the 1980s. Xu is third from left in the front.
Although Xu was a native of Zhejiang, he worked and lived in Shanghai for a long time and always regarded Shanghai as his second hometown. He always said, "Shanghai people are very smart. Shanghai's development should be unbounded, so that Shanghai people can develop freely." In the 1980s, he suggested Shanghai to further open up and proposed to create a second special economic zone in Shanghai.
In 1978, he was assigned to be the editor of the "Economic Research" magazine of the Institute of Economics of the Chinese Academy of Social Sciences, becoming a colleague of the economist Wu Jinglian. Wu still remembers that Xu was always the first to arrive at the office to do cleaning and fetch hot water. Xu was extremely serious about his work. He read all the published "Economic Research" magazines from the first issue in 1955, and marked out all the typos that no one else had found. Wu once commented that Xu's talents were manifested in many aspects.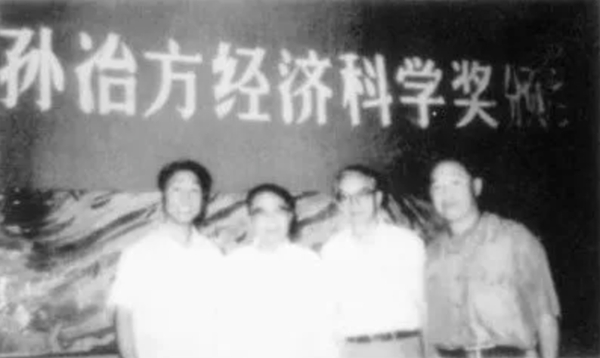 The 1995 Sun Yefang Economic Science Award Presentation Conference. The second from left is Xu Xuehan, and the third from left is Wu Jinglian
Until the last few years of his life, Xu had many ideas about reform and opening up. Many people recall that Xu couldn't eat or sleep, and had diarrhea all day long in his later years. But as long as someone came to talk to him about reforms, he seemed to be activated and came up with lots of ideas.
Xu attached more importance to the national economy and people's livelihood than his personal life. In 1988, he wrote about two regrets of his life in his postscript for his collection. One was that when he read Mao Zedong's "On New Democracy" in Chongqing, he did not study deeply to publicize it, and the other was that after the reform and opening up, although he had doubts about the idea of using inflation to promote high-speed growth, he didn't have the energy to study it in detail and confirm a right path to high-speed development.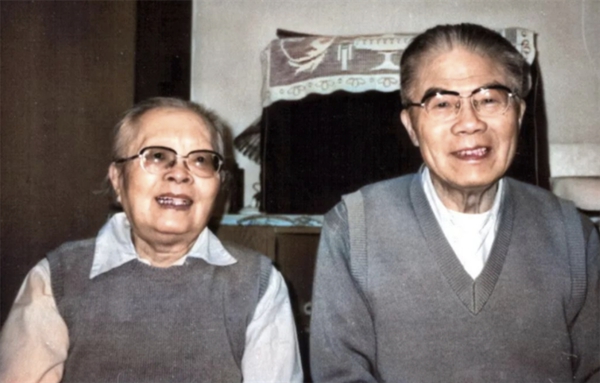 Xu Xuehan and his wife Zhu Guangxi in old age
Xu's daughter Xu Huai still remembers that his father once mentioned to her, "If I have done anything in my life, they are three -- I have been willing to work hard, I am not selfish, and I am tolerant." This may be the most pertinent evaluation of this senior communist.