S. Korean FM sees Korean Peninsula nuke issue as long-term, biggest challenge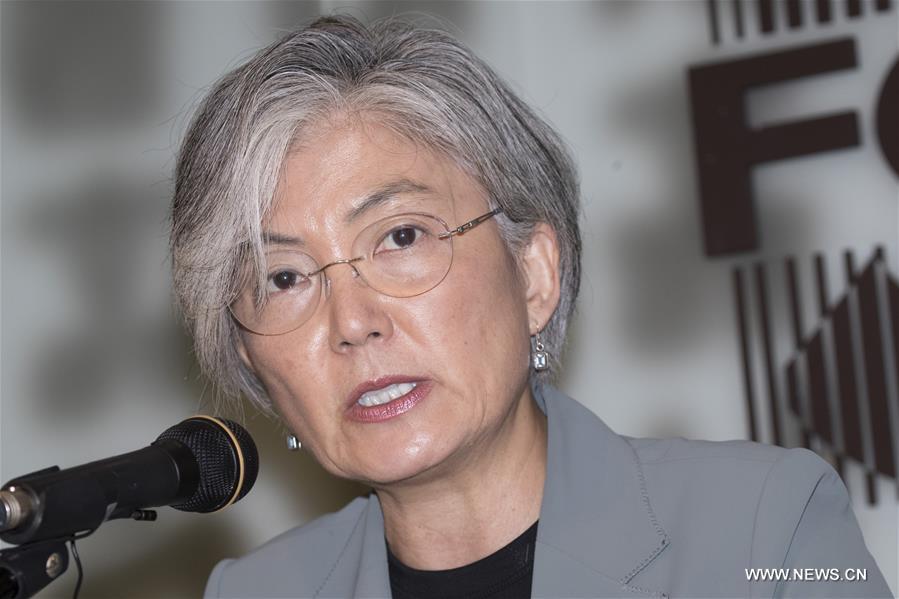 South Korean Foreign Minister Kang Kyung-wha speaks at a press conference with foreign correspondents in Seoul, South Korea, Sept. 11, 2017. South Korea's top diplomat on Monday saw the nuclear issue on the Korean Peninsula as a long-term, biggest challenge as it takes time to achieve the goal of a complete, verifiable and irreversible denuclearization. (Xinhua/Lee Sang-ho)
SEOUL, Sept. 11 (Xinhua) -- South Korea's top diplomat on Monday saw the nuclear issue on the Korean Peninsula as a long-term, biggest challenge as it takes time to achieve the goal of a complete, verifiable and irreversible denuclearization.
The Korean Peninsula nuclear issue "remains the biggest challenge on our foreign affairs and security front and will continue to be so for many years to come," Foreign Minister Kang Kyung-wha told a press conference with foreign correspondents in Seoul.
Her comments came after the Democratic People's Republic of Korea (DPRK) tested last week what it claimed was a hydrogen bomb warhead that can be loaded onto an intercontinental ballistic missile (ICBM).
The sixth nuclear test was seen as the most powerful one ever conducted by Pyongyang, which tested its first nuclear device in 2006.
Kang said she viewed the nuclear issue as a long-term challenge as it would take long to denuclearize in a verifiable manner, reiterating Seoul's position that its eventual goal was to denuclearize the peninsula through complete dismantlement of the DPRK's nuclear program.
Though Pyongyang continued provocations, Kang said, Seoul will continue to work to achieve the denuclearization in a peaceful manner.
South Korea "will continue to work toward a peaceful achievement of the international community's common goal of a compete, verifiable and irreversible denuclearization," said Kang.
"It will not be easy, but we are steadfast in moving in that direction with patience and perseverance," she added.
Asked about whether the severed inter-Korean dialogue channel was recovered, the top diplomat said any official channel had yet to be restored though noting that she cannot disclose an unofficial channel of South Korea's intelligence agency with the DPRK.
The new government under President Moon Jae-in had offered to the DPRK holding military talks to defuse tensions near the military demarcation line (MDL) separating the two Koreas as well as talks about the reunion of the families of the two sides, who have been separated since the 1950-53 Korean War ended in an armistice.
Pyongyang has been mum about the dialogue proposals. All of inter-Korean communication lines, including military communications lines, have been severed following the DPRK's fourth nuclear test in January last year. It was trailed by its fifth nuclear detonation in September 2016.
Kang said South Korea's special envoy to Pyongyang could be sent at any time when right circumstances are created and it can help improve inter-Korean relations, but she cast doubt on whether it is the right time now to dispatch the special envoy.
President Moon said it is not the right time to resume dialogue with the DPRK, and it is the time to focus on pressure and sanctions on Pyongyang to force it to return to a dialogue table for denuclearization.
The top diplomat said situations changed following the DPRK's sixth nuclear test, which she described as a strategic, symbolic challenge. She noted that the DPRK's nuclear and missile threats must have been more serious than before with the nuclear detonation.
Meanwhile, she said Seoul joined hands with Washington and other UN Security Council members to adopt a new resolution heightening economic pressure on Pyongyang, over its latest nuclear test.
Touching on the military option, Kang said it means strengthened defense posture and deterrence capabilities for South Korea, noting that her country was consulting with the United States on the deployment of U.S. strategic military assets such as nuclear-powered submarine and strategic bombers.
The foreign minister added that the situation should be resolved peacefully in a close cooperation with Washington.
1 2 3 Next 1 2 3 Next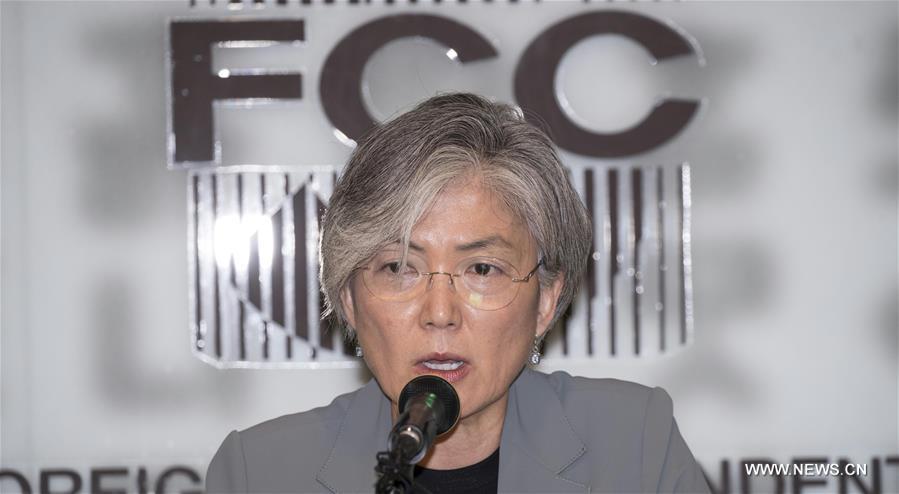 South Korean Foreign Minister Kang Kyung-wha speaks at a press conference with foreign correspondents in Seoul, South Korea, Sept. 11, 2017. South Korea's top diplomat on Monday saw the nuclear issue on the Korean Peninsula as a long-term, biggest challenge as it takes time to achieve the goal of a complete, verifiable and irreversible denuclearization. (Xinhua/Lee Sang-ho)
Prev 1 2 3 Next Prev 1 2 3 Next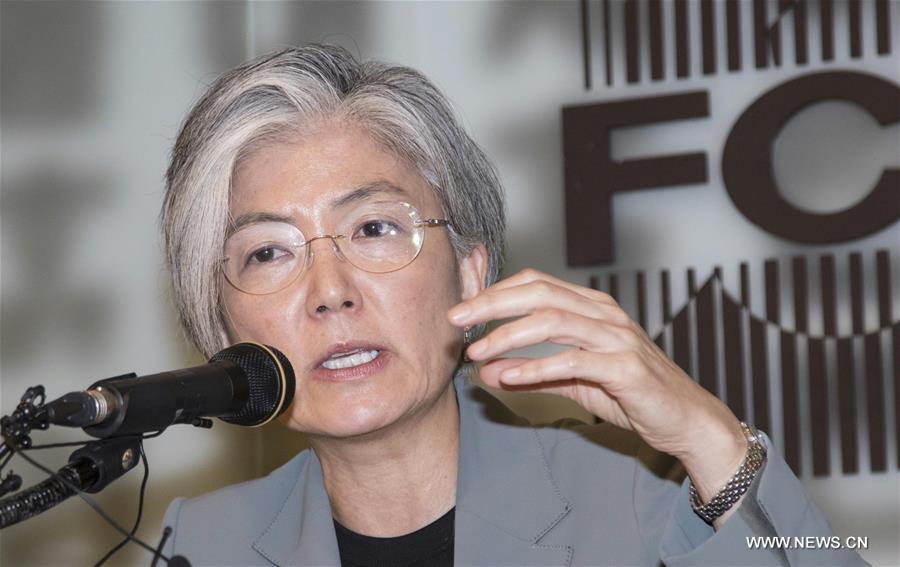 South Korean Foreign Minister Kang Kyung-wha speaks at a press conference with foreign correspondents in Seoul, South Korea, Sept. 11, 2017. South Korea's top diplomat on Monday saw the nuclear issue on the Korean Peninsula as a long-term, biggest challenge as it takes time to achieve the goal of a complete, verifiable and irreversible denuclearization. (Xinhua/Lee Sang-ho)
Prev 1 2 3 Prev 1 2 3