Video PlayerClose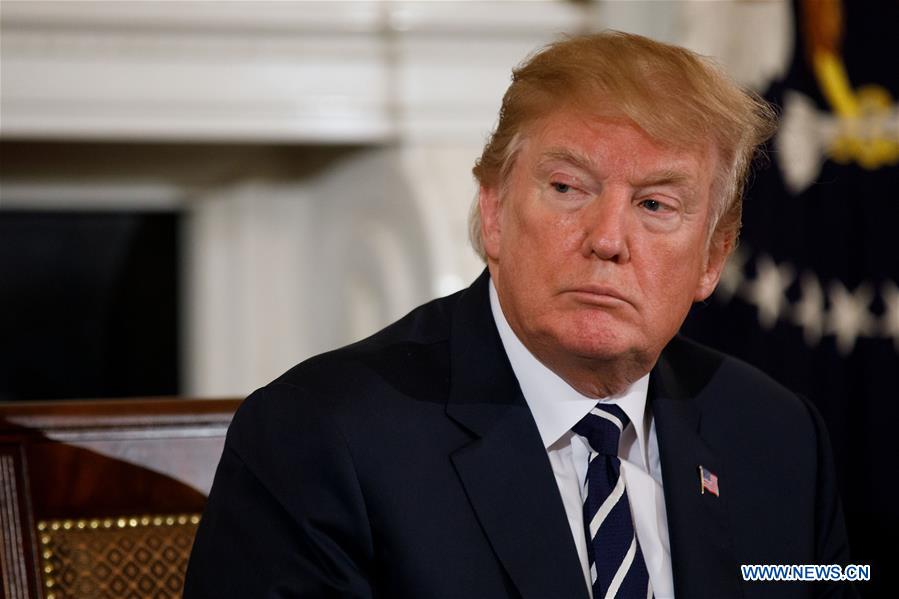 U.S. President Donald Trump (Xinhua/Ting Shen)
by Peter Mertz
LOS ANGELES, March 1 (Xinhua) -- The Trump Administration, reeling from a rejection of its offshore oil drilling plans off the east coast, is about to hit a tidal wave of opposition as it takes its public hearings to the opposite shore.
"His reception in the east during the past two days will pale with what he faces out west," Seattle attorney David Richardson told Xinhua Thursday.
Over the past 48 hours, politicians from President Donald Trump's own party have trashed his plan and hammered Interior Secretary Ryan Zinke, while 5,000 km away, environmental groups and western politicians were sharpening their swords to give Trump's offshore oil drilling plan "the quick death it deserves," Richardson said.
The president has already backed down from his bold plan unleashed in January to lease off-shore oil reserves in 23 U.S. states excluding Florida, and New Jersey Republicans said Tuesday they will be the next to get an exemption.
"It is crystal clear to the secretary (Zinke) that we don't want offshore drilling and he's going to have a fight on his hands if he tries to push it," said Republican lawmaker Tom MacArthur of New Jersey.
Zinke was blasted relentlessly by top New Jersey Republicans at the U.S. Capitol with congressman Chris Smith saying, "If it's not off the table, it will soon be off the table," and congressman Frank LoBiondo adding "you have unanimous bipartisan opposition to this."
"Watch...Trump will 'pardon' and backstep in South Carolina next," Richardson, a former policy analyst on Capitol Hill, told Xinhua.
In Republican stronghold South Carolina on Wednesday, newly elected Republican representative Nancy Mace, the first woman to graduate from the 176-year-old Citadel military college and a former campaign worker for Trump, electrified a rally and TV audience Wednesday by telling Trump to take his oil rigs and shove them off the continental shelf.
"Eight to 10 million tourists a year come down to Charleston. They don' t want to come to see oil drilling off the coast," said Mace, who represents an area that includes the historic city where the first shot in the 1861-1865 American Civil War was fired.
Mace, 40, a staunch conservative shouted out, "Ain't gonna happen. Not on my watch!"
Lawmakers on both sides say the entire Atlantic coast soon could be placed off limits for drilling. "Here in Oregon, we have had a number of attempts by oil exporters to establish shipping terminals in our port cities - and all the permits have been rejected," said Stewart King, a former State Department official.
"I think the decision by the state of California to refuse pipeline permits might be effective," King told Xinhua Thursday.
The California State Lands Commission (CSLC) has warned the Trump administration that it will not issue permits to drillers that are needed to bring oil and gas from new offshore platforms to land.
"Californians are vigorous advocates for their coast, and the prospect of new drilling in coastal waters provokes fierce opposition and sparks outrage," read CSLC's letter to the U.S. Bureau of Ocean Energy Management.
San Francisco businessman Glenn Nemhauser said: "Oil companies have a proven past history of unsafe practices that have led to devastating environmental damage."
"Our beautiful California beaches are also a large source of income for coastal communities and sales, occupancy, and income tax revenue for city, county, state, and federal governments, which would disappear for years in the event of a major oil spill," Nemhauser told Xinhua Thursday.
A number of environmental groups have predicted widespread demonstrations along the Pacific coast to protest Trump's oil drilling plan, and some called it "a shameful giveaway" to the oil and gas industry that supported him heavily in the 2016 presidential elections.
More than 60 of the leading environmental groups in the United States said the unprecedented drilling plans, which would reverse decades of coastline protections, would impose "severe and unacceptable harm" to oceans, coastal communities, public health and marine life.