Video PlayerClose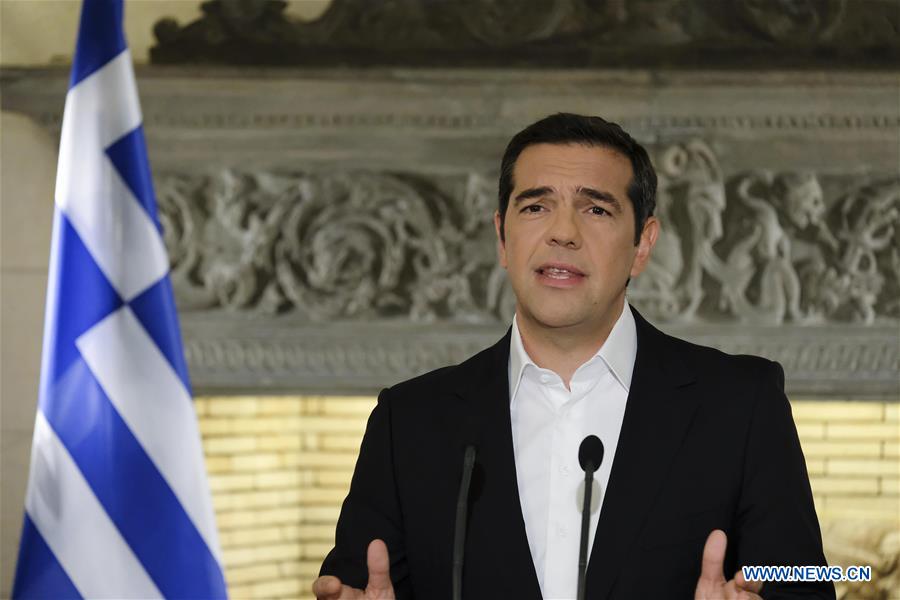 Greek Prime Minister Alexis Tsipras delivers a televised address to announce that Athens and Skopje have reached a historic agreement on their name row, in Athens, Greece, June 12, 2018. Severna Macedonja (Republic of North Macedonia in English) will be the new name of Former Yugoslav Republic of Macedonia (FYROM) under a historic agreement reached between Greece and the neighboring state, Greek Prime Minister Alexis Tsipras said in Athens on Tuesday. (Xinhua/Marios Lolos)
ATHENS, June 12 (Xinhua) -- Greek Prime Minister Alexis Tsipras announced on Tuesday that Athens and Skopje have reached a historic agreement on their name row, Greek national broadcaster ERT reported.
"We have a good agreement which meets all conditions set by the Greek side. We have a composite name with geographic description which will be used internationally and domestically," Tsipras said on camera briefing with Greek President Prokopis Pavlopoulos at the presidential mansion of Athens after a new telephone conversation with Former Yugoslav Republic of Macedonia (FYROM) Prime Minister Zoran Zaev.
Tsipras did not reveal which will be the new name the two sides agreed on, but after briefing opposition parties' leaders, he was expected to make a televised state address later on Tuesday.
The two prime ministers also had a cordial phone contact on Monday and both sides had voiced optimism that an agreement could be reached this June.
Both countries are working toward settling the decades-old dispute this month. The issue began in 1991 when FYROM declared independence from Yugoslavia, choosing the name Macedonia, which is also the name of a northern Greek province.
Athens is worried that the use of the same name by the neighboring state could lead to territorial claims.
1 2 Next 1 2 Next
Video PlayerClose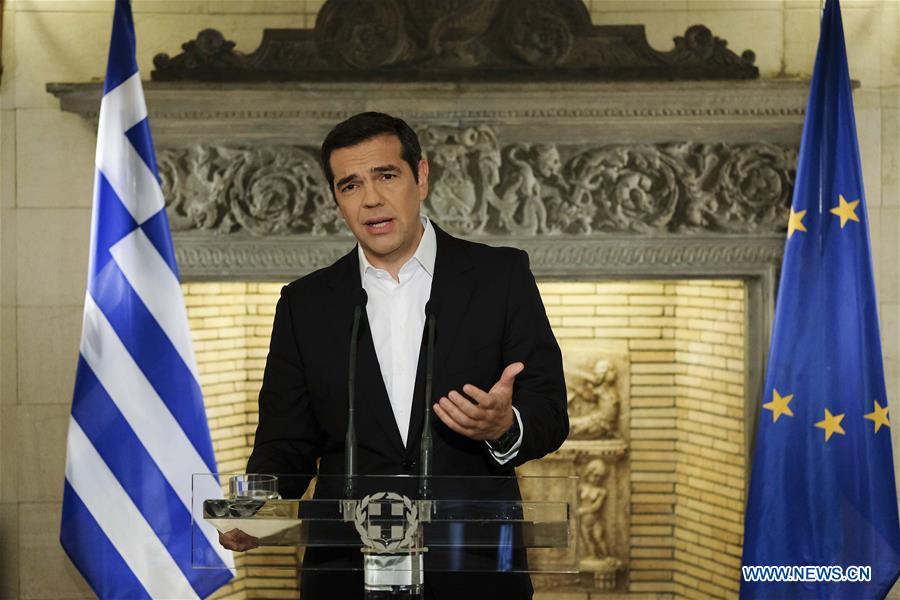 Greek Prime Minister Alexis Tsipras delivers a televised address to announce that Athens and Skopje have reached a historic agreement on their name row, in Athens, Greece, June 12, 2018. Severna Macedonja (Republic of North Macedonia in English) will be the new name of Former Yugoslav Republic of Macedonia (FYROM) under a historic agreement reached between Greece and the neighboring state, Greek Prime Minister Alexis Tsipras said in Athens on Tuesday. (Xinhua/Marios Lolos)
Prev 1 2 Prev 1 2