Video PlayerClose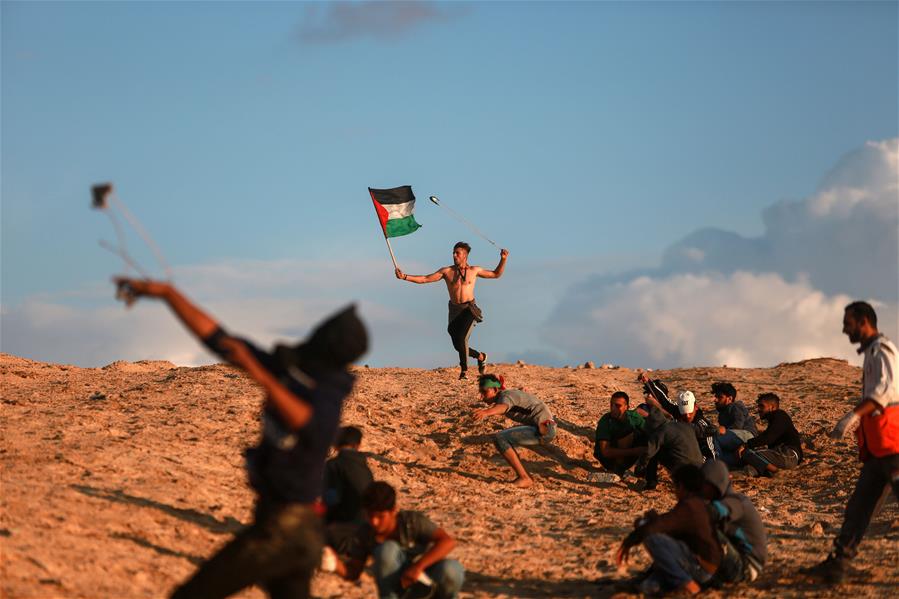 聽
A Palestinian protester uses a slingshot to hurl stones at Israeli troops in northern Gaza Strip near the border with Israel, on Nov. 5, 2018. The Palestinian Red Crescent Society said in an e-mailed press statement that 21 demonstrators were injured, 13 by gunfire and eight by suffocation from tear gas, during their clashes with Israeli border soldiers on Monday. (Xinhua)
GAZA, Nov. 5 (Xinhua) -- A senior Islamic Hamas official said on Monday that the anti-Israel March of Return rallies and protests will continue until their goals are achieved.
"Our people and their factions are those who control the tools of the protests based on the national interests," Issam Daalees, one of Hamas leaders in central Gaza, said in a press statement.
In reference to the mediation by the Egyptian security intelligence, Daalees said such efforts will also continue "until we reach an agreement that deserves the sacrifices of our people."
Earlier in the day, an Egyptian delegation arrived in the Gaza Strip through the Erez Crossing with Israel to resume the dialogue with the Palestinian factions over a peace deal with Israel.
Local media said the delegation held talks with senior Hamas officials and leaders of other factions on the arrangements of a possible cease-fire between Israel and Hamas-led Gaza factions.
Meanwhile, hundreds of Palestinians demonstrators joined on Monday the weekly maritime rallies and protests in northwestern Gaza close to the border with Israel, according to the Gaza-based local radio station al-Shaab.
The Palestinian Red Crescent Society said in an e-mailed press statement that 21 demonstrators were injured, 13 by gunfire and eight by suffocation from tears gas, during their clashes with Israeli border soldiers.
According to the Gaza health ministry, the Israeli army have killed 2,018 Palestinians and wounded 23,000 others, around 40 percent of whom were shot with live ammunition, since the beginning of the March of Return rally on March 30.
1 2 3 4 Next 1 2 3 4 Next
Video PlayerClose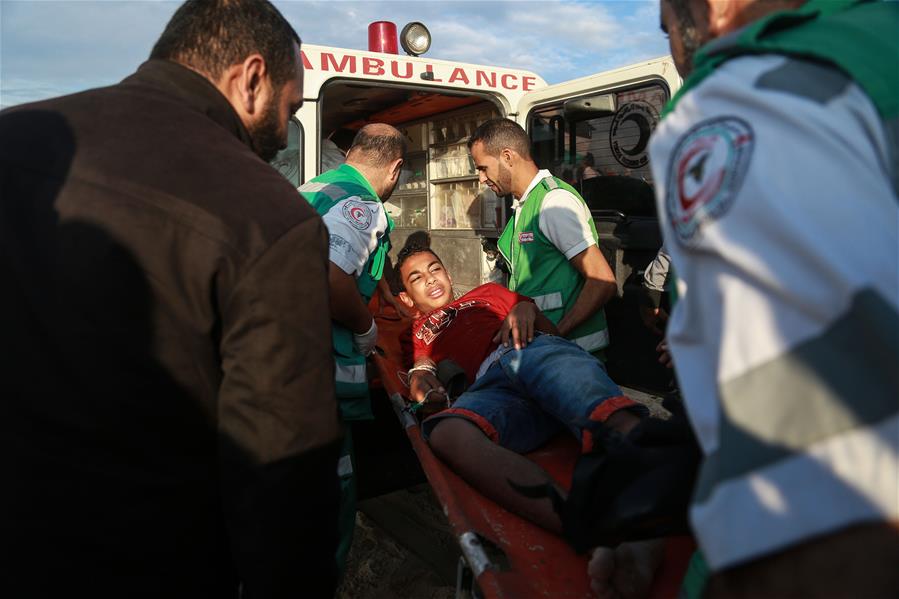 Palestinian medics carry a wounded man during clashes with Israeli troops in northern Gaza Strip near the border with Israel, on Nov. 5, 2018. The Palestinian Red Crescent Society said in an e-mailed press statement that 21 demonstrators were injured, 13 by gunfire and eight by suffocation from tear gas, during their clashes with Israeli border soldiers on Monday. (Xinhua)
Prev 1 2 3 4 Next Prev 1 2 3 4 Next
Video PlayerClose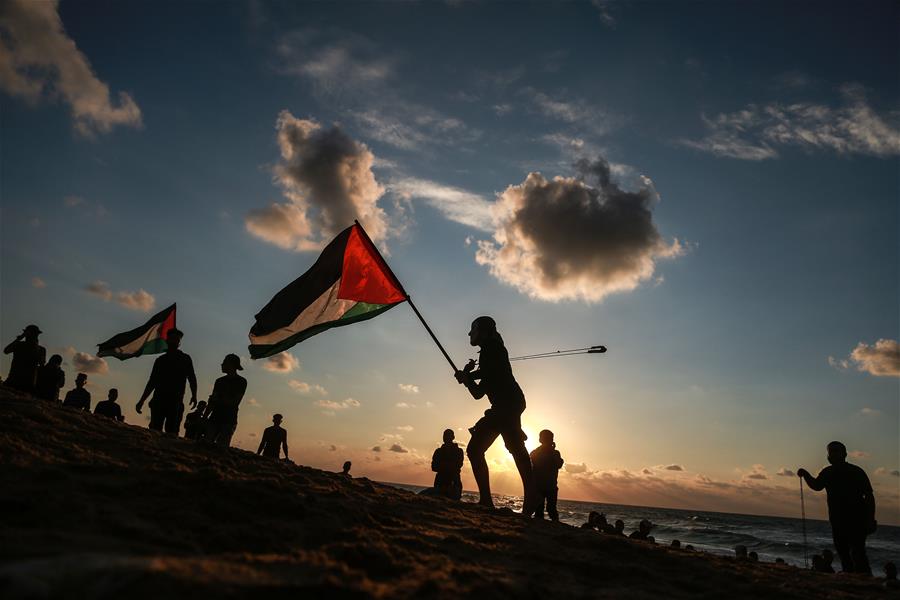 A Palestinian protester uses a slingshot to hurl stones at Israeli troops in northern Gaza Strip near the border with Israel, on Nov. 5, 2018. The Palestinian Red Crescent Society said in an e-mailed press statement that 21 demonstrators were injured, 13 by gunfire and eight by suffocation from tear gas, during their clashes with Israeli border soldiers on Monday. (Xinhua)
Prev 1 2 3 4 Next Prev 1 2 3 4 Next
Video PlayerClose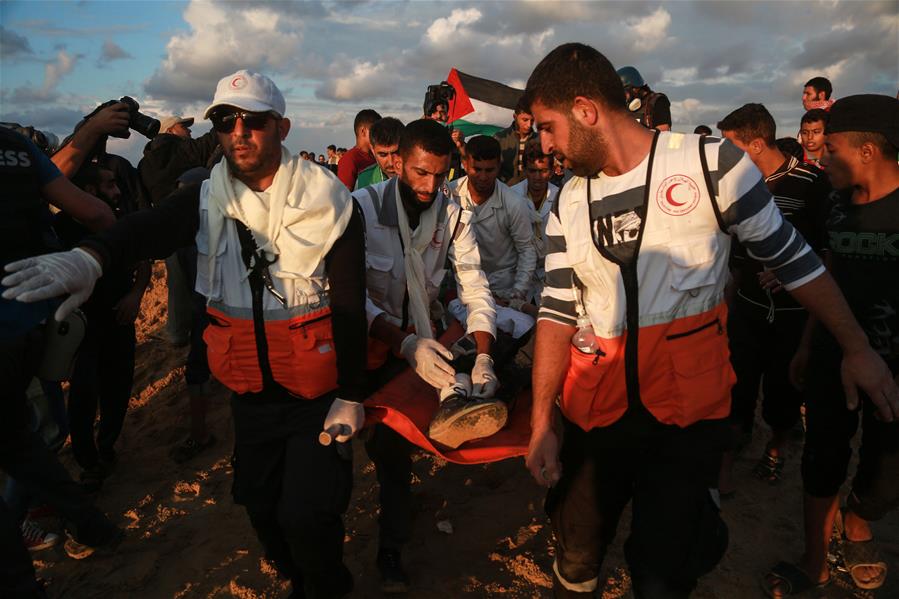 Palestinian medics carry a wounded man during clashes with Israeli troops in northern Gaza Strip near the border with Israel, on Nov. 5, 2018. The Palestinian Red Crescent Society said in an e-mailed press statement that 21 demonstrators were injured, 13 by gunfire and eight by suffocation from tear gas, during their clashes with Israeli border soldiers on Monday. (Xinhua)
Prev 1 2 3 4 Prev 1 2 3 4