Video PlayerClose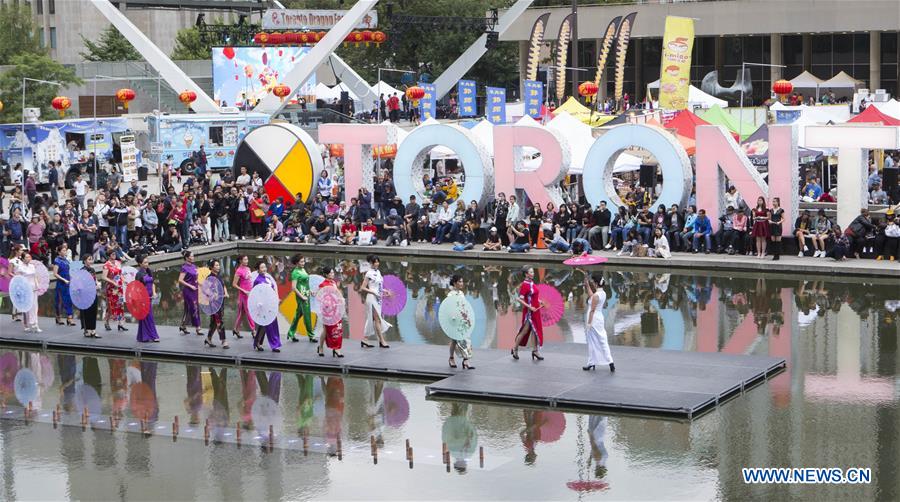 Performers present cheongsam, a traditional Chinese dress also known as Qipao, during the Toronto Dragon Festival 2019 at the Nathan Phillips Square in Toronto, Canada, Sept. 7, 2019. The Toronto Dragon Festival 2019, which kicked off Friday at the Nathan Phillips Square in front of the Toronto City Hall, is catching the eyes of thousands of tourists and local residents. Partially funded and supported by the Government of Canada, the three-day 2019 Toronto Dragon Festival is hosted by the Canadian Association of Chinese Performing Arts. (Photo by Zou Zheng/Xinhua)
TORONTO, Sept. 7 (Xinhua) -- The Toronto Dragon Festival 2019, which kicked off Friday at the Nathan Phillips Square in front of the Toronto City Hall, is catching the eyes of thousands of tourists and local residents.
The square turned into dragons' playground with lots of fascinating decorations, a mighty inflatable dragon head, gigantic dragon lantern, dragon gates, and many dragon lovers.
Partially funded and supported by the Government of Canada, the three-day 2019 Toronto Dragon Festival is hosted by the Canadian Association of Chinese Performing Arts.
Last year, the inaugural Toronto Dragon Festival wowed more than 20,000 visitors. Dazzling shows of Chinese traditional culture brought people from different communities together.
It presented world-famous Sichuan Face Mask Changing and Chinese martial arts, not to mention the inspiring Chinese traditional folk arts such as sugar paintings, paper-cutting, and delicious Chinese and Asian specialty foods.
This year's festival features breathtaking singing and dances by more than 2,000 performers, Guinness record holder acrobat Dominic Lacasse, a fashion show on the water, and many more local and international show booths to interact with visitors and celebrate Canadian arts and diversity.
1 2 3 4 5 6 7 Next 1 2 3 4 5 6 7 Next
Video PlayerClose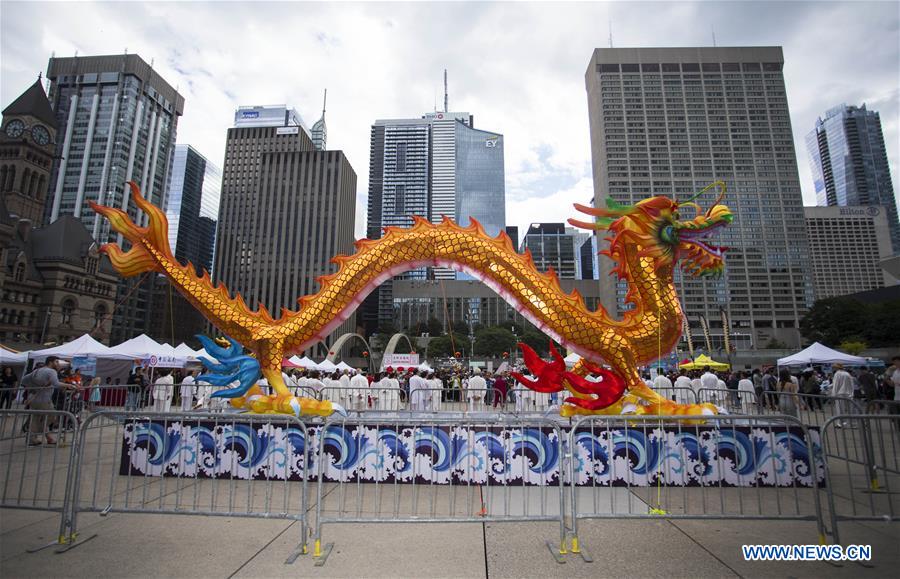 A giant-sized inflatable Chinese dragon is seen during the Toronto Dragon Festival 2019 at the Nathan Phillips Square in Toronto, Canada, Sept. 7, 2019. The Toronto Dragon Festival 2019, which kicked off Friday at the Nathan Phillips Square in front of the Toronto City Hall, is catching the eyes of thousands of tourists and local residents. Partially funded and supported by the Government of Canada, the three-day 2019 Toronto Dragon Festival is hosted by the Canadian Association of Chinese Performing Arts. (Photo by Zou Zheng/Xinhua)
Prev 1 2 3 4 5 6 7 Next Prev 1 2 3 4 5 6 7 Next
Video PlayerClose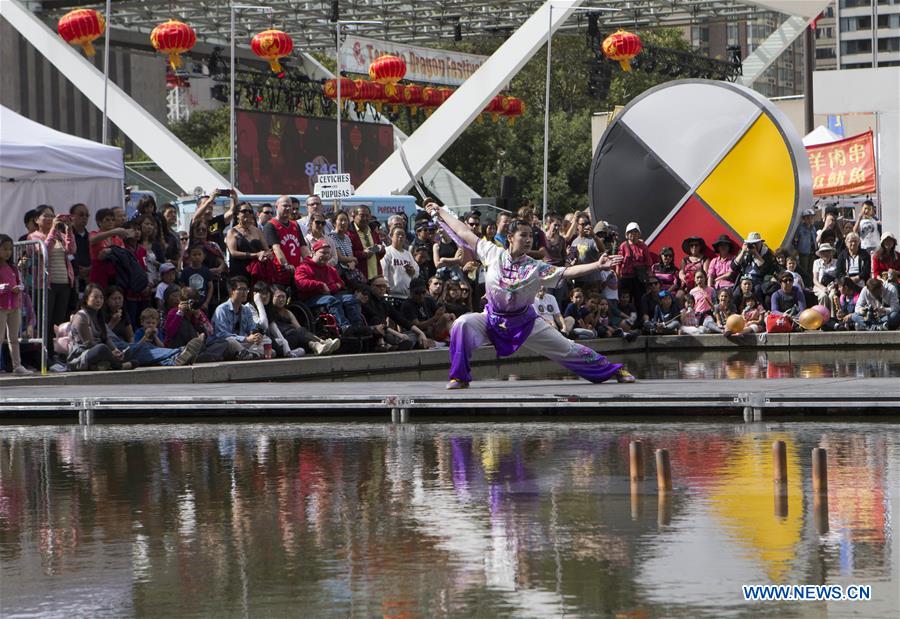 A girl performs Chinese Kung Fu during the Toronto Dragon Festival 2019 at the Nathan Phillips Square in Toronto, Canada, Sept. 7, 2019. The Toronto Dragon Festival 2019, which kicked off Friday at the Nathan Phillips Square in front of the Toronto City Hall, is catching the eyes of thousands of tourists and local residents. Partially funded and supported by the Government of Canada, the three-day 2019 Toronto Dragon Festival is hosted by the Canadian Association of Chinese Performing Arts. (Photo by Zou Zheng/Xinhua)
Prev 1 2 3 4 5 6 7 Next Prev 1 2 3 4 5 6 7 Next
Video PlayerClose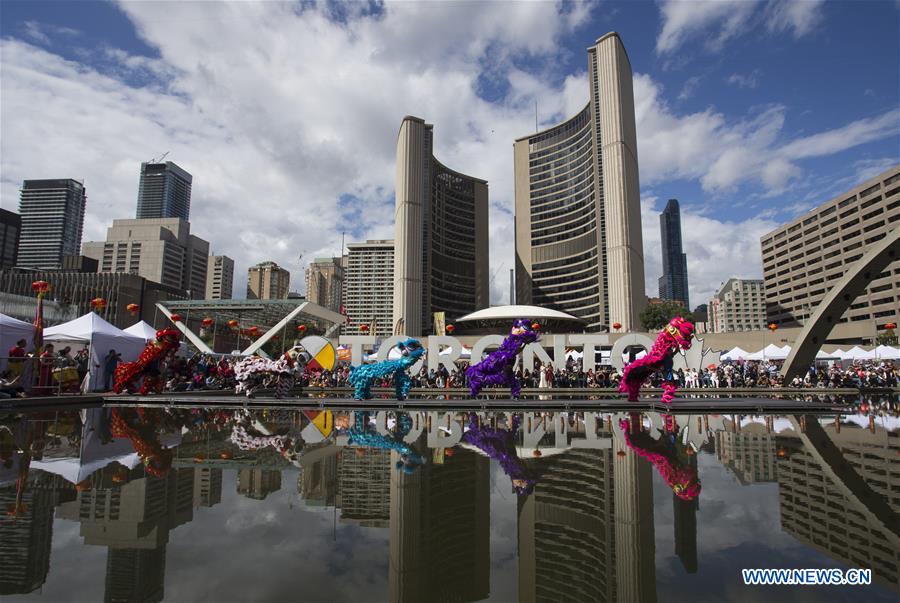 Lion dance teams perform during the Toronto Dragon Festival 2019 at the Nathan Phillips Square in Toronto, Canada, Sept. 7, 2019. The Toronto Dragon Festival 2019, which kicked off Friday at the Nathan Phillips Square in front of the Toronto City Hall, is catching the eyes of thousands of tourists and local residents. Partially funded and supported by the Government of Canada, the three-day 2019 Toronto Dragon Festival is hosted by the Canadian Association of Chinese Performing Arts. (Photo by Zou Zheng/Xinhua)
Prev 1 2 3 4 5 6 7 Next Prev 1 2 3 4 5 6 7 Next
Video PlayerClose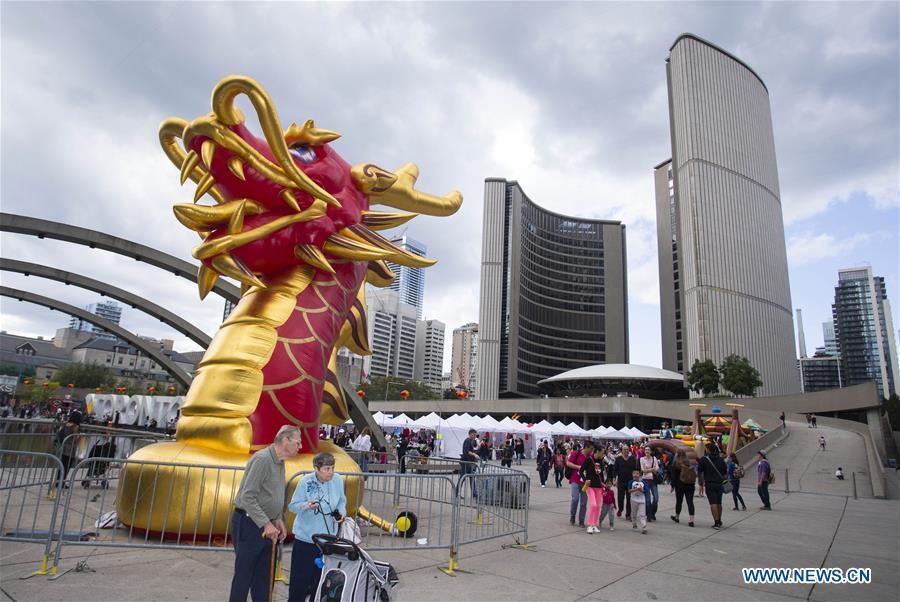 People take part in the Toronto Dragon Festival 2019 at the Nathan Phillips Square in Toronto, Canada, Sept. 7, 2019. The Toronto Dragon Festival 2019, which kicked off Friday at the Nathan Phillips Square in front of the Toronto City Hall, is catching the eyes of thousands of tourists and local residents. Partially funded and supported by the Government of Canada, the three-day 2019 Toronto Dragon Festival is hosted by the Canadian Association of Chinese Performing Arts. (Photo by Zou Zheng/Xinhua)
Prev 1 2 3 4 5 6 7 Next Prev 1 2 3 4 5 6 7 Next
Video PlayerClose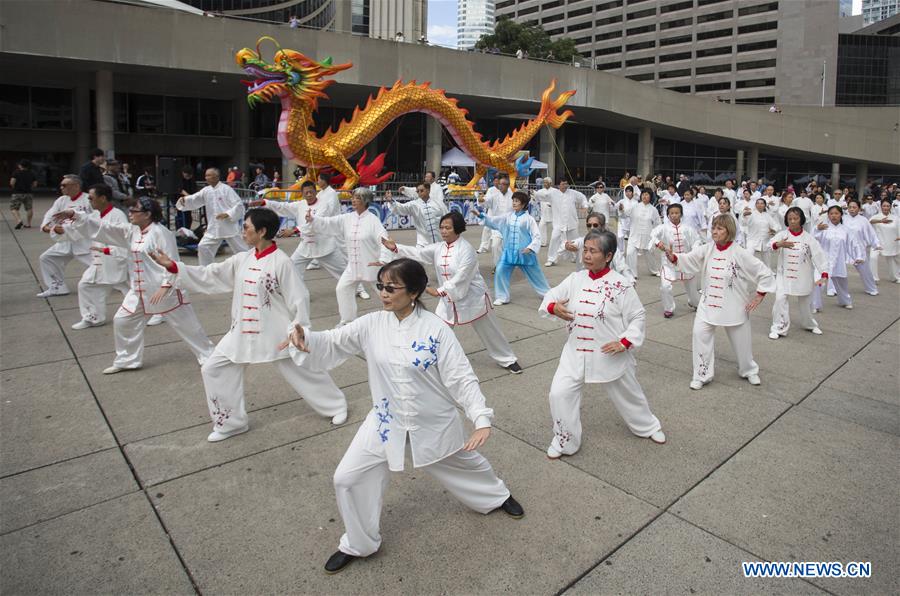 A group of Taiji enthusiasts practice Taiji during the Toronto Dragon Festival 2019 at the Nathan Phillips Square in Toronto, Canada, Sept. 7, 2019. The Toronto Dragon Festival 2019, which kicked off Friday at the Nathan Phillips Square in front of the Toronto City Hall, is catching the eyes of thousands of tourists and local residents. Partially funded and supported by the Government of Canada, the three-day 2019 Toronto Dragon Festival is hosted by the Canadian Association of Chinese Performing Arts. (Photo by Zou Zheng/Xinhua)
Prev 1 2 3 4 5 6 7 Next Prev 1 2 3 4 5 6 7 Next
Video PlayerClose
A group of Taiji enthusiasts practice Taiji during the Toronto Dragon Festival 2019 at the Nathan Phillips Square in Toronto, Canada, Sept. 7, 2019. The Toronto Dragon Festival 2019, which kicked off Friday at the Nathan Phillips Square in front of the Toronto City Hall, is catching the eyes of thousands of tourists and local residents. Partially funded and supported by the Government of Canada, the three-day 2019 Toronto Dragon Festival is hosted by the Canadian Association of Chinese Performing Arts. (Photo by Zou Zheng/Xinhua)
Prev 1 2 3 4 5 6 7 Prev 1 2 3 4 5 6 7