Feature: Kuwaiti volunteers clean beaches amid COVID-19 pandemic to help protect marine life
Video PlayerClose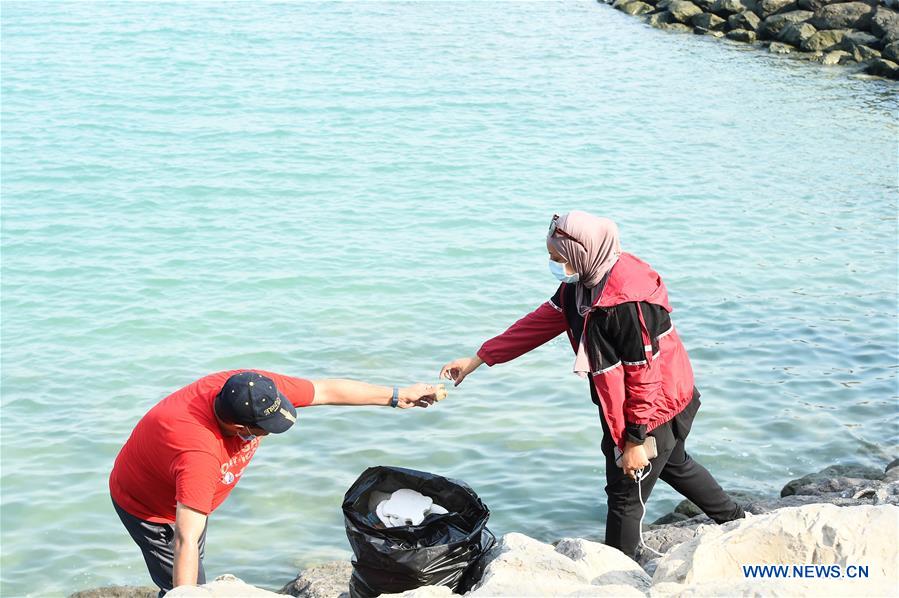 Volunteers clean the beach in Kuwait City, Kuwait, July 11, 2020. With coronavirus restrictions starting to ease in Kuwait, some people who enjoyed the beauty of beaches forgot to take away their trash. With more gloves, masks, and plastic bottles being thrown away at the seaside, even into the sea, many voluntary groups started to clean Kuwaiti beaches, warning that the waste is posing a huge threat to the marine life. (Photo by Asad/Xinhua)
KUWAIT CITY, July 12 (Xinhua) -- With coronavirus restrictions starting to ease in Kuwait, some people who enjoyed the beauty of beaches forgot to take away their trash.
With more gloves, masks, and plastic bottles being thrown away at the seaside, even into the sea, many voluntary groups started to clean Kuwaiti beaches, warning that the waste is posing a huge threat to the marine life.
Fahad Hamawe, a 26-year-old Syrian engineer, started last month to clean up beaches and the rocky coasts by himself until three strangers joined him recently.
"I am Syrian but was born and raised in Kuwait, where my whole life was in this country," he said, adding that he wanted to arise public awareness of environmental protection by showing people the amount of garbage that were thrown up daily.
"I clean six days a week, and within the first two days, 14 garbage bags were collected from a small area of the scientific center's seaside," he said.
Meanwhile, another voluntary group launched a campaign "Living clean in Kuwait" to ask the community to make Kuwait clean.
This four-member team was founded during the coronavirus crisis as the numbers of visitors increased at beaches and the amount of litter increased as well.
Each person of the team is in charge of an area, where they clean four different beaches three times a week to collect as much trash as they can.
"It is very important for us to continue what we are doing, so the people in our community can slowly change their environmental awareness by time," the group founder who preferred to remain anonymous said.
"When people see a group cleaning up, they'll take it into account and may participate in their own ways," he noted, saying the best way to protest environment is to change people's awareness.
For her part, Nouf Al-Hashash, head of Hayat wildlife team, a wildlife protection group in Kuwait, said that the current waste is considered a serious danger not only to humans but also to wildlife.
These wastes are carrying harmful viruses and bacteria that affect public health, which will make it harder to preserve lives of people and the new generations, she said.
"Medical waste must be throwing in a designated container before burning, otherwise many diseases may spread," she noted.
"We may see a small piece of plastic, but the exact amount of life that live on its surface is enormous," she added.
Khaled Al-Hajri, a Kuwaiti activist at the Green Line Environmental Group, told Xinhua that coronavirus caused a tremendous amount of medical waste and put pressure on medical centers, which led to an increase in the production of hazardous waste contaminated with viruses and microbes.
Kuwait can deal with the biological waste that are only results from the health sector, but at the same time it cannot deal with the waste of medical masks and gloves that most people use in a daily basis, he pointed out.
聽
1 2 3 Next 1 2 3 Next
Video PlayerClose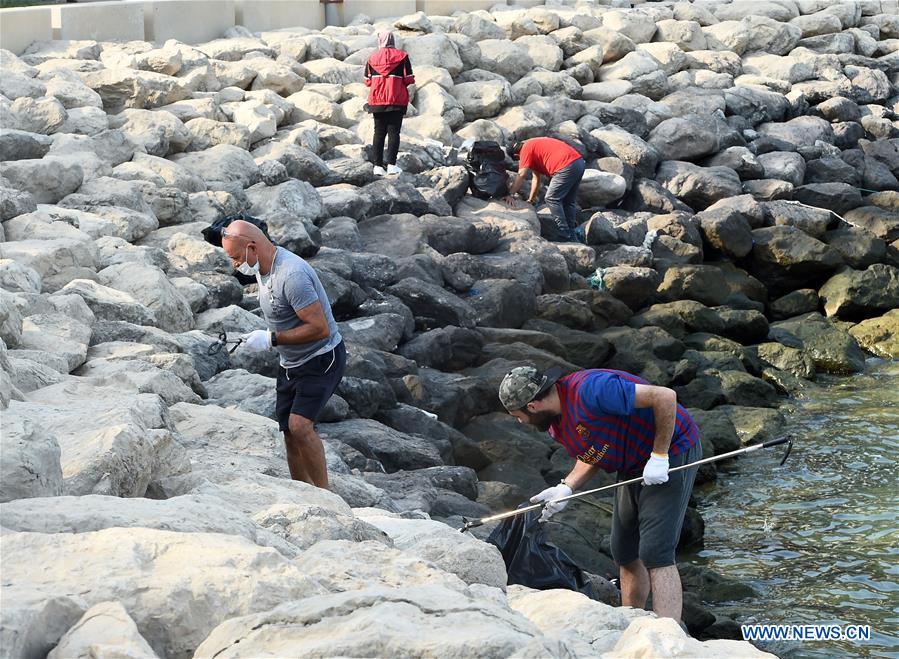 Volunteers clean the beach in Kuwait City, Kuwait, July 11, 2020. With coronavirus restrictions starting to ease in Kuwait, some people who enjoyed the beauty of beaches forgot to take away their trash. With more gloves, masks, and plastic bottles being thrown away at the seaside, even into the sea, many voluntary groups started to clean Kuwaiti beaches, warning that the waste is posing a huge threat to the marine life. (Photo by Asad/Xinhua)
Prev 1 2 3 Next Prev 1 2 3 Next
Video PlayerClose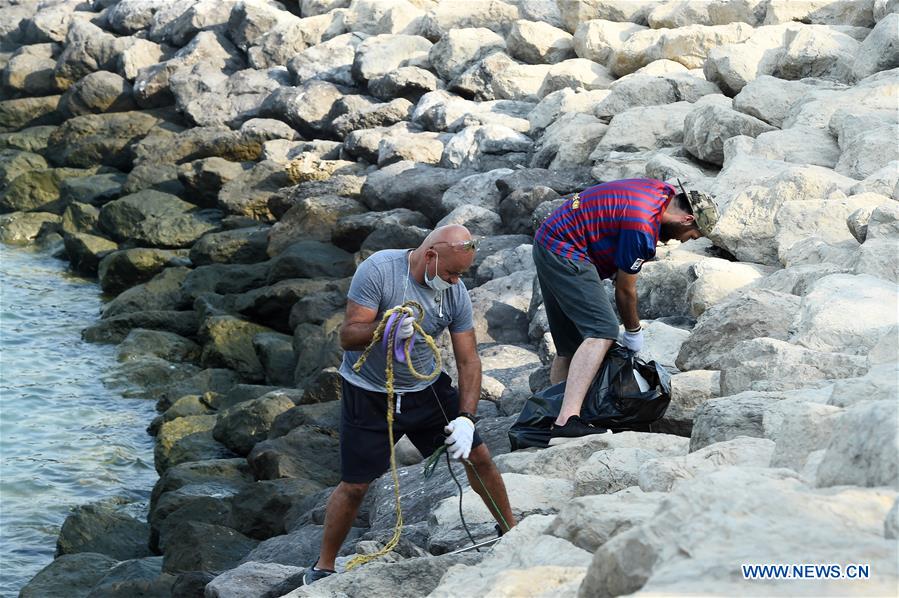 Volunteers clean the beach in Kuwait City, Kuwait, July 11, 2020. With coronavirus restrictions starting to ease in Kuwait, some people who enjoyed the beauty of beaches forgot to take away their trash. With more gloves, masks, and plastic bottles being thrown away at the seaside, even into the sea, many voluntary groups started to clean Kuwaiti beaches, warning that the waste is posing a huge threat to the marine life. (Photo by Asad/Xinhua)
聽
Prev 1 2 3 Prev 1 2 3