Feature: Yemeni parents build straw hut classrooms for children after schools bombed
Video PlayerClose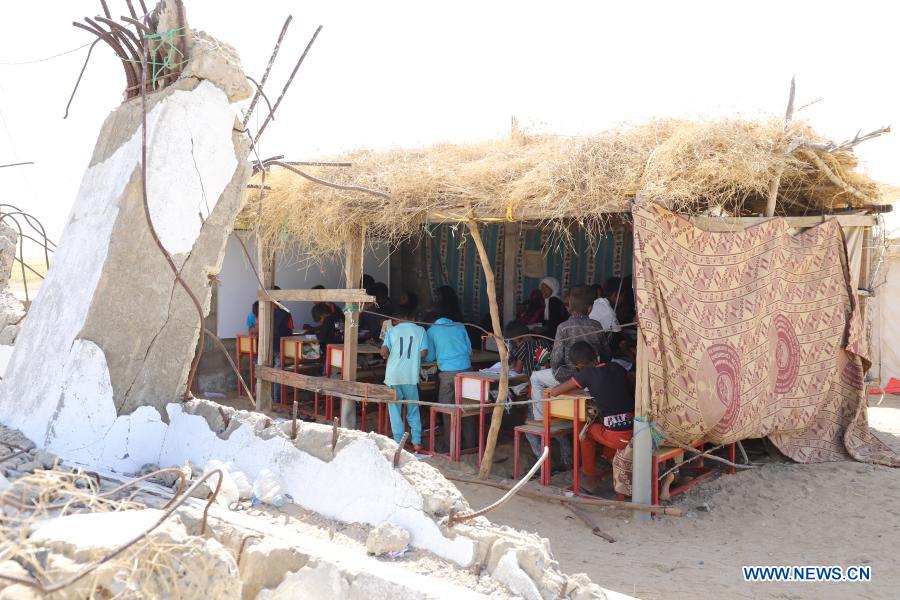 Students study in a straw-roofed hut in the Midi District of Hajjah Province, Yemen, Nov. 11, 2020. (Photo by Mohammed Alwafi/Xinhua)
HAJJAH, Yemen, Nov. 12 (Xinhua) -- Pupils line up in long queues in the morning in front of straw hut classrooms built by their parents in the courtyard of a school that was destroyed by years of war in northern Yemen.
The fighting did not leave any wall standing in the Ali bin Abi Talib School in the Red Sea coastal district of Midi, which is held by government forces but besieged by Houthi rebels who control the southern part of the country's northwestern province of Hajjah.
The Ali bin Abi Talib School was totally destroyed in a 2018 artillery attack.
"Last month, we built the eight classrooms out of straw and wood for our children to resume school this year after the war destroyed all schools in Midi," Hasan Jarbahi, a parent of one of the students, told Xinhua.
"The students here face many difficulties, including the lack of textbooks and teachers, after many of them (teachers) fled to several camps for the local displaced," Jarbahi added.
Abdullah Mutanbek, the head teacher of the school, organizes the classrooms and separates between the girls and boys.
"We have more than 280 students in these straw hut classrooms," Mutanbek told Xinhua.
"And we have a problem that illiteracy is spreading due to the halt of education during the years of war ... there are now children at the age of 10 and above who cannot read," the head teacher added.
Some pupils walk long distances to reach this school.
Ali Siraj, director of the Midi district, told Xinhua that a total of "15 schools in Midi district alone were totally destroyed in the war."
"With self-efforts by the parents and teachers, the educational process for the pupils was resumed in tents, in straw hut classrooms, and under trees," Siraj said.
The war continues in its sixth year, causing what the United Nations says the largest humanitarian crisis in the world, with more than 80 percent of the population depending on foreign humanitarian aid.
According to the UN, the war in Yemen has damaged or destroyed more than 2,500 schools and forced 2 million children out of school.
Many of the Yemeni public school teachers have not received salaries since the eruption of the war, according to a recent UN statement. Many of the teachers have sought other works to survive.
The war has killed tens of thousands of Yemenis, mostly civilians, forced nearly 4 million to flee their homes, and pushed over 20 million to the brink of famine.
"Children out of school face increased risks of all forms of exploitation including being forced to join the fighting, child labor and early marriage," the United Nations Children's Fund has warned.
The civil war in Yemen erupted in late 2014 when the Iran-backed Shiite Houthi militia seized control of several northern provinces and forced the internationally recognized government of President Abd-Rabbu Mansour Hadi out of the capital Sanaa. Enditem
1 2 3 4 Next 1 2 3 4 Next
Video PlayerClose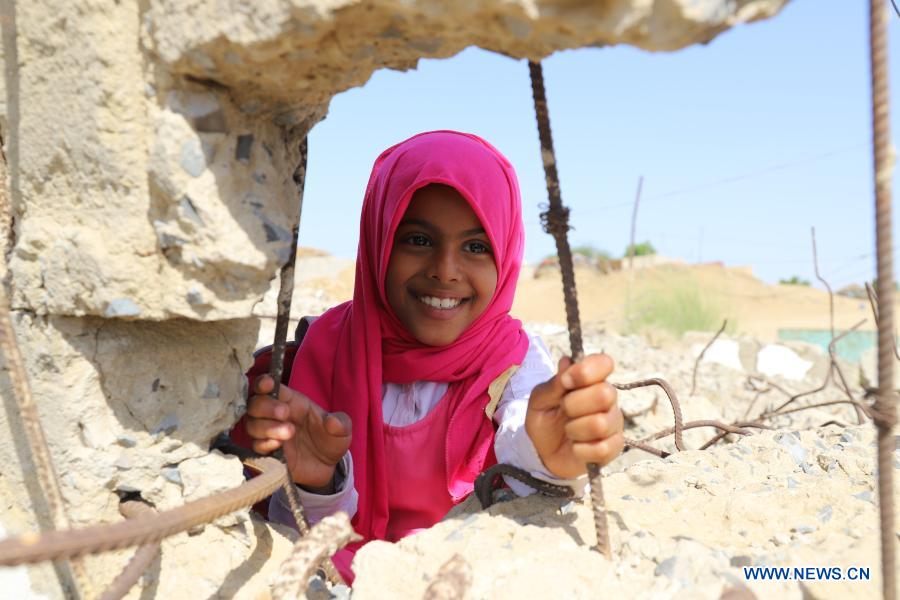 A girl plays amid the ruins of a school building in the Midi District of Hajjah Province, Yemen, Nov. 11, 2020. (Photo by Mohammed Alwafi/Xinhua)
Prev 1 2 3 4 Next Prev 1 2 3 4 Next
Video PlayerClose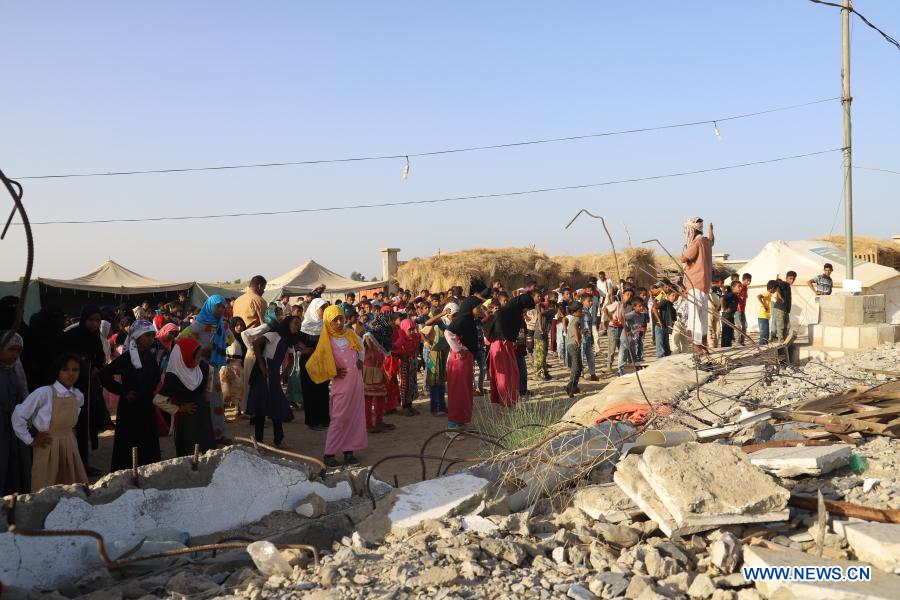 Students do morning exercise amid the rubble of a destroyed school in the Midi District of Hajjah Province, Yemen, Nov. 11, 2020. (Photo by Mohammed Alwafi/Xinhua)
Prev 1 2 3 4 Next Prev 1 2 3 4 Next
Video PlayerClose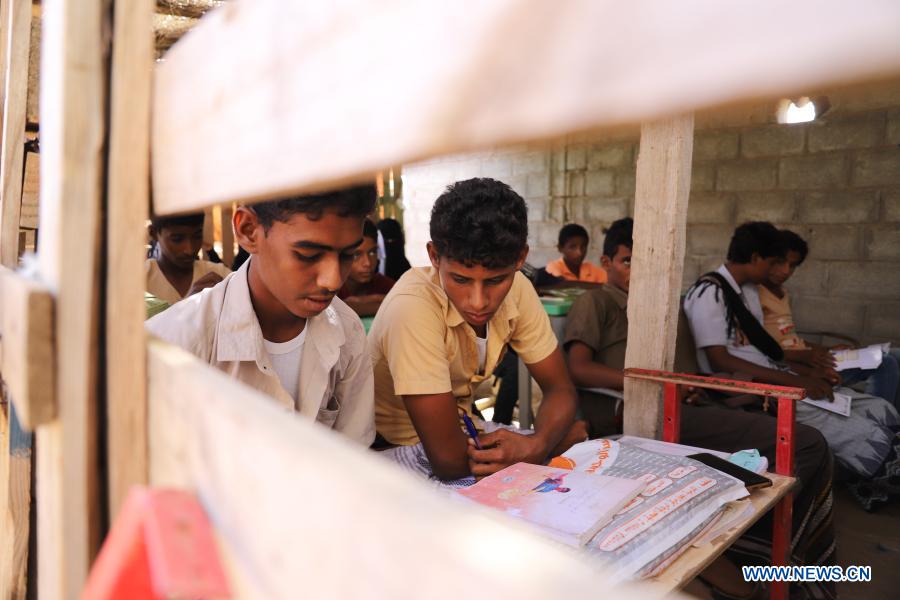 Students study in a straw-roofed hut in the Midi District of Hajjah Province, Yemen, Nov. 11, 2020. (Photo by Mohammed Alwafi/Xinhua)
Prev 1 2 3 4 Prev 1 2 3 4