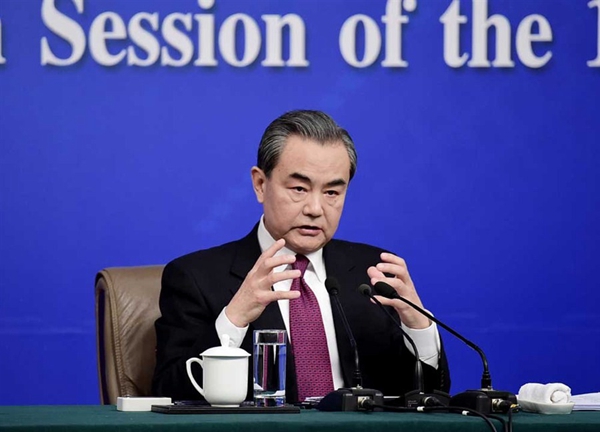 Foreign Minister Wang Yi fields a reporter's question at a press conference held on the sidelines of the annual session of the National People's Congress in Beijing yesterday. — Xinhua

China, the United States and Russia need to work with one another, Foreign Minister Wang Yi said yesterday.
In the new era, the China-US-Russia relations should not be a "see-saw" game. The three countries should work with, rather than against, one another and pursue win-win, rather than zero-sum, outcomes, Wang said on the sidelines of the national legislative session.
While responding to a question on tripartite relations after US President Donald Trump took office, Wang said China-Russia relations would not be affected or weakened by any external factor, as their comprehensive strategic partnership of coordination was a strategic decision reached by both sides on the basis of their fundamental interests.
"We believe the three countries can develop healthy and positive relations so that jointly we can fulfill our responsibilities for world peace and development," he said.
"The China-Russia relationship is as strong as it has ever been, and our mutual trust has reached a historical high."
Wang said the presidents of China and Russia would have multiple meetings this year, which would take the relations to new heights.
"China and Russia will improve strategic coordination on international and regional issues and together act as a stabilizer in an otherwise turbulent world," he said.
Wang said China welcomed improvement in Russia-US relations, which was of great importance for the world.
China and the US were communicating on future exchanges between their presidents and at other levels, he said.
Beijing and Washington were having "fruitful communications on realizing exchanges between their presidents and at other levels, and expanding all areas of cooperation."
He said the China-US relationship was transitioning steadily and developing in a positive direction through intense communication and joint efforts of both sides.
Last month, Chinese President Xi Jinping and his American counterpart, the newly elected Donald Trump, had a "very important telephone conversation," Wang said, during which they reaffirmed the importance of following the one-China principle.
They also pledged to push China-US relationship to greater heights from a new starting point, the minister said, adding that the phone call had set the direction and paved the way for bilateral relations.
"As long as we act on the consensus reached between our presidents, follow the principle of no conflicts and no confrontation, mutual respect and win-win cooperation, there is no reason why China and the United States cannot become excellent partners," he said.
China would also continue to support European integration, hoping to see a more stable, united and prosperous European Union, Wang said.
"We believe the challenges currently confronting Europe may turn out to be an opportunity for the EU to become mature," Wang said about the EU's future after Britain's decision to withdraw from it.