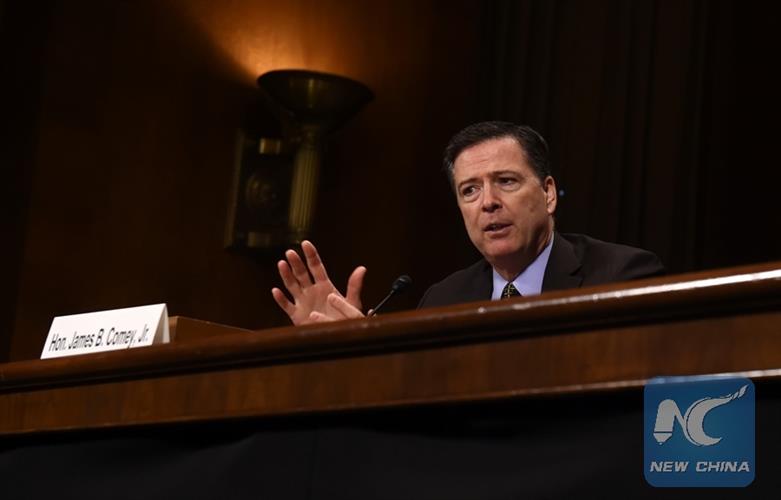 File photo taken on May 3, 2017 shows that James Comey, director of Federal Bureau of Investigation (FBI), testifies before the Senate Judiciary Committee during a hearing in Washington D.C., the United States. (Xinhua/Bao Dandan)
by Matthew Rusling
WASHINGTON, May 11 (Xinhua) -- U.S. President Donald Trump's dismissal of James Comey from the post of FBI director has sparked a major media firestorm and much disagreement.
Trump's move on Tuesday, which came at a time when the FBI's investigation into his alleged ties to Russia heats up, has dominated the news cycle, with some experts calling it unprecedented and downright suspicious.
Indeed, Democrats and center-left U.S. media outlets said the timing of Comey's dismissal is suspect, and are crying foul over what they say is a stunning power move by the new president.
One media commentator, Chris Matthews, even said the move had a whiff of "fascism" to it. And Democrats in Congress are up in arms over Trump's move.
Democrats are demanding the appointment of an independent prosecutor to investigate the alleged links between Russia and Trump's presidential campaign. Russia has dismissed the alleged links as fabrications.
But others are much less outraged, and some noted that Comey's firing was made on the recommendation of senior Justice Department officials.
Trump said Wednesday that he fired Comey because he "was not doing a good job," without elaborating.
Michael O'Hanlon, a senior fellow at the Brookings Institution, told Xinhua that he cannot get as excited as many Democrats over the issue.
"To me, Comey didn't know how to handle the public face of the job. The fact that most of his mistakes to date were at Hillary (Clinton's) expense, but most of his sensitive ongoing investigations were potentially at Trump's, increases the partisan tensions and suspicions over the firing," O'Hanlon said.
Indeed, Comey was criticized for reopening probe into Clinton's email scandal in the last days of last November's presidential race, in a move that many said in fact tipped the tight race in Trump's favor.
"But I can't really disagree with Trump -- even though I am a Democrat myself -- provided that the successor (to Comey) has integrity," he said.
U.S. intelligence services have concluded that Russia tried to interfere with last November's elections, as the Kremlin allegedly believed it could do business with Trump as opposed to Clinton. Democrats maintain that Russia's moves allowed Trump to hijack the election and win the White House.
But many others note that millions of rural Americans -- Trump's main backers -- had been struggling financially for nearly a decade under former President Barack Obama, and viewed Clinton as an extension of the Obama administration. It was promises of a better economy that led to Trump's win, some experts and observers maintain.
"The timing of Trump's decision to fire the FBI director is very suspicious," Darrell West, vice president and director of governance studies of the Brookings Institution, told Xinhua.
"The termination appears to be an effort by Trump to stop an investigation that is getting close to home," West said.
Trump seems to believe that he would stop the Russia investigation by firing Comey, but what he doesn't understand is that this move only will intensify interest in Trump's alleged Russia connections, West said.
"A change of leadership at the FBI may slow the investigation in the short run, but the political backlash against the firing will ensure that the Russia investigation will stay on the media front pages for months to come," he noted.
Dan Mahaffee, senior vice president and director of policy at the Center for the Study of Congress and the Presidency, told Xinhua that the Trump administration wants to put their own person into the FBI, "and I reserve judgment on the impact until I know who that is."
"Still, it does send a powerful message to the rank and file in the FBI, and other federal intelligence and law enforcement agencies about their job security," Mahaffee said.
Writing on CNN's website, Princeton University Professor Julian Zelizer noted that the firing is being compared to former President Richard Nixon's "Saturday Night Massacre."
Zelizer noted that in that 1973 event, Nixon fired independent prosecutor Archibald Cox for his aggressive inquiry into the Watergate scandal.