A wonderful speech given by Australian students received warm applause from Chinese and foreign guests on a farewell party held in Shanghai on July 3.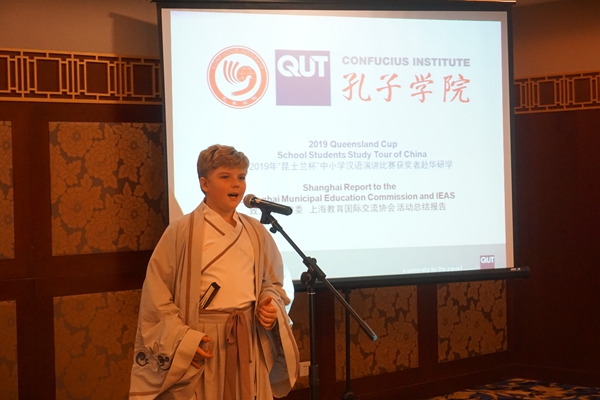 A Queensland student gives a crosstalk performance in traditional Han Chinese clothes. [Photo/ Eastday.com]

"I wish that our generation could develop closer ties with all countries. More importantly, we should extend the friendly relationship between Shanghai and Queensland for another 30 years," concluded Jade Linh Kieu Upton, a representative student for their 5-day visit of the city.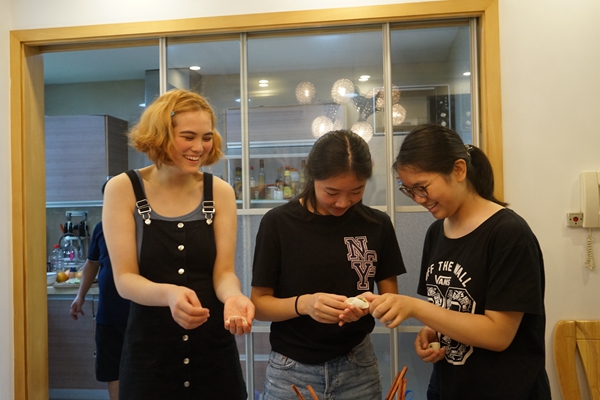 Shanghai volunteer student Queen (right) teaches Jade (left) and Xiaowen to make Chinese dumplings at her home. [Photo/ Eastday.com]

The eight students who paid a visit to China, first to Shanghai and then Beijing, for 11 days are the first-prize winners of the 2019 Queensland Cup Chinese Language Competition. During the city tour, they experienced real Shanghai life with volunteer families, visited cultural scenic spots including the Shanghai Museum, the Oriental Pearl TV Tower, Chenghuang Temple and the China Arts Museum, and enjoyed Chinese culture courses like Chinese engraving, Han Chinese clothes and traditional etiquette appreciation, and Chinese tea art.
For Zhuo Xiaowen, a 15-year-old Australian Chinese who was born in China's Fuzhou, a place where tea art is popular, Chinese tea art is her favourate part. Chinese people's hospitality and the volunteer family's warm atmosphere have also left a deep impression on her.

For Jade, the dazzling Chinese clothes attracted her most. In the famous Qipu Road Clothing Wholesale Market, she could not even tear herself away from the clothes.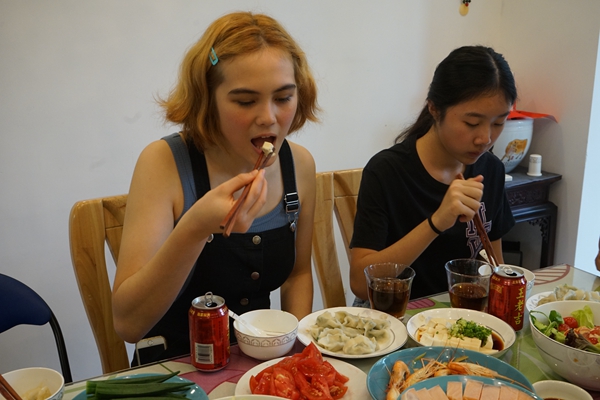 Jade and Xiaowen have a meal with chopsticks at the Shanghai volunteer family's home. [Photo/ Eastday.com]

According to Antoine Barnaart, Dean of the Confucius Institute at Queensland University of Technology, this city tour has provided the students with a precious opportunity to learn about China outside the classroom. In his words, the students are "seen with smiles and enthusiastic reactions and heard singing".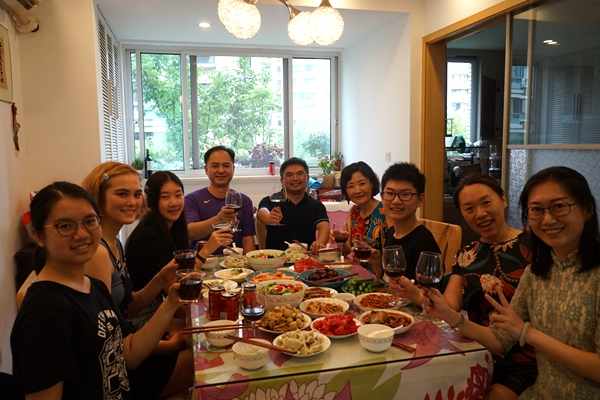 Jade, Xiaowen and their teacher (fourth from right) pose a photo with the Shanghai volunteer family members at lunch. [Photo/ Eastday.com]

Jointly held by the Shanghai Municipal Education Commission, Queensland Government of Australia, the Confucius Institute at Queensland University of Technology and the Queensland Chinese Teachers Association, the 2019 Queensland Cup Chinese Language Competition aims to further promote the educational cooperation between Queensland and Shanghai amid the 30th anniversary of the establishment of the friendly relationship between the two.
Regarding the future cooperation, Jiang Haishan, president of the International Education Association Shanghai, said that to further promote the international exchanges of Shanghai's education and encourage more overseas students to learn Chinese, the association will play more roles in the future's Queensland Cup Chinese Language Competition.